Jinfo Mountain
Grand and spectacular Jinfo Mountain is located in Nanchuan District, Chongqing City. When sunshine falls on it, it looks like a giant Buddha shining with boundless golden radiance, hence the name, which literally means "Golden Buddha Mountain". Enjoying a forest coverage rate of 95%, it is a "Museum of Natural Plants". This great place, with a total area of 500 square miles (1,295 square kilometers) and a scenic area of 170 square miles (441 square kilometers), has two different slopes with distinctive attractions for sightseers.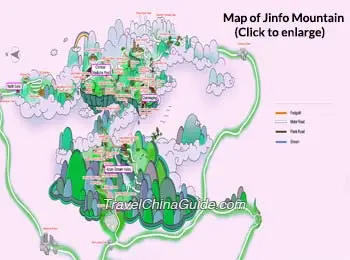 Map of Jinfo Mountain
(Click to enlarge)
Azure Stream Valley
Entering Mount Jinfo from the West Gate, visitors will soon hear the sound of rippling water. Waking straight along the footpath, visitors see green trees, clear streams and splendid waterfalls. They soon reach Azure Stream Valley Scenic Area, the first attraction on the western slope. In addition to being a visual feast, it is also a great summer resort with an average temperature below 68 F even on the hottest days.
There are many smaller scenic spots in the valley, including Tea Stream, Stone Viewing Platform, Cherry Blossom Platform, and Changeful Stones Array. They are connected to each other by a 2.2 mile (3.5 kilometer) footpath which includes a 1.6 mile (2.5 kilometer) wooden section. Along the way, visitors can see many thatched huts and pavilions, making the valley a beautiful village, and watch monkeys happily playing in the forest. The whole walk takes about 1 ½ to 2 ½ hours.
If you want to camp in Azure Stream Valley, family tents, double tents and single tents can be rented there. The bedding has been furnished and visitors can stay overnight in tents here. You can bring your own tents as well.
Qianniuping
To the southeast of Azure Stream Valley is Qianniuping Scenic Area, the second attraction on the western slope. To get there, take the western slope cable car from Azure Stream Valley.
There is a beautiful legend about this place. Celestial cattle, the later generations of Demon King, came down to Jinfo Mountain and were harassing local residents. One day, all the animals on the mountain were infected with plague, and a majority of the celestial cattle died of the illness as well. Although the villagers hated the cattle, a woman and her son still saved their lives with their blood. Magically, the cattle survived after drinking the blood, but both saviors died from losing too much blood. The celestial cattle were so grateful that they promised to be good to local residents. After that they worked for the villagers in the busy farming seasons.
The scenery in Qianniuping is as attractive as its legend. The Qianniuping Ski Resort, whose peak is 6,824 feet (2,080 meters) above the sea level, is in the north. It has a developed area of more than 5 acres (20,000 square kilometers and is equipped with the latest ski equipment, professional coaches, and comprehensive facilities, making it a good place for both skilled skiers and beginners. Other attractions in Qianniuping include the Golden Turtle Facing Sun Platform in the north, which is a mountain edge looking like a golden turtle in the light of the sun; Jinfo Cave in the south, which is full of stalactites and gets its name from a 66-foot-high Buddha shaped stalactite; and Jinfo Temple in the east, the most famous temple on Jinfo Mountain among worshipers .
Chinese Medicine Pool
The Chinese Medicine Pool Scenic Area is to the north of Qianniuping. It is said that a highly-skilled doctor lived here and refined medicinal materials in ancient China.
The Chinese Medicine Pool is surrounded by great attractions. In the south, there are the Azalea Prince Tree, Steep Cliff Plank Road, Heavenly Cave, Overhanging Plank Road, Ecological Stone Forest, and Northern Slope Ski Resort. Walking along the Steep Cliff Plank Road and Overhanging Plank Road can be a very thrilling experience. Meanwhile, skiing in the Northern Slope Ski Resort can also be a good choice. In the north of Chinese Medicine Pool Scenic Area, visitors can see the Panorama Viewing Platform and the Ancient Buddha Cave. The Ancient Buddha Cave, 6,890 feet (2,100 meters) high, is named after a naturally-formed stone Buddha found inside. From the exit of Ancient Buddha Cave, a splendid view of the northern slope of Jinfo Mountain opens at your feet.
Jinfo Mountain Peak
The best-known spots in this scenic area are Stone Figure Peak and Southern Celestial Gate. Stone Figure Peak is hard to break apart even with explosive materials. Therefore, it is regarded as a celestial peak. The Southern Celestial Gate natural formation, unlike the usual arched open-air Karst caves, is in the shape of rectangle, like a manmade gate.
Tips
Visitors can enter the mountain from either the West or North Gate. Entering from the West Gate, visitors will reach the western slope first; while those entering through the North Gate, will reach the northern slope first. One can reach the mountain peak from either of the gate. To cover all the scenic spots on the mountain, it is easiest to enter through one gate and exit via the other.
How to Get to Jinfo Mountain from Chongqing

Direct Line:
There is a direct bus from Chongqing Long-distance Bus Station to the mountain, departing at 08:30 and costing CNY 42.

Transfer Line:
1. Take a bus at Nanping Long-distance Bus Station and get off at Nanchuan West Long-distance Bus Station. The bus departs every one and a half hours from 6:50 to 20:00 and the ticket costs CNY 32. Upon arrival, take a direct bus and get off at North Gate of the scenic area, which costs CNY 5 and the journey is about 40 minutes.
2. Take a bus at Xipeng Long-distance Bus Station and get off at Nanchuan East Long-distance Bus Station. The bus departs at 8:00 and 13:30 and the ticket costs CNY 42. Then, take a direct bus and get off at the West Gate of the mountain.This costs CNY 5.5.
Admission Fee
March - October: CNY 80; November - February: CNY 70

Northern Slope Ski Resort: CNY 20 (excluding fees for ski equipment)
Ancient Buddha Cave: Free
Transportation inside the Scenic Area
Western Slope:
Sightseeing bus between Western Slope Tourist Center and Western Slope Cable Car Lower Station: CNY 20 for round-trip
Cable Car: CNY 50 for upward ride, CNY 40 for downward ride, CNY 80 for round-trip

Northern Slope:
Cable Car: CNY 40 for upward ride, CNY 30 for downward ride, CNY 70 for round-trip

Note: The cable cars on both slopes stop running at 17:30; ticketing ends at 16:00.
- Last modified on Sep. 05, 2019 -
Questions & Answers on Jinfo Mountain
Asked by Teddy from THAILAND | Sep. 03, 2019 19:52

Reply
Hi, I have plan go to travel at Chongqing early on December 2019 with my family
And we plan go to ski at jinfo mountain but I'm not sure on time ski will be open or not?
Answers (1)
Answered by Poppy from UNITED KINGDOM | Sep. 05, 2019 19:54

0

0

Reply
As I know, it opens from mid-December to March. Hope you enjoy your holiday!
Asked by Aileen from MALAYSIA | Dec. 12, 2018 18:08

Reply
Wulong to Nanchuan Transportation
1. Will the bus from Wulong to Nanchuan stop at Nanchuan West Long-distance Bus Station or Nanchuan East Long-distance Bus Station?

2. Which bus station in Nanchuan do I go to take the bus to Wansheng?
Answers (1)
Answered by Eva from UNITED KINGDOM | Dec. 13, 2018 18:04

0

0

Reply
The bus from Wulong to Nanchuan will stop at East Bus Station where you can take the bus to Wansheng.
Asked by Flor from CHINA | Nov. 08, 2017 01:20

Reply
Hi I want to go to the Jinfo mountain from Jiandingpo. How I can get there?
What is the exact address of the Bus Station?
Answers (1)
Answered by Sally from AUSTRALIA | Nov. 09, 2017 01:00

0

0

Reply
At Jiandingpo subway station, take line 1 to Lianglukou, then change to line 3 to Nanping. Get out from exit 4 and walk to Nanping Bus Station, which is located at no. 15, Jiangnan Avenue, Jiang'an District. There you can take a bus to Nanchuan, where it is easy to change to another shuttle bus to the lower cable car station of Jinfo Mountain.