Chongqing Transportation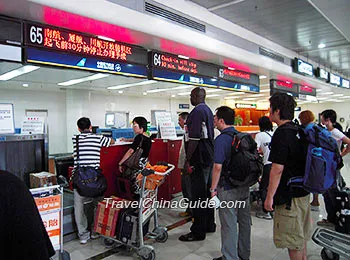 Jiangbei International Airport
As a junction of Southwestern and central China as well as being a large city upstream on the Yangtze River, Chongqing is one of the most important transportion hubs as it connects eastern and western China. The city's transportation system has been very well developed in recent years and it can easily be reached by air, train or long-distance buses.
Chongqing has three civil airports in total and among them; Jiangbei International Airport is the busiest one. This airport has both international and domestic flights available.

Jiangbei International Airport is roughly 13 miles (21km) to north of the downtown and is one of the largest aviation hubs in Southwest China. Flights from this airport reach 120 cities home and abroad, among which there are 83 domestic cities including all the provincial capital cities in China and 37 international cities such as HK, Macau, Tokyo, Bangkok, Jeju, San Francisco, Los Angeles, Sydney, etc. The airport can be reached by an airport shuttle bus line and subway line 3 from the city's downtown core.



Chongqing Flights

Airport Transportation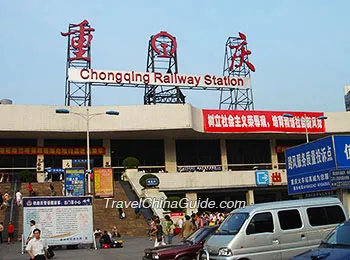 Chongqing Train Station
Approximately 140 scheduled trains pass through the city daily and these trains can reach all the capital cities of China except Yinchuan (the capital city of Ningxia). Train T222, starting from Chongqing North Railway Station to Lhasa, is a nice option to enter Tibet. There are two main railway stations in the city, the Railway Station at No. 249, Nanqu Road, Caiyuanba area, Yuzhong District, and the North Railway Station at No. 51, Kunlun Avenue, Yubei District. Chongqing East Railway Station is under construction and will be open in 2022.



Railway Station

North Railway Station


West Railway Station

East Railway Station


Train Schedule

About 8 expressways connect the city with other cities, thus long-distance buses are very important vehicles for the city. Six major long-distance bus stations are distributed throughout the city's different districts making traveling convenient and fast. The main long-distance bus stations are Chongqing Bus Station, North Bus Station, Long-distance Bus Station, Shapingba Bus Station, Sigongli Transportation Hub and the Chenjiaping Bus Station.

Six Chongqing subway lines are in operation connecting the city's nine districts together. Travelers are able to reach Jiangbei International Airport, North Railway Station, Chongqing Railway Station, Chaotianmen Dock and most of the Long-distance Bus Stations by subway. The ticket fare is charged on the distance travelled. In addition to these lines, there are another 2 lines under construction, Line 4 and Circle Line.
Operating Lines:


Line 1

Line 2

Line 3

Line 5

Line 6

Line 10
Lines to be Opened:


Line 4

Circle Line


Bus/Subway Search

Because of the its ideal location on the Yangtze River, ships have easy access to the city. At present, passenger ships travel once per day to Yichang and six pairs of speedboats travel between Wanzhou District of Chongqing and Yichang. The ship takes approximately 40 hours and the speedboat takes around 5.5 hours. Furthermore, this city also serves as the starting point of several luxury Yangtze River Cruises, travelers can choose one of the cruises to explore the splendid river and the grand Three Gorges Dam.

More than 500 city bus lines serve the city. Most of them are self-service buses, charging CNY2 per person, while some only charge CNY1. Buses with conductors charge various between CNY1 and CNY10 depending on the distance travelled.

Passengers can take taxis to almost everywhere and even to go to the suburban areas. In day time, a taxi charges CNY10 for the first around 1.8 miles (3 km) and CNY2 for every additional 0.6 mile (1 km). The peak time for taxis is from 07:00 to 09:30, 17:00 to 19:00 and 15:00 to 16:00, during which travelers are advised to book one in advance.

Cable-car and Escalator
Besides the conventional vehicles, Yangtze River Cable Car and escalators are another two distinctive vehicles in the city. The cable car is no longer used as a transportation vehicle, but for sightseeing instead. The Lianglukou Huangguan Escalator, linking Lianglukou and Chongqing Railway Station, is the other distinctive vehicle.

-
- Last modified on Jan. 17, 2019 -
Questions & Answers on Chongqing Transportation
Asked by stephen chapple from AUSTRALIA | Dec. 16, 2018 16:56

Reply
How do i travel from Chongqing city to the 3 gorges dam?
Answers (1)
Answered by Nathan from CANADA | Dec. 17, 2018 00:11

0

0

Reply
Take bullet train from North Railway Station to Yichang East Railway Station first. It takes around 4 hours on the way. Then take public bus no.109 to Yemingzhu and transfer to bus no.216 to Jieliuyuan Bus Stop. After arriving, walk west around 250 meters to find the scenic area.
Asked by Cristy from NEW ZEALAND | Dec. 09, 2018 07:07

Reply
Im flying from Chch to Manila and have 2 stopover in China. My 1st stop:
Chongqing Jaibei International , layover 9hrs&45 min.
2nd stop: Xiamen Gaoqi International lay over 5hrs and 30 min. Do i need to get transit visa? I hold philippine passport. Please help.
Answers (1)
Answered by Richard from UNITED KINGDOM | Dec. 10, 2018 20:10

0

0

Reply
No, you don't need to apply for the visa. You qualify for 24-hour free visa policy.
Asked by KEN from USA | Dec. 05, 2018 06:29

Reply
How to get to Chongqing Muma Hotel from North railway station?
Hello
Please help me how to get to
Muma hotel
address: 10th Floor, No.7 Jieneng Building, Tianjie Street, Jiang Bei (Jiangbei Area) by metro from the North Railway Station.
Thanks
Answers (1)
Answered by Jessica from USA | Dec. 05, 2018 19:49

0

0

Reply
Take the metro line 3 at the North railway station and get off at Guanyinqiao metro station. Get out from the exit 3 and go on walking about 750 - 800 meters to the hotel.
Asked by Guy Pelletier from CANADA | Nov. 14, 2018 06:56

Reply
How do I get to any subway station from Chongqing west train station?
Answers (1)
Answered by Waino from USA | Nov. 14, 2018 16:53

0

0

Reply
The nearest subway station from West Railway Station is Daduqiao subway station. And you can take the bus No.499 to get there.
Asked by Theeraphan from THAILAND | Nov. 13, 2018 17:56

Reply
How to get Southern Hot Springs Park from Jie Fang Bei and how much does it cost for person ?
I found the information on your website, but it 's last update on Feb 17,2017 , i don't sure it still the same information or not ?

If not please kindly update me.

Thank you
Answers (2)
Answered by Wainwright from UNITED KINGDOM | Nov. 14, 2018 17:01

0

0

Reply
Dear, you can walk about 400 meters from Jiefangbei to Ciqi Street bus stop to take the bus No.301 and get off at Banan Avenue. Then transfer to take the bus No.327 and get off at South Spring. Finally, walk about 4 minutes to the park. The whole ride needs about 70 minutes and CNY4 per person.
Answered by Theeraphan from THAILAND | Nov. 15, 2018 18:23

0

0

Reply
Thank you for your reply.

And how much does it cost for Southern Hot Spring Park is .....
Monday-Thursday
Adults: CNY 68 Children: CNY 58
Friday-Sunday
Adults: CNY 88 Children: CNY 78
New Year's Day, Spring Festival, and National Day Holidays

is it correct ?