Chongqing Transportation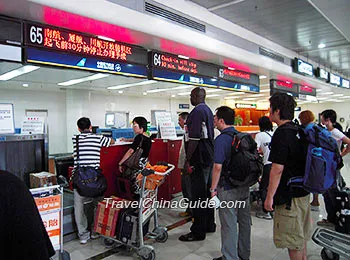 Jiangbei International Airport
As a junction of Southwestern and central China as well as being a large city upstream on the Yangtze River, Chongqing is one of the most important transportion hubs as it connects eastern and western China. The city's transportation system has been very well developed in recent years and it can easily be reached by air, train or long-distance buses.
Chongqing has four civil airports in total and among them; Jiangbei International Airport is the busiest one. This airport has both international and domestic flights available.

Jiangbei International Airport is roughly 21 kilometers (13 miles) to north of the downtown and is one of the largest aviation hubs in Southwest China. Flights from this airport reach 300 cities home and abroad, including all the provincial capital cities in China and international cities such as HK, Macau, Tokyo, Bangkok, Jeju, San Francisco, Los Angeles, Sydney, etc. The airport can be reached by an airport shuttle bus line and metro line 3 & line 10 from the city's downtown core.



Chongqing Flights

Airport Transportation

Wanzhou Wuqiao Airport is the second international airport in Chongqing, which brings great benefits to passengers who intend to visit Three Gorges Reservoir Region. It is about 5 kilometers (about 3 miles) from downtown. The airport runs domestic flights to/from more than 20 cities such as Beijing, Shanghai, Guangzhou, Shenzhen, Changsha, Nanjing, Hangzhou, Xiamen, Zhuhai, Nanning, Huizhou, Guilin, Nanchang, Quanzhou, Xi'an, Xining, Chengdu, Kunming, Guiyang, Haikou, Lhasa… and international flights to/from Hong Kong, Macao, Chiang Rai and Siem Reap. Two airport shuttle buses are available.

Qianjiang Wulingshan Airport is about 3 kilometers (about 2 miles) away from downtown Qianjiang and 120 kilometers (around 75 miles) from Wuling Mountain National Forest Park, operating domestic flights to /from runs Chongqing, Chengdu, Wenzhou, Hangzhou, Changsha, Beijing, Kunming and Qingdao. You can take city bus line 305 travelling between airport and downtown Chongqing.

Wulong Xiannvshan Airport is predicted to serve the public in 2020, which will be about 45 kilometers (about 28 miles) from Wulong District and about 5.5 kilometers (about 2.4 miles) from Xi'an'nv Mountain National Forest Park. Wulong Airport will run domestic flights to/from major cities including Beijing, Guangzhou, Changsha, Shanghai, Shenzhen, Nanjing, Xi'an, Guiyang… In addition, Wulong Xi'an'nvshanshan Airport is a critical part to constitute the natural heritage and cultural heritage tourism air route of "Zhangjiajie – Wulong – Jiuzhaigou – Lijiang – Kunming". And then it will take just 50 minutes flying to/from Zhangjiajie, 60 minutes to/from Jiuzhaigou, 1h and 20 minutes to/from Kunming and 40 minutes to/from Chengdu.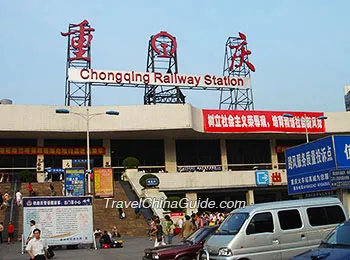 Chongqing Train Station
Approximately 140 scheduled trains pass through the city daily and these trains can reach all the capital cities of China except Yinchuan (the capital city of Ningxia). Train T222, starting from Chongqing North Railway Station to Lhasa, is a nice option to enter Tibet. There are two main railway stations in the city, the Railway Station at No. 249, Nanqu Road, Caiyuanba area, Yuzhong District, and the North Railway Station at No. 51, Kunlun Avenue, Yubei District. Chongqing East Railway Station is under construction and will be open in 2022.



Railway Station

North Railway Station


West Railway Station

East Railway Station


Train Schedule

About 7 expressways connect the city with other cities, thus long-distance buses are very important vehicles for the city. Major long-distance bus stations are distributed throughout the city's different districts making traveling convenient and fast. The main long-distance bus stations are Chongqing Bus Station, North Bus Station, Sigongli Transportation Hub, Chenjiaping Bus Station, Shapingba Bus Station, Longtousi Bus Station and Chongqing Long-distance Bus Station.

Six Chongqing subway lines are in operation connecting the city's nine districts together. Travelers are able to reach Jiangbei International Airport, North Railway Station, Chongqing Railway Station, Chaotianmen Dock and most of the Long-distance Bus Stations by subway. The ticket fare is charged on the distance travelled. In addition to these lines, there are another 4 lines under construction, Line 4, Line 9, Line 18 and Circle Line.
Operating Lines:


Line 1

Line 2

Line 3

Line 5

Line 6

Line 10
Lines to be Opened:


Line 4

Line 9

Circle Line

Line 18


Bus/Subway Search
Because of the its ideal location on the Yangtze River, ships have easy access to the city. This city serves as the starting point of several luxury Yangtze River Cruises, travelers can choose one of the cruises to explore the splendid river and the grand Three Gorges Dam. Chaotianmen Dock operates frequent passenger ships to Yichang, spending 30-49 hours.

More than 660 city bus lines serve the city. Most of them are self-service buses, charging from CNY1 to 3.5 and for air-conditioned ones from CNY2 to 10 in general. Chongqing city bus ticket can be paid by cash or local transportation card.
Passengers can take taxis to almost everywhere and even to go to the suburban areas. In day time, a taxi charges CNY10 for the first around 1.8 miles (3 km) and CNY2 for every additional 0.6 mile (1 km). The peak time for taxis is from 07:00 to 09:30, 17:00 to 19:00 and 15:00 to 16:00, during which travelers are advised to book one in advance.

Cable-car and Escalator
Besides the conventional vehicles, Yangtze River Cable Car and escalators are another two distinctive vehicles in the city. The cable car is no longer used as a transportation vehicle, but for sightseeing instead. The Lianglukou Huangguan Escalator, linking Lianglukou and Chongqing Railway Station, is the other distinctive vehicle.
Transportation to Other Cities
-
- Last updated on Sep. 14, 2023 by Catherine He -
Questions & Answers on Chongqing Transportation
Asked by Anelle from CHINA | Dec. 13, 2019 03:44

Reply
I need the fastest way to reach the Airport in Chengdu from the East station, please.
Is there a subway in or very near the east train station?
Or is a taxi faster?
Answers (1)
Answered by Julie from USA | Dec. 16, 2019 17:10

0

0

Reply
You can take metro line 7 from East Coach station to Taipingyuan station, and interchange to metro line 10 to the airport station (Exit B). It takes 45 minutes with CNY6.
Asked by Linda from AUSTRALIA | Sep. 10, 2019 07:18

Reply
Tour bus from Longtousi Bus centre to Xiannv Town Tourist Centre
We plan to travel from Chongqing to see the Wulong 3 natural bridges, fairy mountain, etc...I read there is a tour bus that departs from Longtousi bus centre to Xiannv Town tourist Centre. Please advise:

a) Is this Xiannv Town tourist Centre the same place as the so called Wulong Karst Visitor Centre?
b) Is it still operating and how many departures (time) are there in mid-late October. Does it departs daily and
how much does it cost per person? Is there a luggage compartment for us to store our medium size luggage
in the tour bus as we are staying a night and heading straight to Jiangbei airport the next day.
c) What are the departure time from Xiannv Town Tourist Centre to Longtousi Bus centre?

Thank you.
Answers (1)
Answered by Trent from NEW ZEALAND | Sep. 11, 2019 19:28

0

0

Reply
1. They are not the same.
2. It departs at 8:00, 9:00 and 11:30 in the day and costs CNY83/person. Generally speaking, there is room for luggage in the bottom of bus.
3. The bus departs at 9:30, 14:30 and 18:00.
Asked by Linda from AUSTRALIA | Sep. 06, 2019 08:12

Reply
Bus from Chongqing to Wulong
Are the buses that go to Wulong are with comfortable seats and with aircond? Do they have storage in the bus for our luggage? And how much does the ticket cost?
Thank you.
Answers (2)
Answered by Jorge from AUSTRALIA | Sep. 08, 2019 23:08

0

0

Reply
Yes, the bus is comfortable and it is a common way to Wulong. Generally speaking, you can put your luggage in the luggage carrier of bus. The ticket fare ranges from CNY30-100 according to different departure station and destination stop.
Answered by Linda from AUSTRALIA | Sep. 10, 2019 04:34

0

0

Reply
Thank you Jorge for the information on the bus from Chongqing to Wulong. We are 4 adults in our late fifties. Any idea are the seats with cushion and a little reclining? We may take the earliest bus and have a good rest or sleep for the 3 hours ride. I guess the bus will stop for toilet break. Can we get taxi easily when we arrive Wulong town to take us to 3 natural bridges, and the other attractions for the 2 days? One of our friends are able to converse moderately in Chinese. Thank you very much.
Asked by Olga from UKRAINE | Apr. 22, 2019 08:15

Reply
How to get to Ordovician theme park from Chongqing
Hi, I am planning to visit Ordovician park, especially the glass bridge and the cliff swing. What is the best way to get to that park? I would really appreciate your help! Thanks!
Answers (1)
Answered by Nicholas from CANADA | Apr. 24, 2019 22:41

0

0

Reply
Take a coach from Sigongli Coach Station or Chenjiaping Coach Station to Wansheng Coach Station first. Then take bus no.111 to Heishangu Bus Stop and transfer to bus no.119 to the scenic area.