Chaotianmen Dock Pictures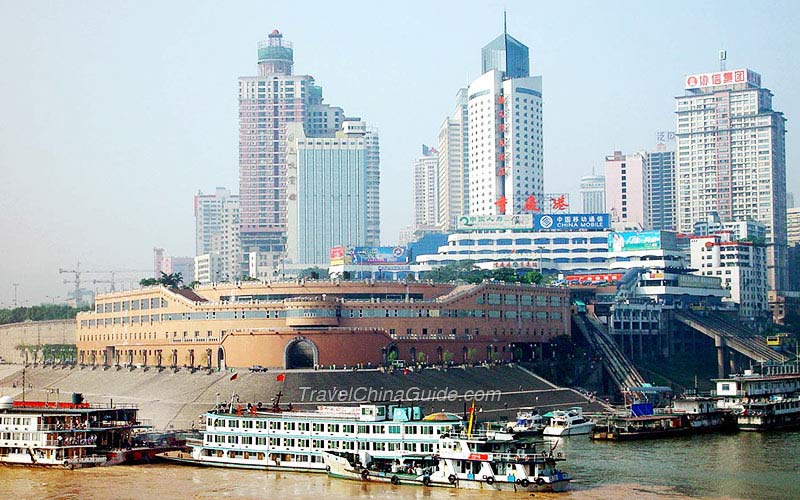 Chaotianmen Dock is one of the main transportation nodes in Chongqing, where the clear Jialing River and the Yellow Yangtze River meet. It is an important port on the golden waterway of the Yangtze River. Every day, this dock handles large quantities of cargo and welcomes thousands of tourists who visit the gorgeous Three Gorges. Chaotianmen Square nearby is the best place to view the river scenery.
- Last modified on Jun. 11, 2019 -
Questions & Answers on Chaotianmen Dock Pictures
Asked by Liliana from MALAYSIA | Jun. 08, 2019 22:52

Reply
I bought tickets from Chinese website
Hi. I already bought my cruise tickets from Chinese website. But they told me I will be sent a message of which dock to depart. I will depart tonight and they said the message will be sent today 6pm.
Now I'm a little confused and worried because this is my first time. Then what should I do when I arrive at the dock? Where do I print the ticket?
Answers (1)
Answered by Akili from UNITED KINGDOM | Jun. 11, 2019 02:07

0

0

Reply
Well, don't worry. I had such the experience before. It will be ok. Just go to the right dock and boarding on the ship.
Asked by Roza from ISRAEL | Sep. 30, 2018 13:41

Reply
where I can buy only an evening cruise on the Jialing River and the Yellow Yangtze River?
Answers (1)
Answered by Jessical from CANADA | Oct. 07, 2018 20:12

0

0

Reply
Well, you can buy tickets to have an evening cruise in Chaotianmen Dock. Hope you have a nice trip.
Asked by Jack from USA | Mar. 12, 2018 20:59

Reply
I would like to take a river cruise on the Yangtze and Jialing rivers.
Is it right that I can take this cruise from the Chaotianmen Dock?
Do I purchase tickets upon arrival, or is there a website with a schedule of cruises, times and prices for me to book in advance?
Answers (1)
Answered by Christian from FRANCE | Mar. 15, 2018 22:17

1

0

Reply
Yes, you can enjoy the cruise from the Chaotianmen Dock. The official website is named as 'LiangjiangYou.com'. But the booking page only has Chinese version. Thus you can dial 023-63108939 to book the tickets in advance. Or just purchase them upon arrival.
Asked by CruiseShip from GERMANY | Mar. 23, 2016 05:31

Reply
We would like to go from Chengdu to Chongqing directly to the Chao Tian Men Dock #5 (May 2016)
How do we best get there via public transport? We have to arrive there at 8 a.m.
Answers (2)
Answered by Ben from FRANCE | Mar. 23, 2016 22:31

0

0

Reply
The earliest bullet train from Chengdu to Chongqing departs at 7:00 with a duration of 2h. There is no way to get there at 8am if you leave in the morning. You are suggested to arrive in Chongqing a day in advance. You can take a bullet train at Chengdu east train station to chongqing north train station. Upon arrival, bus no.105 can take you to the dock. You may stay overnight at a hotel near the dock.
Answered by Cruise Ship | Mar. 25, 2016 04:48

0

0

Reply
Hi Ben, thanks for your help. That's what I thought so we're going to play it safe a and stay the night in Chongqing.
Asked by Nimal from AUSTRALIA | Apr. 27, 2015 21:18

Reply
Tour attractions in Chongqing
we are staying 2 days in Chongqing (in October). Any tourist attractons around? One day we are visiting CFiQi Kou (Porcelain Village). Any other interesting places to visit. Looking for history and cultural attactions.
Thank You
Nimal
Answers (1)
Answered by Ivan from INDONESIA | Apr. 30, 2015 03:03

0

0

Reply
Nimal, you can visit People's Assembly Hall and Three Gorges Muesum. They are not far from each other. You can take bus 261 from Ciqikou to the assebly hall directly.