Chongqing City-Bus
Public transportation in the main urban area of Chongqing is very convenient with 511 bus lines operating. The city buses are generally classified into ordinary and air-conditioned buses. In addition, there are some other types such as minibuses and overnight buses. Travelers should avoid taking buses during the very crowded rush hours.
Ticket Fare
Most of the ordinary buses charge CNY1 per adult and the air-conditioned ones charge CNY2. Some buses charge on distance. The price of ordinary buses varies from CNY1 to 3.5 and from CNY2 to 10 for air-conditioned ones.
Those who plan to stay in Chongqing for a while are suggested to purchase a local transportation card. With the card, passengers can enjoy 10% off the cost of a fare, or even enjoy a free ride. If you stay just for a few days, it is not necessary.
Operation Time
Normally, most buses run from 05:30 to 22:00, while the overnight buses run from around 17:30 to 06:30 the next day.
Some Useful Bus Lines for Reference:

Lines to attractions: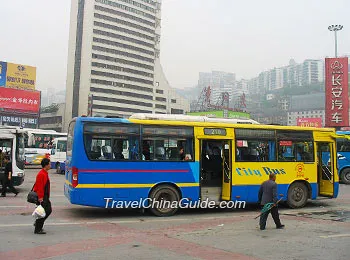 To Yangtze River Cable Car: Take bus line 304, 315, 320 or 321 to Shangxinjie Station or line 261 to Xiaoshizi Station.
To
Ciqikou
: Take bus line 224, 503, 202, 220, 237, 261, 467 or 843 to Ciqikou Station.
To
Chongqing China Three Gorges Museum
: Take bus line 112, 132, 145 or 262 to Dalitang Station.
To Chaotianmen Dock: Take bus line 440 to Chaotianmen Jiumatou (Ninth Port of Chaotianmen) Station or line 503 to Chaotianmen Station.
To
People's Assembly Hall
: Take bus line 112, 132, 145, 152, 261, 262, 322, 338 or 829 to Dalitang Station.
To Jiefangbei: Take bus line 132 to Xiaoshizi or line 402, 462 or 881 to Jiefangbei Station.
To
Hongya Cave
: Take bus line 111, 112, 114, 151, 181, 261, 262, 424, 466 or 866 to Hongyadong Station.

Overnight lines: 0811, 0800, 0491, 0493, 0492, 0321, 0301

Bus Lines useful for touring the city:

Line 338
Operating Hours: 06:30 to 19:30
Passes by: Nanbin Road, Haitang Yanyu Square, the Conference and Exhibition Center, People's Assembly Hall, Shangqingsi

Line 631
Operating Hours: 06:40 to 19:30
Main Stops: Beibin Road, Guanyinqiao, Chongqing Children's Amusement Park, Hong'ensi Park,

Line 503
Operating Hours: 05:50 to 20:20
Main Stops: Ciqikou,
Railway Station
, Chaotianmen Dock, Jialingjiang Binjiang Road, Changjiang Binjiang Road

Line 278
Operating Hours: 06:00 to 22:00
Main Stops: Gele Mountain, Shapingba Park, Shapingba, Chongqing Normal University
Tips: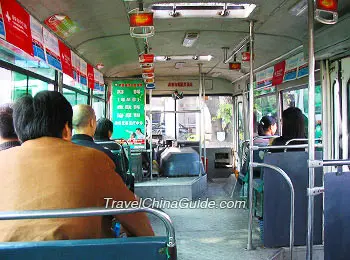 1. Information about Transportation Card

Any traveler can purchase a Transportation Card without a passport, ID card or any other documents; there is a service fee of CNY25, with CNY1 per month deducted.

You can buy a card at designated points such as bus stations, subway stations and offices of Transportation Card Company.

Only cards bought at an office of the Transportation Card Company can be returned after use. The balance and the remainder of the service fee on the card will be refunded. In addition, you will be charged CNY5 per card as depreciation. Cards bought at subway stations cannot be returned. Some major offices of the card company are listed below:
| | |
| --- | --- |
| Address | Operation Time |
| No. 171, Third Zhongshan Road, Shangqingsi | 08:30-17:30 |
| City Square A, No. 39, Wusi Road (Close to Exit A of Linjiangmen Station) | 08:30-17:30 |
| No. 139, Third Zhongshan Road (Inside Bank of Chongqing) | Same with the bank |
| No. 9, Chentian Road, Three Gorges Dam Square | 08:30-17:30 |
2. Wifi service is available on some bus lines. Passengers need to have a China mobile phone number to link to the Wifi. Search for the Wifi name "Shanlink" to be connected.
3. Among the overnight lines, Line 0491 runs from
North Railway Station
to Xinyi Street (near Chaotianmen Dock) via Hongya Cave and Shangqingsi. Line 0800 is from North Railway Station to
Chongqing Zoo
via Chenjiaping Long-distance Bus Station.
4. Bus Line 338 and 631, passing by Nanbin Road, are good routes for appreciating the
Yangtze River
.