Shanghai Public Transportation Card
It will be more convenient and pleasant if you use a Shanghai Public Transportation Card when you travel around the city.
Like the MetroCard in New York City and the Oyster Card in London, it is a kind of stored value smart card used in the public transportation of the city and some cities in the nearby Jiangsu, Zhejiang and Anhui Provinces.
Shanghai Public Transportation Card Service Center
The card is issued and managed by Public Transportation Card Co., Ltd. (SPTCC).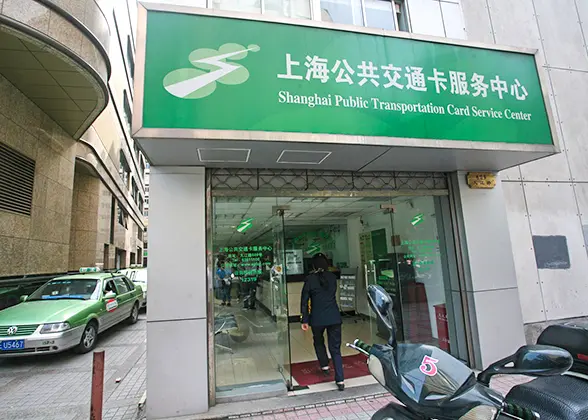 Public Transportation Card Service Center
The service center is set up by SPTCC to serve the public on consultation, card issue, return and repair as well as value recharge, transfer and return.
Address: No. 609, Jiujiang Road (near the intersection with Zhejiang Road)
Office Hours: 09:30 - 18:30 (from Monday to Friday); 09:30 - 16:30 (Saturday, Sunday)
Information Line: 021-63611100
Sales Hotline: 021-63601952
Card Types
There are mainly three types of Public Transportation Cards - ordinary, souvenir and transformed cards.
1. Ordinary cards are categorized into system running test cards issued in 1999 and other ordinary cards.
2. Souvenir cards are made to commemorate some important events, festivals and Chinese cultural heritage. You can choose from cards with various topics and patterns on the city's transportation history, famous attractions, Tourism Festival, as well as Shaoxing Opera, Chinese zodiacal animals, APEC Shanghai 2001, the bid for World Expo 2010, 2007 Special Olympics World Summer Games and the tenth anniversary of Hong Kong's return to China.
3. Transformed cards have many forms, including constellation cards, lover cards, Christmas cards and mini cards. The most special transformed ones are the watch cards with cards inside various stylish watches.
→ Buy a Card → Value Recharge → Value Transfer → Refund → Maintenance
-
- Last modified on Apr. 23, 2019 -
Questions & Answers on Shanghai Public Transportation Card
Asked by Helmut Reitter from GERMANY | Jun. 05, 2019 03:04

Reply
Can I buy in Shanghai a Transportation Card at any Metro Station?
Can I buy on at Pudong Airport Metro Station? At Main Railway Station? How much does it cost to get on? Do I keep my balance on card even if I dont use it for one year? Or are there Monthly fees?
Can I as a foreigner charge my card with cash or Credit Card ( no Alipay ) ?
Answers (1)
Answered by Alex from AUSTRALIA | Jun. 05, 2019 19:08

0

0

Reply
You can buy it at any metro station and railway station. You need to pay CNY20 deposit. It doesn't matter whether you have balance in card or not. You can charge your card with cash by RMB.
Asked by lane from MALAYSIA | May. 28, 2019 10:20

Reply
Use at Airport Bus Line 5 (Shanghai Pudong Airport)
We will need to take airport bus line 5 at Pudong Airport going to our hotel. Can we use this public transportation card in that bus?
Answers (1)
Answered by Dora from CANADA | May. 28, 2019 19:33

0

0

Reply
As I know, you can use the transportation card when you taking the airport shuttle bus.
Asked by Christal from SPAIN | May. 24, 2019 18:08

Reply
Shanghai public transportation card at Hongqiao railway station and it's validity
Hi! I will arrive this afternoon to Hongqiao railway station. How can I find where to buy the public transportation card? Can I use the same card next time I came back SH in September or will it expire before? Thank you so much!
Answers (2)
Answered by Lara from AUSTRALIA | May. 27, 2019 00:28

0

0

Reply
You can buy it at Hongqiao railway station B1 floor Metro South exit. You can use the same card in September as long as there is enough balance in card.
Answered by Christal from SPAIN | May. 27, 2019 04:54

0

0

Reply
Thank you so much!
Asked by Maria from SINGAPORE | May. 20, 2019 22:06

Reply
Coming from Nanjing, can i buy the Shanghai transport card at Main Railway Station? Thanks.
Answers (1)
Answered by Elva from NEW ZEALAND | May. 22, 2019 20:05

0

0

Reply
Yes, you can go to the Service Center of the Metro Station inside the Main Railway Station. There are many detailed English signs which can help you find the direction easily.
Asked by Amy from UNITED STATES | May. 16, 2019 05:09

Reply
Shanghai Maglev Ticket or Shanghai Public Transportation Card
My mother and I are in the city for 2 weeks so I will buy us 2 transportation cards, and load with CNY. Can I get discount Maglev travel on this card? Is it cheaper to buy separate Maglev tickets when we leave the airport and return to the airport (showing our flight tickets)?
Answers (1)
Answered by Jack from UNITED KINGDOM | May. 16, 2019 22:51

0

0

Reply
Generally, you can enjoy a discount according to the card and it costs CNY40 per person. If you show your flight tickets, you can also enjoy a discount and the ticket price is CNY40. However, you can only enjoy either one but not both at the same time.