Shanghai Transportation
Shanghai, situated on the estuary of Yangtze River, is the busiest transport hub in eastern China. As an important financial and business center of China and of the world, it has highly developed infrastructure, including a convenient public transportation network.
Getting there
The city has various links to the outside. Today you can easily get there from not only the adjacent cities of Suzhou, Nanjing and Hangzhou, but also the distant cities such as Beijing, Xi'an, Guangzhou, and Hong Kong. Many cities in other countries also enjoy convenient transportation links with Shanghai. You can get there by air, train, long-distance bus, or ship.
| | |
| --- | --- |
| Pudong International Airport | Check-in Counters at Pudong Airport |
It is the only Chinese city that has two international airports - Pudong International Airport and Hongqiao International Airport. The two modern airports are equipped with very advanced facilities.

Everyday, about 1,000 flights travel through the two airports, linked with many domestic and international cities such as Beijing, Hong Kong, New York, Los Angeles, London, Paris, Tokyo and Singapore.



Pudong International Airport

Pudong Airport Shuttle Bus to Downtown

Pudong Airport Bus to Nearby Cities

Hongqiao International Airport

Hongqiao Airport Shuttle Bus

The railway network provides you with an inexpensive and comfortable way to get to the city. Jinghu (Beijing-Shanghai), Huning (Shangha- Nanjing) and Huhang (Shanghai-Hangzhou) High Speed Railways pass through Shanghai and connect its three main railway stations with cities all over the country.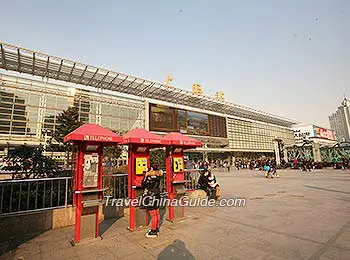 Shanghai Railway Station
Here you can also take advantage of tourist trains and special 'Holiday Trains' to scenic areas in other provinces such as Mt. Huangshan in Anhui and Mt. Wuyishan in Fujian.
Long-distance buses are also convenient. Four national highways and four expressways pass through the city, composing the city's efficient long-distance bus transport system. Now over 1,000 routes are served by 40 long-distance bus stations.


Tour Bus Center


Due to its strategic location, transportation via waterways is also highly accessible. International cruises can be taken at Shanghai Port International Cruise Terminal and Wusongkou International Cruise Terminal, and the main destinations include South Korea, Japan, Hong Kong, Taiwan and Singapore. Domestic ships leave from Wusong Passenger Transport Center to Mt. Putuo and islands in Chongming District. In addition, cruises between the city and Chongqing can be a good choice to tour the Yangtze River.

Transportation to Other Cities

Airport Shuttle Bus to Nearby Cities

How to Travel between Shanghai and Suzhou

How to Travel between Shanghai and Hangzhou

How to Travel between Shanghai and Yiwu

How to Travel between Shanghai and Ningbo

How to Travel between Shanghai and Nanjing

How to Travel between Shanghai and Huangshan

Shanghai-Beijing Train vs. Flight

Shanghai - Hong Kong Train vs. Flight
---
Getting around
Generally, transportation inside the city is considered both convenient and satisfactory. As an international metropolis with the largest population in China, this city will inevitably face the problem of overpopulation and traffic congestion. However the situation is currently somewhat better than in Beijing. To relieve the transportation pressure, the government has done a lot of work including constructing a large number of roads, subways, and opening more new bus routes. Now, the city has the world's largest public transportation system handling the largest daily volume of passengers.
Sixteen shanghai subway lines have connections all over Shanghai, with stops at or nearby the main attractions and commercial areas. If you are just sightseeing and in no hurry, the metro will provide you with fast and comfortable service (though you may want to avoid rush hour of 07:00 to 09:30 and 16:30 to 19:30).


Metro Lines: Line 1, Line 2, Line 3, Line 4, Line 5, Line 6, Line7, Line 8, Line 9, Line 10, Line 11, Line 12, Line 13, Line 16, Line 17, Pujiang Line

How to Take Metro

Metro Transfer

Metro Ticket

Bilingual List of Metro Stations

Metro Maps

A high-density road network makes overland transportation easy. Taxis, city buses, and sightseeing buses are ready to bring you to everywhere. If you prefer driving yourself, rental cars are available - a word of caution though - if possible, avoid the congested overhead roads in the urban area inside the Inner Ring Road during rush hour. Riding a dockless sharing bike can be another convenient way for you to explore the city.
| | |
| --- | --- |
| Metro | Ferry |
Chongming
, Changqing and Hengsha.
-
- Last modified on Feb. 25, 2019 -
Questions & Answers on Shanghai Transportation
Asked by P fung from MALAYSIA | Mar. 18, 2019 07:28

Reply
How long to walk from Dagu Road, Huangpu, to the Bund?
Answers (1)
Answered by Justice from FINLAND | Mar. 21, 2019 02:58

0

0

Reply
Oh, the distance is around 4km. Thus you are suggested to take a taxi. The cab fare is around CNY20.
Asked by Kelvin from INDONESIA | Feb. 24, 2019 07:41

Reply
Hi, please inform me how to take the train from Pudong airport to Suzhou.
Thank you.
Kelvin - Indonesia
Answers (1)
Answered by Cerys from UNITED KINGDOM | Feb. 25, 2019 21:53

0

0

Reply
Upon landing, take metro line 2 to Century Avenue Station. Then transfer to metro line 4 to the Main Railway Station. Take the bullet train from the Main Railway Station to Suzhou. The train duration is around half an hour.
Asked by Matt from AUSTRALIA | Feb. 24, 2019 01:47

Reply
How much for a private car from Pudong airport to green court serviced apartments?
Answers (1)
Answered by Siena from UNITED KINGDOM | Feb. 25, 2019 21:51

0

0

Reply
Generally speaking, it costs CNY150 to 200 by private car.
Asked by Wanda from USA | Feb. 18, 2019 20:11

Reply
Is there shuttle to Shanghai Marriott Courtyard 338 Hengfeng road?
What is best way to get there from Pudong Airport?
Answers (1)
Answered by Ava from SINGAPORE | Feb. 19, 2019 19:56

0

0

Reply
Yes, you can take airport shuttle bus line 5 and get off at the Main Railway Station first. Then walk south around 700 meters to find your hotel.
Asked by Ann from USA | Feb. 16, 2019 08:47

Reply
do i qualify for 144 hr visa leave US and arrive Shanghai
Flying nonstop from U.S. 2/28/19 to SH. arrive SH 3/1,7:30p.m. stay in SH 3/1-3/3,when we Board cruise ship in SH and remain on board 3/3 and depart 3/4 for Fukuoka Japan.Do we qualify for the 144 hr. free visa
Answers (1)
Answered by Hannah from DENMARK | Feb. 19, 2019 19:59

0

0

Reply
Yes, you qualify for the 144hr visa free policy. :)