Shanghai Transportation
Shanghai, situated on the estuary of Yangtze River, is the busiest transport hub in eastern China. As an important financial and business center of China and of the world, it has highly developed infrastructure, including a convenient public transportation network.

Getting there
The city has various links to the outside. Today you can easily get there from not only the adjacent cities of Suzhou, Nanjing and Hangzhou, but also the distant cities such as Beijing, Xi'an, Guangzhou, and Hong Kong. Many cities in other countries also enjoy convenient transportation links with Shanghai. You can get there by air, train or ship.
| | |
| --- | --- |
| Pudong International Airport | Check-in Counters at Pudong Airport |
The city has two international airports - Pudong International Airport and Hongqiao International Airport. The two modern airports are equipped with very advanced facilities.

Everyday, about hundreds of flights travel through the two airports, linked with many domestic and international cities such as Beijing, Hong Kong, New York, Los Angeles, London, Paris, Tokyo and Singapore.



Pudong International Airport

Pudong Airport Shuttle Bus to Downtown

Pudong Airport Bus to Nearby Cities

Hongqiao International Airport

Hongqiao Airport Shuttle Bus

The railway network provides you with an inexpensive and comfortable way to get to the city. Jinghu (Beijing-Shanghai), Huning (Shangha- Nanjing) and Huhang (Shanghai-Hangzhou) High Speed Railways pass through Shanghai and connect its three main railway stations with cities all over the country.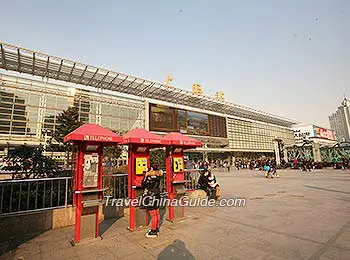 Shanghai Railway Station
Here you can also take advantage of tourist trains and special 'Holiday Trains' to scenic areas in other provinces such as Mt. Huangshan in Anhui and Mt. Wuyishan in Fujian.
Long-distance buses are also convenient. Four national highways and four expressways pass through the city, composing the city's efficient long-distance bus transport system. Now over 1,000 routes are served by 40 long-distance bus stations.

Due to its strategic location, transportation via waterways is also highly accessible. International cruises can be taken at Shanghai Port International Cruise Terminal and Wusongkou International Cruise Terminal, and the main destinations include South Korea, Japan, Hong Kong, Taiwan and Singapore. Domestic ships leave from Wusong Passenger Transport Center to Mt. Putuo and islands in Chongming District. In addition, cruises between the city and Chongqing can be a good choice to tour the Yangtze River.


Shanghai to Beijing

Beijing to Shanghai

Shanghai-Beijing Train vs. Flight

How to Travel from Shanghai to Other Cities in Yangtze River Delta Area

Shanghai Airport Shuttle Bus to Nearby Cities
How to Travel from Shanghai to Other Cities
---
Getting around
Generally, transportation inside the city is considered both convenient and satisfactory. As an international metropolis, this city will inevitably face the problem of overpopulation and traffic congestion. To relieve the transportation pressure, the government has done a lot of work including constructing a large number of roads, subways, and opening more new bus routes. Now, the city has the world's largest public transportation system handling the largest daily volume of passengers.
19 shanghai subway lines have connections all over Shanghai, with stops at or nearby the main attractions and commercial areas. If you are just sightseeing and in no hurry, the metro will provide you with fast and comfortable service (though you may want to avoid rush hour of 07:00 to 09:30 and 16:30 to 19:30).


Metro Lines: Line 1, Line 2, Line 3, Line 4, Line 5, Line 6, Line7, Line 8, Line 9, Line 10, Line 11, Line 12, Line 13, Line 15, Line 16, Line 17, Line 18, Pujiang Line

How to Take Metro

Metro Transfer

Metro Ticket

Bilingual List of Metro Stations

Metro Maps

A high-density road network makes overland transportation easy. Taxis, city buses, and sightseeing buses are ready to bring you to everywhere. If you prefer driving yourself, sharing bikes are available - if possible, avoid the congested overhead roads in the urban area inside the Inner Ring Road during rush hour.
| | |
| --- | --- |
| Metro | Ferry |
Chongming
, Changqing and Hengsha.
All the transportation methods above accept Public Transportation Card. It is advised to prepare one if you plan to stay in the city for a long time.
- Last updated on Sep. 08, 2023 by Gabby Li -
Questions & Answers on Shanghai Transportation
Asked by Shirley from SINGAPORE | Nov. 21, 2023 22:37

Reply
Transport
Hi, how much will be taxi fare or bus fare from pudong airport to Fairfield marriott jingan? Is the taxi in meter ? Arriving at 6.30am. Thank you
Answers (1)
Answered by Hailey | Nov. 23, 2023 00:47

0

0

Reply
Metro is more recommended. You can take Metro Line 2 from the airport to People's Square and then transfer to Metro Line 1 to Yanchang Rd. Station. Get out of the exit 3 and walk northwest about 600m, and you can reach the hotel. It takes about 100 minutes and costs CNY7.

If take taxi, it is in meter and the fare would be about CNY 220-250.
Asked by Ronald from PHILIPPINES | Nov. 06, 2023 15:08

Reply
Suzhou North Square Bus Station 苏州北广场汽车站 bus from Pudong International Airport PVG?
Is there a bus going directly to Suzhou North Square Bus Station 苏州北广场汽车站 from Pudong International Airport (PVG)? Thank you.
Answers (1)
Answered by James | Nov. 07, 2023 22:15

0

0

Reply
Yes, there is. The shuttle bus will finally stop at the bus station and it departs from Pudong Airport from 9:10 to 18:40 with an interval of 1-2 hours.
Asked by andy from INDONESIA | Oct. 25, 2023 21:41

Reply
Bus from Pudong to People Square
which bus line i should take from pudong airport to people's square ?
Answers (1)
Answered by James | Oct. 25, 2023 22:57

0

0

Reply
There is no direct bus available but you can take Metro Line 2 directly from the airport to People's Square. It takes about 1.5 hours and costs CNY 7.
Asked by Littlefisty from MALAYSIA | Oct. 20, 2023 05:27

Reply
Campanile shanghai bund hotel
Hi! I'm arriving at 1030pm at night. May I know what shuttle bus number to take from Pudong airport to campanile shanghai bund hotel? Which stop do I alight?
Answers (3)
Answered by Diana | Oct. 22, 2023 19:45

0

0

Reply
You can take the Night Airport Bus Line from the airport to East Yan 'an Road Middle Zhejiang Road. Get off and walk about 500m to the hotel.
Answered by Andy | Oct. 27, 2023 00:41

0

0

Reply
What is the bus number that stops at this street ?
Answered by Diana | Oct. 27, 2023 00:49

0

0

Reply
There is no bus number but you can easily find it following the instructions of the airport.
Asked by Liz from SINGAPORE | Oct. 09, 2023 02:41

Reply
Didi from Pudong airport to hotel
Hi, I am planning to call for a Didi driver from Pudong airport to my hotel in People Square. Where do Didi drivers usually pick up passengers at the Terminal 1 arrival hall? And roughly how much does it cost per trip?
Answers (1)
Answered by Trace | Oct. 09, 2023 23:51

0

0

Reply
It costs around CNY150-200, varying in different time periods of the day. The Didi drivers usually pick up passengers in the parking lots for taxis. There are direction signs leading you there.