Shanghai Pudong International Airport
Airport Code: PVG
Location
Shanghai Pudong International Airport, abbreviated as PVG airport, is located in Pudong New District, about 18.6 miles (30 kilometers) from downtown area and about 24.9 miles (40 kilometers) from Hongqiao International Airport.

Pudong Airport Transfer
Brief Intro
Covering an area of more than 15.4 square miles (40 square kilometers), Pudong Airport is one of China's most famous and important airports. The more than 197.7 acres meters (800,000 square) of parking aprons along with 76 gate positions provide evidence of its importance.

This airport also consists of two terminal buildings and free shuttle buses and specal roadways connect the two terminals. Thirteen baggage transfer belts for arrivals and twenty-eight boarding bridges and other attached service, such as shopping areas and restaurants are also available to provide travelers with more convenience and comfort during their stay. Currently airlines flying in and out of providing service to 62 domestic cities and 73 international destinations.
| | |
| --- | --- |
| Pudong International Airport | Maglev to Downtown |
Transport between Pudong Airport and City Center

Shuttle Bus
Ten airport bus lines handle transfers from Pudong International Airport to the city center.

Maglev
Maglev Train operates between Pudong International Airport and Longyang Rd. There is a train depart from PVG Metro Station every day from 06:45 to 21:40 at intervals of 15 to 20 minutes. The whole journey takes only eight minutes. The charge is CNY 50 for an ordinary single trip and CNY 100 for VIP, CNY 80 for an ordinary round trip and CNY 160 for VIP. You can buy an ordinary single ticket at a preferential price of CNY 40 if you have an intraday air ticket. When you get off at Longyang Rd. Station, you can transfer to Metro Line 2 running westward and passing many of the city's prosperous areas such as Century Park, Lujiazui, East Nanjing Road and People's Square.



Metro Line 2
Metro Line 2 is a long and busy line connecting Pudong and Puxi. After extentions, now, it has stretched to PVG, led to Hongqiao Airport either. Passengers have to get off the 4-car metro train at Guanglan Road Station (between Longyang Road Station and PVG) and then change another 8-car metro train to go ahead. Vice versa, passengers get off at the same metro station from a 8-car train and get on a 4-car train to enter Pudong Airport. It costs CNY9 for the whole trip and CNY8 from Pudong to Hongqiao airport. It needs more than one hour between the two airports.

Taxi
Route
Rate (RMB)
Day
Night
Lujiazui (Oriental Pearl TV Tower, Jin Mao Tower)
165
210
People's Square
180
230
The Bund
185
240
Yuyuan Garden (City God Temple)
175
220
Wujiaochang
170
215
Jing'an Temple
185
240
Railway Station (General Bus Station)
185
240
South Railway Station
145
220
Hongqiao Airport T2, Hongqiao Railway Station)
230
290
These countries are: Albania, Argentina, Austria, Australia, Belarus, Belgium, Bosnia and Herzegovina, Brazil, Brunei, Bulgaria, Canada, Chile, Croatia, Cyprus, Czech Republic, Denmark, Estonia, Finland, France, Germany, Greece, Hungary, Iceland, Ireland, Italy, Japan, Latvia, Lithuania, Luxembourg, Macedonia, Malta, Mexico, Monaco, Netherlands, New Zealand, Poland, Portugal, Qatar, Republic of Montenegro, Romania, Russia, Serbia, Singapore, Slovakia, Slovenia, South Korea, Spain, Sweden, Switzerland, United Arab Emirates, Ukraine, United Kingdom, United States.
Passengers can not only transit in this city, but also transit in
Hangzhou Xiaoshan Airport
and
Nanjing Lukou Airport
. During the six days, they can travel in Shanghai, Zhejiang and Jiangsu Provinces.
Visa is not necessary for cabin staff and passengers from any other countries who come to China and will only stay within airports no more than 24 hours.

Recommended Visa-free Packages:
One-Day Explorations
,
3-Day Private Vacation
,
144-hour Visa Free to Shanghai, Suzhou & Hangzhou
| | |
| --- | --- |
| Pudong Airport Terminal | Waiting Hall |
Terminal Buildings & Airlines

Airline Companies in Terminal 1 (T1)
Air France (AF), Japan Airlines (JL), Korean Air (KE), KLM Royal Dutch Airlines (KL), China Eastern Airlines (MU), AirAsia ZEST Airway (Z2), Qantas (QF), Gulf Air (GF), Jin Air (LJ), Sri Lankan Airlines (UL), Royal Brunei Airlines (BI), China Airlines (CI), American Delta Airlines (DL)

Airline Companies in Terminal 2 (T2)
Air India (AI), British Airways (BA), Garuda-Indonesia Airline (GA), Malaysia Airlines (MH), , Philippine Airlines (PR), Qatar Airways (QR), Virgin Atlantic (VS), Cebu Pacific Air (5J), Air Canada (AC), Finnair (AY), Air China (CA), Cathay Pacific Airways (CX), China Southern Airlines (CZ), Emirates Airlines (EK), Dragon Air (KA), Lufthansa German Airlines (LH), All Nippon Airways (NH), Air Macau (NX), Air New Zealand (NZ), Asiana Airlines (OZ), Singapore Airlines (SQ), Russian Airlines (SU), Thai Airways (TG), Turkish Airlines (TK), American United Airlines (UA), American Airlines (AA), Juneyao Airlines (HO), Spring Air (9C), Etihad Airways (EY), Scandinavian Airlines (SK), Chengdu Airlines (EU), Chongqing Airlines (OQ), South East Asian Airlines(DG), PAL Express (2P), Easter Jet (ZE), Cambodia Angkor Air (K6), Uni Air (B7), Mega Maldives Airline (LV), Aero Mexico (AM), Sichuan Airlines (3U), Swiss International Airlines (LX), Shandong Airlines (SC), Shenzhen Airlines (ZH), Eva Air (BR), TransAsia Airways (GE), Tianjin Airlines (GS), Hong Kong Airlines (HX), Air Asia (D7), Mahan Air (W5), Lucky Air (8L), Hainan Airlines (HU)
Please make sure you go to the right terminal building. Special roadway and buses are accessible for the convenience of shuttling between T1 and T2. Passenger can go through the three long corridors between them. These regular buses depart every 10 minute and take about 5 minutes from one building to the other. They can be found at Exit 1 of the domestic and Exit 7 of the international departure levels in T1 and Exit 23 of the international and Exit 27 of the domestic departure levels in T2. Operating hours range from 06:00 to 24:00. In addition, passengers can get into T2 via the connecting porch for Maglev trains. For those who drive by themselves or take taxis, they can get to T2 though A20 Expressway, A1 (Yingbin Dadao) and then Shanghai North-South Elevated Freeway.
| | |
| --- | --- |
| Transportation Signs | Bilingual Direction Boards |

City Terminals in downtown and nearby cities


Jing'ansi City Terminal
Location: 1600 West Nanjing Road, near to Huashan Road and Jing'an Temple, 3 minutes walking distance from Exit 3 of Jing'ansi Station of Metro Line 2
Services: Airport Shuttle Bus Line 2; boarding check service for the flights of Shanghai Airlines departing after 11:30 and within three hours prior to the departure of the last flight at the same day; luggage consignment for a part of Shanghai Airlines' flights (passengers should check at the counters in PVG if their luggage has gotten through the custom and the security check)
Check-in hours: 08:30-17:30



Kunshan City Terminal
Location: Kunshan International Conference and Exhibition Center, 388 East Qianjin Road, Kunshan City
Operating hours: 04:30-19:00
Services: There is a direct shuttle bus from the city terminal building to PVG every 45 minutes and the journey takes 1.5 hours. Passengers can handle check-in service and luggage consignment 4-48 hours prior to the departure time, which applies to flights of Shanghai Airlines and China Eastern Airlines departing from PVG. There are two VIP lounges, six service counters, eight check-in counters, air ticket offices and an 800-square-meter waiting hall.



Wuxi City Terminal
Location: Wuxi Bus Station, No. 227, Xihu West Road, Chong'an District
Operating hours: 05:00-22:00
Services: Airport shuttle buses are available between this terminal and the Pudong and Hongqiao Airport in around three hours. Passengers of China Eastern Airlines and Air China can take the shuttle bus for free. Passengers of China Eastern Airlines, Shanghai Airlines and China United Airlines can check-in at the terminal 5-24 hours before the departure time if from PVG and 4 to 24 hours before leaving from Hongqiao Airport. Buying flight tickets here enjoys 12% off discount.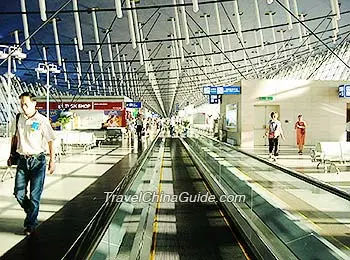 Passengers Transfer
T2 has three floors. Domestic departure and arrival are mixed in Level 1. Passenger will only need no more than 20 minutes to finish the whole procedure of transfer between one domestic flight to another.
There is a transfer hall of 4,000 square meters in the center of the building, equipped with forty counters to handle centralized services for ticketing, border and security inspection, and baggage checking. It brings great convenience to those passengers who will make a transfer between domestic (D) and international (I) flights and I - I flights.



I - D: After arriving in the CIQ (China Inspection & Quarantine) Area and being checked, head for the transfer hall to handle check-in and enter the concourse of departure (minimum time duration about 51 minutes).


D - I: After arriving in the connected concourse and passing through the domestic departure area, head for the transfer hall and take an escalator or elevator up to the international CIQ Area, preparing for leaving (minimum time duration about 49 minutes).


I - I: There are nine counters to handle the transfer and transit service in the central part of the international arrival concourse. After arranging the boarding check, take the dedicated elevator up to the international CIQ Area, awaiting departure (minimum time duration about 29 minutes).
Airport Facilities & Services

Shopping Area
For your convenience duty free shopping is also available between Gates 15 and 20 for International Departures.

Restaurants: Dozens of restaurants can be found within the airport. Two of the most famous establishments are Canglang Ting Restaurant and Hong Fangzi Western Food Restaurant.

Hourly Hotel

: A three-star-rated hotel is located on the Transfer Level of the main terminal building. You will need to provide your boarding pass before registering.

Smoking Areas:
It is not allowed to smoke in the airport. The smoking areas are set outside the terminal buildings: two at T1 and three at T3. The entrances of the smoking areas are as follows: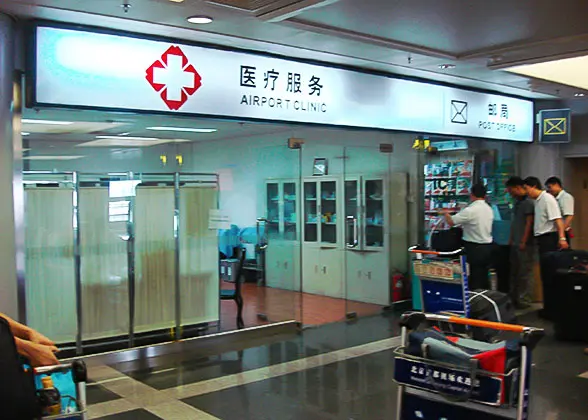 Airport Clinic
T1: Boarding Gate no. 200-203, Domestic Departure Hall; Boarding Gate no. 213-216, International Departure Hall.
T2: Boarding Gate no. 219-221 & no. 222-224, Domestic Departure Hall; the Terrace of the Corridor at International Departure Hal

Toilets: Restrooms are conveniently located in both the Domestic Departure area as well as the International Departure areas.



Clinic:
In the event of a need for medical attention, the airport has medical clinics in the following locations:
1) Room A2-210, 2 F, Domestic Arrivals
Tel: 021-68345328
2) Between Gate 6 and Gate 7, Domestic Departures
Tel: 021-68345376
3) Room C2-213, 2 F, International Arrivals



Car Parking
Parking time (hour)

Fee for Minitype (CNY)

Fee for Big-sized

(CNY)

0-1

10
20

1-2

20
40

2-3

25
50

3-4

30
60

4-5

35
70

5-6

40
80

6-7

45
90

7-24

50
100

Ticketing

: For your convenience Shanghai Airlines, China Eastern Airlines and China Southern Airlines have offices located within Pudong International Airport.

Information

: There are two information counters located within Pudong International Airport. One is between Gate 3 and Gate 4 in Domestic Departures area, and the other is between Gate 11 and Gate 12 in International Departures area.

Lost & Found

: A lost and found office is located near No.7 Gate in the Arrivals area. The lost and found telephone number is 021-68346324

Free Wifi: Passengers can use a passport to obtain a Wifi's username and password from self-service machine to link to the internet. The locations are the following:
T1: Boarding Gate No.8 -9, Domestic Departure Hall; Boarding Gate No.19-20, International Departure Hall
T2: Boarding Gate No.C58, Domestics Departure Hall; Boarding Gate No.D77, International Departure Hall

Bank

:

For your banking convenience, banks are located in the following areas:
Pudong Development Bank: between Gate 10 and Gate 12 in International Arrivals area
Bank of China: between Gate 15 and Gate 16in International Departures area
Industrial & Commercial Bank of China: between Gate 12 and Gate 14 in International Departures area
China Citic Bank: between Gate 4 and Gate 5 in Domestic Departures area

Baggage Claim and Inquires


Address: south of International Arrivals Baggage Claim Area

Airport Police

: The Pudong International Airport Police telephone numbers are 021-6834565 and 021-68345692