Shanghai Trains
Shanghai is the gathering point of many major high speed rail lines; therefore it has convenient train services for tourists to many destinations throughout China, including trains to/from Beijing, Guangzhou, Hong Kong, Hangzhou, Nanjing, Suzhou, Chengdu, Xi'an, Guilin, Huangshan, and Shenzhen.

They are operated at four main railway stations: Shanghai Railway Station, South Railway Station, West Railway Station and Hongqiao Railway Station.

Shanghai Train Schedule
(Last Update on Jul 5, 2021)
To
Trains
Duration
Ticket Fare (CNY)
First/ Second Class Seat

Beijing

G104, G6, G106, G110...
32 departures from 06:37 to 21:23
4h18m - 12h6m
CNY 933/ 247
USD 145/ 38

Guangzhou

G85, G1301, G99, G1305 from 08:00 to 15:25
6h51m - 8h38m
CNY 1,302.5/ 793
USD 202/ 123

Xi'an

G1970, G3180, G1974, G360...
14 departures from 06:10 to 22:50
5h52m - 11h13m
CNY 1,095/ 459
USD 170/ 71

Guilin

G1501 at 10:03
8h52m
CNY 1,085.5/ 657.5
USD 168/ 102

Hangzhou

G7541, G7541, G1321, G7331...
158 departures from 05:49 to 21:30
0h45m - 2h2m
CNY 74/ 32
USD 11/ 5

Suzhou

G7072, G7032, G1970, D352...
213 departures from 05:48 to 22:50
0h21m - 1h30m
CNY 44/ 14
USD 7/ 2

Nanjing

G7072, G7032, G456, G1970...
227 departures from 05:48 to 22:50
0h59m - 3h57m
CNY 169/ 51
USD 26/ 8

Huangshan

G7317, G7317, G1509, G7313...
16 departures from 08:05 to 19:06
2h26m - 3h25m
CNY 272/ 169.5
USD 42/ 26

Kunming

G1371, G1373, G1377, G1375 from 07:21 to 11:15
10h39m - 11h57m
CNY 1,475/ 879
USD 229/ 136

The above schedule is for reference only. For real-time schedule and ticket booking, please click the arrival stations.
How to Buy Shanghai Train Tickets
1. From TravelChinaGuide by clicking the arrival destinations in the table above or using the search box on this page top. This is the most convenient way.
2.
From any railway station in mainland China, including the four in Shanghai. Remember to bring your passport, as real-name ticket policy is strictly implemented.
3. From ticket offices scattering all over China, even in some suburban areas.

See Shanghai Train Ticket Offices
4. From the 12306.cn. This is the official website of China Railway Corporation, but it is in Chinese only.

Tip: It is better to book the tickets in advance, especially during the peak travel time, such as National Day and Chinese New Year. Because there is a great possibility that they will be sold out in minutes once available.
| | |
| --- | --- |
| | Waiting Room of Hongqiao Station |
Located at 303 of Moling Road in Zhabei District, Shanghai Train Station is an integrated station which provides all kinds of scheduled trains to large numbers of cities inland, such as Beijing, Xi'an, Chengdu, Nanjing, Hangzhou, Harbin. It also serves the through trains to Hong Kong, overnight sleeper trains to Beijing and overnight sleepers to Xi'an.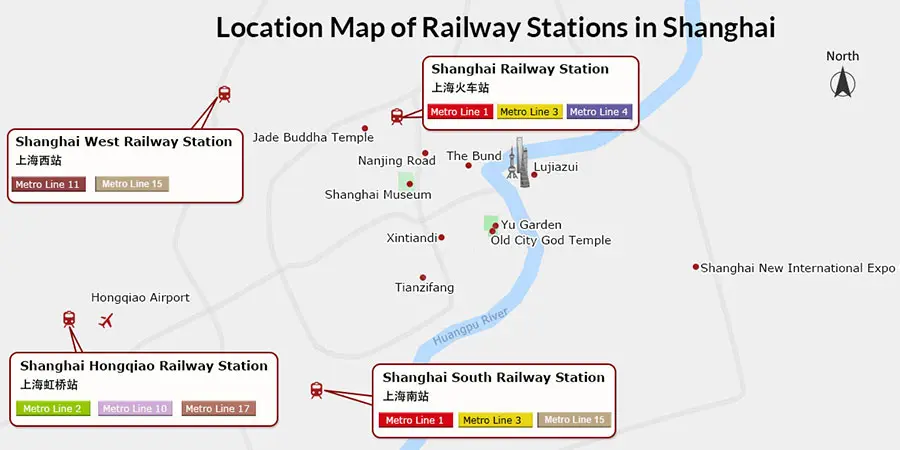 Location Map of Railway Stations in Shanghai
It is the southern gate of the city which is connecting with the Pearl River Delta and other areas in southern China.
Trains from there mainly leave for Guiyang, Changsha, Shenzhen, Xiamen, Nanchang, and other cities
. Additionally, there are many scheduled intercity trains running from this station to Jinshan District.
Hongqiao Railway Station is a large-scale, multi-functional, integrated rail hub with advanced facilities and the high level of modernization. It serves high speed trains plus connections to flights, subways, city buses, coaches and taxis. Currently, this station mainly serves bullet trains to Hangzhou, Nanjing, Suzhou, Wuxi, Fuzhou, Wenzhou, Nanchang, Xiamen, Beijing and several other cities over China.



See more
How to Get from Shanghai Hongqiao Railway Station to the Bund
How to Get from Shanghai Hongqiao Railway Station to People's Square & Nanjing Road
How to Get from Shanghai Hongqiao Railway Station to Pudong Airport


Changzhou, Danyang, Huishan, Hefei,
and Wuxi.
Shanghai Pudong International Airport
. After completion, trains to/from Suzhou, Hangzhou, Chongqing, Chengdu, Yangzhou, Nanjing and more places will be operated.
Major Rail Lines from Shanghai to:
- Last modified on Apr. 19, 2021 -