Shanghai Hongqiao Railway Station
Hongqiao Railway Station is an important high speed train station in the city. It is adjacent to terminal building 2 of Hongqiao International Airport to its east, about 12.4 miles (20 kilometers) to Nanjing Road, 13 miles (21 kilometers) to Shanghai Railway Station, 12.4 miles (20 kilometers) to the South Station and 37 miles (60 kilometers) to Pudong International Airport.

Address: Shenhong Road, Minhang District


Hongqiao Railway Station See-off Service
Schedule and Ticket Booking
This Shanghai High Speed Train Station mainly operates bullet trains to/from many major cities in China.

Major Rail Lines from this station to:

Schedule to major destinations
(Last Update on Jun 22, 2021)
To
Trains
Duration
Ticket Fare (CNY)
First/ Second Class Seat

Beijing South

G104, G6, G106, G110...
32 departures from 06:37 to 21:23
4h18m - 12h6m
CNY 933/ 247
USD 144/ 38

Xi'an North

G1970, G3180, G1974, G360...
14 departures from 06:10 to 22:50
5h52m - 11h13m
CNY 1,095/ 459
USD 168/ 71

Guangzhou South

G85, G1301, G99, G1305 from 08:00 to 15:25
6h51m - 8h38m
CNY 1,302.5/ 793
USD 200/ 122

Shenzhen North

D2287, D377, D2281, D2285...
7 departures from 07:00 to 11:24
11h17m - 11h53m
CNY 962/ 601
USD 148/ 92

Nanjing South

G7072, G7032, G456, G1970...
234 departures from 05:48 to 22:50
0h59m - 4h00m
CNY 169/ 51
USD 26/ 8

Hangzhou East

G7541, G7541, G1321, G7331...
159 departures from 05:49 to 21:30
0h45m - 2h2m
CNY 74/ 32
USD 11/ 5

Huangshan North

G7317, G7317, G1509, G7313...
16 departures from 08:05 to 19:06
2h26m - 3h25m
CNY 272/ 169.5
USD 42/ 26

Xiamen North

D3145, G1651, D2287, D3131...
20 departures from 06:39 to 13:19
5h16m - 8h28m
CNY 657/ 411
USD 101/ 63

Chengdu

D2206, D352, D636, G1974...
7 departures from 06:00 to 10:48
11h10m - 15h37m
CNY 1,104/ 690
USD 170/ 106

Chongqing North

D2206, D352, D3072, D636...
10 departures from 06:00 to 11:37
10h23m - 13h10m
CNY 935/ 585
USD 144/ 90
Note: The above schedule is for reference only. For real-time schedule and ticket booking, please click the arrival stations.
See detailed
Shanghai Train Schedule
Station Plan
Hongqiao Train Station is made up of a terminal building and a front square. The main terminal building has three above ground floors and two underground floors.

3F: shops, restaurants

2F: waiting hall, check points, departure hall, ticket office, inquiry

1F: platforms

-1F: arrival hall, metro exits/entrance, taxi stand, long-distance bus station, restaurants, ticket office

-2F: subway platform
How to get to the station from downtown area?

Arrival by bus:
At West Traffic Center (drop-off area): Hong Qiao Line 5
At Railway Station (drop-off area): Hong Qiao Line 4
At East Traffic Center: 941, Hong Qiao Line 4, Hong Qiao Line 9, Pudong Airport Shuttle Bus Line 1
At Airport Terminal Building 2: Honglian Bus Line, Hong Qiao Bus Line (4, 6, 7, 8, 10)
Passengers getting to the station by bus will be dropped off at the west or east side of the station. For those with a ticket already, either an e-ticket or a paper ticket, enter the station directly with the ID certificate bearing the ticket, then find the correct waiting area according to the ticket. For those without, buy one in the ticket office on -1F or 2F and then go to the waiting hall to wait for departure.

Arrival by metro:
Line 2
,
Line 10
,
Line 17
If arriving at the station by subway, one will get off on -1F.

Arrival by taxi:
From Shanghai Railway Station: It takes about 45 minutes and costs CNY75.
From South Station: It takes 40 minutes and costs about CNY65.
From Pudong International Airport: It takes about 75 minutes and costs around CNY220.
From
People's Square
: It takes approximately 45 minutes and costs CNY60.
From
Oriental Pearl Tower
: It takes around 50 minutes and costs CNY80.

More information on the
Taxi
Elevated driveways are built on both the north and south sides of the station. Thus, passengers arriving by taxi can be dropped off at the entrance of waiting hall on 2F directly.
Ticket Check and Boarding
A number of check points are available at either side of the waiting hall. Before check-in, passengers should know which check point to go to. Afterwards go to platforms to get onboard. Please note that foreign passengers holding passport should use manual check channel.
| | |
| --- | --- |
| Checking Gate | West Traffic Center of the Station |
How to exit and leave the station?
Upon arriving, passengers will be directed to -1F to exit. Afterwards, follow the direction boards to find bus, taxi, or metro to leave the station.

Leave by metro:
The metro exits/entrances are located on -1F of the station and the platforms are on -2F.

Leave by bus:
Bus stations are located in the west and east sides of the front square. Passengers should first confirm their routes and then go there to find the bus they need to take.

Leave by taxi:
There are two taxi stands respectively to the south and north sides of the terminal on -1F.
How to Get to Other Places from Shanghai Hongqiao Railway Station

How to Get to Hongqiao Airport:
1. When getting off, passengers can follow the signs and walk along the underground passage about 10-20 minutes to get there directly.
2. Or take metro line 2 for one stop to get there.

How to get to Pudong Airport
:
1. Take metro line 2 to to Guanglan Road and transfer to metro line 2 (eastern extension) to Pudong Airport.
2. Take metro line 2 to Longyang Road, then change to Maglev train to Pudong airport.
3. Take Pudong Airport Shuttle Bus Line 1 at the east traffic center of the station and get off at the terminal building 1of the airport. The bus is available from 06:00 to 23:00 with an interval of 20-30 minutes. The duration is about 80 minutes and ticket fare is CNY34.

How to get to People's Square & Nanjing Road
: Take metro line 2 to People's Square Station, which is right alongside the Nanjing Road.

How to get to the Bund
: Take metro line 2 to East Nanjing Road, then walk east for about 10 minutes to get there.

Shanghai Railway Station:
1. Take metro line 2 to Zhongshan Park, and then change to
line 3
or
line 4
to reach it.
2. Take bus line 941 to the destination.

South Station: Take metro line 10 to Hongqiao Road. Then change to metro line 3 to the destination.

West Station
: Take metro line 10 to Jiaotong University first and then transfer to
metro line 11
to get there.

Oriental Pearl Tower: Take bus line 2 to Lujiazui and get off from Exit 1. Afterwards, walk northwestward to the destination.

Disneyland Park
: From Hongqiao Railway Station, walk 3-5 minutes and get to Hongqiao Bus Station (West Bus Station). Then take Shanghai International Tourism and Resorts Zone Express Line 3 and arrive at the destination.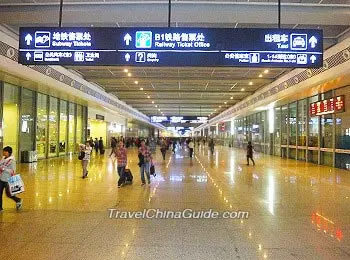 Arrival Floor of the Terminal Building
Facilities and Services

Ticket Office:
One ticket office is located in the center of 2F, which includes 154 ticket windows. Ticket refund and ticket change services can be handled at window no.9. Another one is situated on -1F where four ticket windows are available. It is close to the metro ticket office.
Tickets for trains departing from Hongqiao Station can also be purchased at Shanghai Railway Station and the South Station in downtown area. Please note that tickets for trains to Kowloon, Hong Kong are not sold here. Passengers need to buy them at the specific departure station.

Waiting Hall:
Covering an area of 11,900 square yards (10,000 square meters), the waiting hall without separate waiting rooms is located on 2F. Check points, toilets and hot water are spread on the two sides of the hall. When entering the hall, passengers can find a seat in the waiting hall or go shopping in the mezzanine on 3F.

Left Luggage:
Left luggage service is offered at the two sides of the waiting hall. It usually charges CNY10 for small lockers and CNY20 for big lockers. Alternatively passengers can store their luggage in the shops around the square, but they are privately owned and cost more.

Inquiry:
Inquiry Desk is in the waiting hall on 2F for passengers to seek advice, handle complaints, ask for directions, consult relevant information about ticket refund, lost tickets, ticket exchange or ask for help such as emergency medicine, needlework, and wheelchair.
Print

- Last modified on Sep. 22, 2020 -