Shanghai Hongqiao International Airport

Airport Code: SHA

Location
Hongqiao International Airport is situated in the western outskirts of Shanghai, about 13 kilometers (about 8 miles) from downtown area and about 60 kilometers (about 37 miles) from Pudong International Airport.

Hongqiao Airport Transfer



Brief Intro
Being the first civilian airport in this city, Hongqiao International Airport is more than eighty years old. After a series of renovations it has become one of the three international air transit centers in China. 91 airlines currently fly here to both domestic and international cities.

Terminal 1 is comprised of Zone A and Zone B cover about 82,000 square meters (about 20.3 acres) with 15 waiting halls, 18 VIP lounges and 15 baggage transfer belts. Terminal 2 is completed and open into public use on March 16, 2010, which is a support to the Expo. After extension, in addition to a new terminal, there is a new runway of 3300 meters and a new set of assistant facilities. The newly built runway is applicalbe for the largest aircrafts, including A380.



Airlines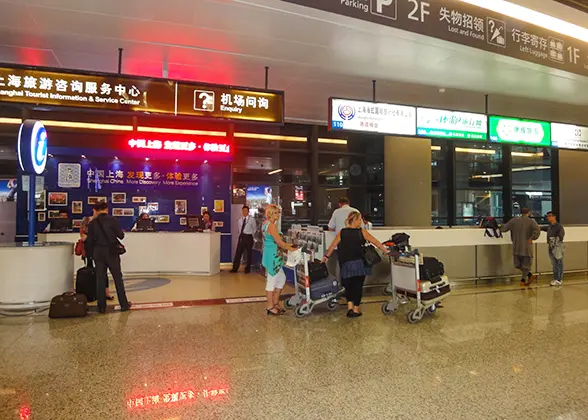 Enquiry Counter
Since March 16, 2010, 14 airlines use the new terminal (T2). They are: Hainan Airlines, Hebei Airlines, Juneyao Airlines, China United Airlines, Shandong Airlines, Shanghai Airlines, Shenzhen Airlines, Sichuan Airlines, Tianjin Airlines, Tibet Airlines, Xiamen Airlines, China Eastern Airlines, Air China, China Southern Airlines.
In T1, there are: Korean Air, Air Macau, Dragon Air, Asiana Airlines, Japan Airlines, Eva Air, TransAsia Airways, All Nippon Airways, Hong Kong Airlines, Spring Airlines, China Eastern Airlines, Air China, China Airlines.

Passenger Transfer
For passengers with through boarding pass of connectings flights:
Walk to Transfer Hall - enter transfer area - Departure Hall - Boarding Gate
For passengers without through boarding pass:
Walk to Transfer Hall - enter transfer area - recheck-in at transfer counter - Departure Hall - Boarding Gate
For passengers who have to handle lugguage by themself:
Get to 1F to claim lugguage - transfer counter on 1F - recheck-in - up tp 2F by escalator - Departure Hall by elevator - Boarding Gate

Transport between Terminals
It has its runways in the middle and terminal buildings on two sides. It is a waste of time to walk from one to another if you go to the wrong terminal. There are free shuttle buses running between terminals. They run every a few minutes and it takes 15 minutes between T1 and T2.
Pick-up points:
south side of Gate 6, Departure Hall, T1
north side of Gate 1, Arrival Hall, T2
Hours: 06:30-23:00
Frequency: every 15 minutes, 5 minutes in peak hours
| | |
| --- | --- |
| 806 Bus Stop Board | 806 Bus Route at T1 |

Transport between Hongqiao Airport and City Center

Shuttle Bus
Bus routes at T1: 807, 806 and 1207
Bus routes at T2: Shuniu Line 4, Shuniu Line 9, Airport Bus Line 1 and 941 at daytime; night lines are 316.

Taxi
The taxi fare from Hongqiao International Airport to People's Square in the city center is approximately CNY60 and it takes about half an hour. A taxi from Hongqiao International Airport to Xujiahui, a bustling commercial area in Xuhui District, costs about CNY 40-50 and takes 20 minutes.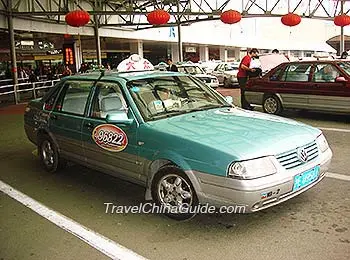 Taxi at Hongqiao Airport
Pick-up point:
Exit of the Arrival Hall, T1
south side of Gate 4, Arrival Hall, T2
Special Notes: Not easy to get a taxi in peak hours.

Subway
Subway Line 2 and Line 10 connect the two terminals of Hongqiao Airport to the city center and further to Pudong Airport. Passengers can use these two subway lines to Hongqiao Railway Station, Yuyuan Garden, Jing'an Temple, People's Square, Nanjing East Road, Lujiazui, Longyang Road and Pudong International Airport directly from Hongqiao Airport. Subway station is in basement of the terminal building.
Tips: Passengers, who take subway Line 2, have to get off at Guanglan Road Subway Station from a 8-car train and change to a 4-car train to go on to Pudong Airport.



The city has adopted the 144-Hour Visa-Free Transit policy. The policy is available to the citizens of 51 countries and regions under the condition that they fly in and fly out within 144 hours. Passengers are allowed to travel in Shanghai, Hangzhou, or Nanjing rather than be limited to stay in the transit city.



Facilities


Shopping and Dining
T1: Stores are in Departures Hall, like A3, A4, A6 and A8 and Waiting Hall. Food halls are mainly distributed in in A4 and A5, Waiting Hall
T2: departure level (M2) and ticketing & check-in level (3F)



Clinics
T1: near the Security Check in Domestic Departures Hall on 2F
on the right of Domestic Arrivals on 1F
T2: between Boarding Gate 47 and 48, M2 (Hours: 07:30-last flight)
beside the Transfer Area, 2F (Hours: 08:30-17:30)
besides the Lugguage Locker, Arrivals Hall, 1F (Hours: 06:30-22:00)



Business Center
You are provided computer, fax, copy, internet, telephone and other services.
T1: A5 Waiting Hall, Departures Hall
beside the Baggage Storage Area in Departures Hall
beside B 11 First-Class Cabin Lounge in Departures Hall
Business hours: 07:30-19:00, 07:00-18:30
T2: business triangle area in M2
Business hours: following the flights time



Smoking Room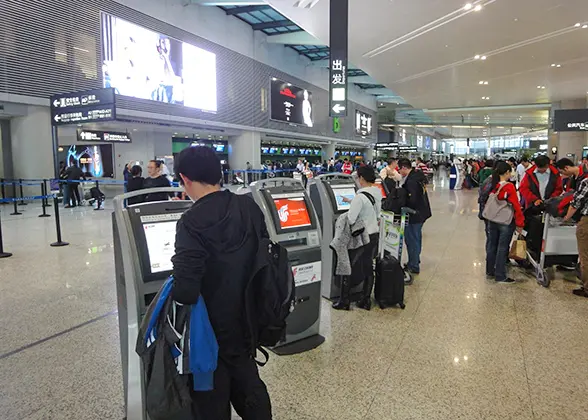 T2 of Hongqiao Airport
T1: smoking rooms in A5, A8, A9, B1 and B11, Waiting Hall in Departures Hall
T2: nearby Boarding Gates 21, 29, 47, 49, 68 and 72, Departure Hall, M2

Lounge
Lounges for the old, the weak, the pregnant and the disabled.
T1: A5, B12 Waiting Hall, departures level
Opening hours: 07:00 - 18:00
First-class cabin lounge: 2F Waiting Halls, Opening hours: 08:30 - 18:00
T2: widely distributed on 1F, 2F, M2 and two on 3F
VIP Lounge: one opposite the Security Check on 3F
Room V1-3 next to Boarding Gate 24, M2
Room 4-6 next to the Information Desk on

Pram for babies: There is a service counter on M2 level. Pram is offered free of charge.

Services

Ticketing
T1:
Hongqiao Airport: 211-214 counters, Departures Hall
Tel: 021-51146655
Arrivals Hall, Building B
Tel: 021-51142078
Shanghai Airlines: Counters 202-206, Check-in Hall, Departures Hall
China Eastern Airlines: Counters 251-255, Check-in Hall, Departures Hall
China Southern Airlines: Counters 206, 261 and 266, Departures Hall
T2: Check-in & Ticketing Hall, 3F (China Eastern, Air China, China Southern, Shenzhen, Hainan, Xiamen, Shandong, Spring and Juneyao Airlines as well as Hongqiao Airport all have ticketing counters here.)
Check-in Counters

Check-in Counters
T1:
Air China: Counters 262 and 263, Departures Hall
China Southern Airlines: Counters 105-107, Departures Hall
T2:
Counters A01-A13 (Xiamen, Shandong, Hainan, Juneyao and Sichuan and Tianjin Airlines)
Counters A14-A21(China Air)
Counters B01-B18 (Shenzhen Airlines)
Counters C01-C18, D01-D10 (China Eastern Airlines)
Counters D11-D15 (China Southern Airlines)
Shanghai Airlines and China Eastern Airlines share the same check-in counters. They have totally 48 check-in counters and 28 check-in machines in Terminal 2. Passengers of the two airlines can handle check-in at any of those 48 counters.

Battery Car:
Service counter can be found on M2. Battery cars make it easy to get around the T2.

Left & Lost Lugguage
T1:
Lost & Found: Beside Gate 1, Arrivals Hall
Tel: 021-51142071
Baggage Storage: b
eside Gate 5, Arrivals Hall
Tel: 021-51144520
Gate 5, Departures Hall
Tel: 021-51144553
T2: Left-lugguage, Lost & Found services are in the same counters available in Arrivals Hall and E Island, East Traffic Center, 1F
Tel: 021-22381086 (Lost & Found); 021-22381085 (left-lugguage)
Hours: 8:00-21:30

Car Parking
T1:
| Car type | minitype | Big-sized | oversized | Special type |
| --- | --- | --- | --- | --- |
| The first hour | CNY7 | CNY8 | CNY9 | CNY10 |
| From the second hour | CNY5 (for each hour) | CNY6(for each hour) | CNY7(for each hour) | CNY8(for each hour) |
Note: If your car is parked for less than one hour, the fee is the same with that of one hour.
If your car is parked for more than eights but less than 24 hours, the fee is the same as that of eight hours. But if the parking time is over 24 hours, the fee will be recharged according to the form above.

T2:
There are two parking lots (P6 and P7) in East Traffic Center which is connected with T2.
Car type
In first two hours
3-12 hours
13-24 hours (constantly)
More than 24 hours
Minitype
CNY10 per hour
CNY5 per hour
CNY60 in total
follow again the previous charging
Big-sized
Price doubled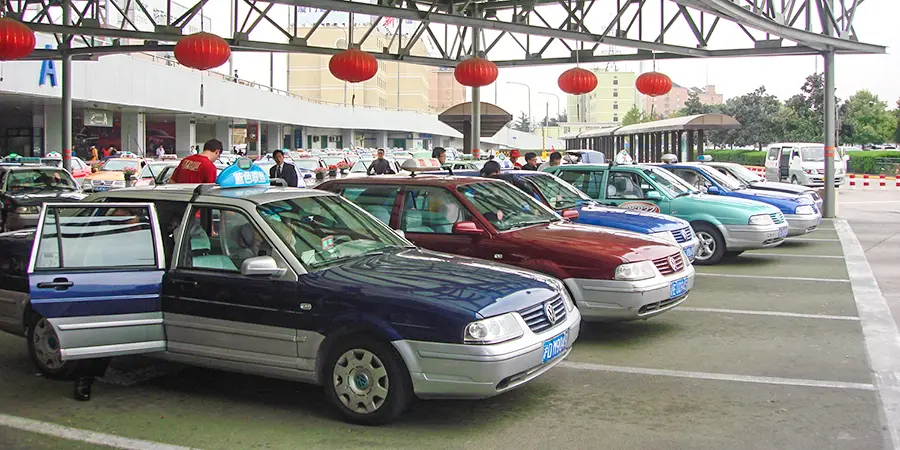 Taxis at a parking lot

Notes:

Vehicles should run through the parking lots in T2, then reach the taxi parking area to pick up passengers in T2.

P6 and P7 are located in the south and north sides of East Traffic Center, only accessible by walking from each other. Apart from universal signs to figure out your parking space, the airport also appoint some images of animals and fruits as the indication to each parking areas.

P6 (Animals): Giragges (2F), Elephant (M1), Kangaroo (1F), Zebra (BM1), Camel (B1)

P7 (Fruits): Orange (2F), Water melon (M1), Banana (1F), Grape (BM1), Pineapple (B1)