6 Things to Do in Shanghai Airport - Hongqiao Airport
When you are waiting for your departure at the
Shanghai Hongqiao International Airport
(SHA), you can freely surf the internet, go shopping at the duty-free shop, try various foods, enjoy the works of art or simply get some rest at the VIP Lounge. Besides, if you have a layover more than 7 hours, it is recommended to make a short tour to the downtown Shanghai by metro. Six things to do in Shanghai airport are detailed below.
1. Freely Surf the Internet
Fast Wi-Fi is provided free of charge in both Terminal 1 and Terminal 2 of SHA, bring every tourist a good experience to chat, deal with business, watch films and play games online. In addition, there are many power sockets and USB plots in the terminal, some even on your seat, so it is a very convenient thing to do at Shanghai airport to recharge your mobile, laptop, camera or other electronic devices.
2. Go Shopping
Ladies may not be able to resist the temptation of cheaper price at the duty-free shop. The sole duty-free shop in Hongqiao Airport is the Sunrise Duty Free at the Terminal 1. It sells upscale perfumes, skin-care products, cosmetics, tobaccos and liquors. Popular brands include Dior, Estee Lauder, Givenchy, La Mer, and so on. Book and specialty stores can also be found in this terminal. Shopping area in T2 mainly consists of the clothes and jewelry stores such as Channel, Coach, Tod's, Jimmy Choo and Hermes. There are also stores selling specialties, imported foods and handicrafts.
| | |
| --- | --- |
| Entrance of the Temple | Paintings of Town Gods on the Gate |
3. Try Various Foods
Trying delicacies of various styles is another Shanghai airport thing to do. In T1, there are KFC, Starbucks, Godiva, Ajisen Ramen and other stores which offer pan-fried buns, breads, and Cantonese foods. T2 has relatively more restaurants and many of them offer different kinds of Chinese noodles. If you'd like to have some Western-style food, McDonald, Shake Shack, Pizza Marzano, Subway can meet your needs.
4. Enjoy the Artspace in SHA
If you are tired of playing with your phone during the layover, why not pay a visit to the Artspace in SHA? In T2, you can find the art galleries at the Arrival Hall or near the Boarding Gate 25 at the Departure Hall. Antiques, modern artworks and paintings are displayed here from time to time.
5. Have a Rest at the VIP Lounge
If you have a long layover or have to spend a night in SHA, a worth-considering thing to do in Shanghai airport is to get some rest in the VIP Lounge. Nice foods and drinks, comfortable sofas and the quiet environment ensure you to have a good relaxation. There are two lounges, V3 and V5, in T1 and eight lounges from V1 to V8 in T2. Tourists who didn't book the Business Class ticket need to pay extra to enter.
6. Visit Downtown Shanghai during Layover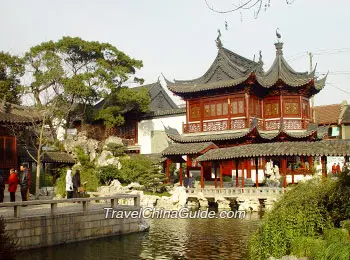 Yu Garden
Touring the downtown is a thing to do around Shanghai airport to make the most of your layover, which should be longer than seven hours. By virtue of the 144-hour visa-free transit, you can take the
Metro Line 10
at the airport and get off at the Yu Garden Station, taking about 40min and CNY5. Go out of the metro station through Exit 1, walk southeast for about 500m (550yd) and you can start to enjoy the quaint
Yu Garden
as well as the
Shanghai Old City God Temple
. If you still have a plenty of time after the visit, go northeast for 500m (550yd) to stroll along the
Huangpu River
and visit the prosperous
Bund
.
Besides, since the
Shanghai Zoo
is only 1.5km (1mi) east of the SHA, visiting here is a thing to do near Shanghai airport, specially recommended to those with kids. You only need to take the Metro Line 10 at the airport and get off at the Shanghai Zoo station. It takes about 15min and CNY3.

Read More:
Layover in Shanghai: All about Stopover Ideas
How to Spend 3 to 12-Hour Layover in Shanghai
What to Do on an Overnight Layover in Shanghai: 12 to 24 Hours
Long Layover in Shanghai: How to plan 1 to 6 days in Shanghai

Further Reading:

Shanghai Pudong Airport

What to Do in Shanghai Airport - Pudong Airport
- Last updated on May. 04, 2023 by Catherine He -