Shanghai City-Bus
More than 10 Shanghai bus companies operate 1,400+ city bus lines in downtown and suburbs, offering convenient alternatives to metro. These lines can be identified either by numbers or Chinese characters representing the terminals. Shanghai bus stops of most downtown lines are announced by automatic reporter in Mandarin, Shanghai dialect and English, while a small part are announced in Mandarin and Shanghai dialect only.
Shanghai City Bus Routes
1. Regular Downtown Lines: 01 to 995, Daqiao Line 3 to 6, Tunnel Line 1, 2, 3, 6, 8 & 9

2. District/Regional Lines & Suburban Lines: Starting with Pudong, Jiading, Baoshan, Qingpu, Minhang, Fengxian, Songjiang…

3. Cross-district Lines: Starting with Huzhu Express, Shangzhu, Shangshi, Nanchuan, Xinjia, Songmei, Songxin, Shenchong, Lianzhu, Nanqing, Huqingying…

4. Night Lines: 301 to 342, Xumin Special Line, Tunnel Night Line 1

5. Downtown Shuttle Bus: 1001 to 1849 to solve the last-kilometer commute to/from metro station, and transfer between main roads and communities.

6. Rush-hour Lines: 04 Inter-zone, 50 Inter-zone, 140, 145, 173, 176, 179, 180, 192, 195, 216, 222, 252, 253, 257, 522, 609, 635, 638, 703B, 707, 752, 753, 764, 793, 831, 832, 833, 866, 877, 878, 991 Inter-zone , Songjiang Line 29, Daqiao Line 1, Songxin B Inter-zone, Qinghua Special Line, Longgang Express B

7. Sightseeing Bus: City Sightseeing Lines by Spring Tour, Shanghai Bus Tours, Nanjing Road Sightseeing Train…

8. Shanghai airport to city bus: Pudong Airport Shuttle Bus, Hongqiao Airport Shuttle Bus

9. Other categories: Hongqiao Transport Hub Line 1 & 4 to 10, Ferry Lines, Customized Lines…

10. Intercity Lines: K319 & routes starting with Bahe, Shangliu, Taijia, Huliu Express, Yangshan and Qingshang.
| | |
| --- | --- |
| City Bus | Getting on the Bus |
Shanghai Bus Schedule

Most bus routes start running from 05:30 – 06:30 and stop service at 19:30 – 21:30.



Rush-hour Lines operate from 06:00 – 08:00 to 16:30 – 18:30.



Night Lines are in operation from 23:00 to 05:30 the next day.
Shanghai Bus Fare & How to Pay
The city bus fare varies a little according to the vehicle types. Most routes including the downtown lines, suburban lines, night lines and rush-hour lines charge CNY2. The downtown shuttle buses only cost CNY1.

Passengers need to prepare some loose change to insert coins or banknotes into the coin box, or swipe the Shanghai Public Transportation Card to pay.

Most cross-district lines charge by distance and the ticket price is CNY1-12. Conductors sell tickets on these city buses on which passengers must pay in cash.

Tourists can have a general look at Puxi, Pudong and the World Expo by the double-decked City Sightseeing Lines 1, 2, 3 & 5. They can hop on and hop off to visit attractions including Nanjing Road, Madame Tussaud's, the Bund, Yu Garden, Xintiandi and Shanghai Museum. There are also three lines of Big Bus Tours: Downtown Line in Puxi, Pudong Line, and Old City Line. Besides, the sightseeing train on the Nanjing Road is worth trying.
Double-deck
City Sightseeing Bus

Shanghai Sightseeing Bus Map
(Click to Enlarge)
This is a traditional tour dispatch center operating special tourist lines to Zhouzhuang, Tongli, Wuzhen, and Wild Animal Park…


Shanghai Trolley Bus: CNY2; 05:00 – 23:00
| Bus No. | Terminals |
| --- | --- |
| 6 | Changbai Road Tumen Road - Wujin Road North Henan Road |
| 8 | Sanmen Road Shiguang Road – Songpan Road Yangshupu Road |
| 13 | Tilanqiao – Zhongshan Park Metro Station |
| 14 | Jiangpu Road North Zhongshan 2nd Road - Dongxinqiao |
| 15 | North Zhejiang Road East Tianmu Road – Shanghai Stadium |
| 19 | Tangshan Road Tongbei Road – Putuo Road Jiangning Road |
| 20 | Jiujiang Road/ the Bund – Zhongshan Park Metro Station |
| 22 | Changbai Road Tumen Road – Minhang Road Changzhi Road |
| 23 | South Zhongshan 1st Road South Xizang Road - Xinkangli |
| 24 | Doushi Street East Fuxing Road – Changshou New Village |
| 25 | Pingliang Road Jungong Road – South Chongming Road |
| 26 | Xinkaihe Road – West Guangyuan Road Hongqiao Road |
| 28 | Baotou Road Nenjiang Road - Tilanqiao |
| 71 | East Yan'an Road/ the Bund – Shenkun Road Bus Hub |
Trams in Shanghai
Zhangjiang Line 1: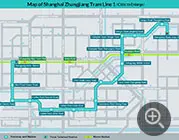 Map of Zhangjiang Tram
Line 1
It is the first modern tram in Shanghai.
Route & Stations: Zhangjiang Metro Station - Bibo Road Gaoke Road - Huatuo Road Darwin Road - Huatuo Road Keyuan Road - Cailun Road Jinke Road - Cailun Road Halei Road - Copernicus Road Libing Road - Ziwei Road Gaosi Road - Gaosi Road Zhangjiang Road - Zhangjiang Middle School - Guanglan Road Zuchongzhi Road, close to Guanglan Road Metro Station - Guanglan Road Dangui Road - Dangui Road Qingtong Road - Dangui Road Zhangdong Road - Zhangdong Road Jinqiu Road
Hours: 06:30 - 22:25 from Zhangjiang High-Tech Park; 05:45 - 21:45 from Zhangdong Road Jinqiu Road
Ticket Price: CNY2
Songjiang Tram Lines:
Line T1 connects Chenta Road and Xinqiao, while line T2 runs between North Sanxin Road and Jincuo Road. They will be put into service in mid 2018. Before 2020, Songjiang Tram Line T3 to T6 will be constructed. Shanghai will have more tram lines in Fengxian District and Pudong New Area in the future.
- Last modified on Aug. 07, 2019 -
Questions & Answers on Shanghai City-Bus
Asked by Koenig from GERMANY | Sep. 19, 2019 02:58

Reply
Pudong to Jiao Tong
I'm landing at Pudong Airport. My hotel is in Yongping Road Minhang District near Dongchuan road (Jiao Tong University). Is there a possibility to take an Airport Bus perhaps in combination with Metro? Google only give me a possibility with car/taxi.
Thanks in advance for help
PK
Asked by Nick | Aug. 05, 2019 05:01

Reply
May I know if there any tourist bus or shuttle bus to Shanghai Film Park from city centre?
How much the cost 2 ways ? Is it better to use shuttle bus or take metro line to film park? Where can I buy the bus ticket? How much the entrance fee to the park? How far the distance from city centre to the park?
Answers (3)
Answered by Shay from DENMARK | Aug. 07, 2019 01:52

0

0

Reply
Well, Nick, what do you mean by the city center? Would you mind provide the specific starting point? Then I can find the detailed transportation for you.
The entrance fee of the park is CNY80 per person.
Answered by Nick from MALAYSI | Aug. 07, 2019 08:52

0

0

Reply
I mean from downtown shanghai or Nanjing road?
Answered by Dawn from USA | Aug. 07, 2019 20:53

0

0

Reply
From Nanjing road, there is no tourist bus or shuttle bus to there. You can take metro line 2 from East Nanjing Rd Station to People Square Station, then transfer to metro line 1 to South Shanghai Railway Station, and take taxi to your destination.
Asked by Dala from CHINA | Aug. 03, 2019 22:04

Reply
Nearest bus station in Ni Cheng Road going to Bank of China in Yincheng Middle Road
What is the nearest bus station in Ni Cheng Road, Ni Cheng Town going to Bank of China in Yincheng Middle Road?
Answers (1)
Answered by Shea from AUSTRALIA | Aug. 07, 2019 01:50

0

0

Reply
There is no direct public transportation.
From Nicheng Road, you can take bus no.Nicheng Road 1 to Honghai Road Nanlu Road. Then take bus no. Longgang Line to Longyang Road. Take metro line 2 to Lujiazui Station, Exit 6. After arriving, walk south around 700 meters to find the destination.
Asked by Nick from MALAYSIA | Jul. 31, 2019 21:10

Reply
Shanghai Bus to nearest subway station
Hi!
I may considered to stay for 1-night at these hotels:
Bo Ai International hotel at Pudong Airport
Joyfulstar Hotel Pudong Airport Chenyang
Gloria Plaza Hotel Hangtou

Can you suggest me the bus route to the nearest subway station towards the City Centre?
Answers (1)
Answered by Zoe from USA | Aug. 05, 2019 02:12

0

0

Reply
Bo Ai to city: Take bus No.47 from Renmin Tanglu Huaxia Donglu Station to Huachuan Rd Lingkong Rd Station, and transfer to metro line 2 to People's Square Station.
Joyfulstar: Take bus No.3 from Chenyanglu Dongtinglu Station to Huzhoulu Lingkonglu Station, and transfer to metro line 2 to People Square Station.
Gloria Plaza: Take bus No.1067 from Hangtou Health Center Station to East Hangtou Station, and transfer to metro line 16 to Longyanglu Station, and transfer to metro line 2 to People Square Station.
Asked by Sarah from FRANCE | Jul. 12, 2019 13:30

Reply
Hi, what is the best transportation to go to Shanghai University (Jiading District) ?
What are the bus numbers? The subway line ?
Answers (1)
Answered by Will from USA | Jul. 14, 2019 19:44

0

0

Reply
The nearby bus stations are Chengzhonglu Shaxialu Station(Jiading Line 13/2) and Chengzhonglu Tachenglu Station(Jiading Line 13/2/56/64/9). They are 200-300m away from university.
The nearby metro stations are Jiading East Station (Line 11) and Jiading West Station (Line 11). They are both 2km away from the university.

In addition, you can provide your starting place. Then I can find the detailed transportation for you.