Guilin Transportation -- Getting There
Air

Guilin Flights
(flight search & ticket booking)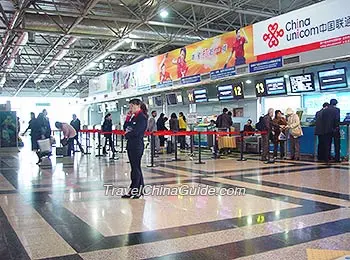 Liangjiang International Airport
Guilin Liangjiang International Airport
(KWL) is about 28 kilometers (about 17.4 miles) from the city center. About 50 airlines connect the city with domestic cities as well as foreign countries such as Japan, Korea, Malaysia, Singapore, Thailand, etc. In particular, airlines schedule several flights daily to and from major cities in China like Beijing, Chongqing, Guangzhou, Guiyang, Haikou, Hangzhou, Hong Kong, Kunming, Macau, Nanjing, Nanning, Qingdao, Sanya, Shanghai, Shenzhen, Taiyuan, Wuhan, Xi'an, Zhengzhou, Dalian, Shantou, Chengdu, Lanzhou, Tianjin, Jinan, Wenzhou, Changsha, Fuzhou, and Zhuhai.
The airport shuttle bus runs between the airport and the Civil Aviation Mansion located at No.18 Shanghai Road and the bus fare is about CNY20. The bus leaves for the city center following the flight arrivals. In the city center the bus leaves for the airport every 30 minutes from 6:30 to 20:00. Remember to take the bus two hours before your fight. It costs about CNY80 for taking taxi.
Ticket Office: Airport Terminal
Ticket Booking Telephone (Enquiry): 0773-2152222
Xing'an General Airport
in Rongjiang Town, Xing'an County will be built to operate helicopters to major tourists attractions in Guilin, such as Li River, Longji Rice Terraces and Ziyuan Danxia Landforms.

Guilin Train Schedule (train search & ticket booking)
The Guilin Railway Station (South Station) and North Railway Station are the two main railroad passenger transport stations in the city. Every day many trains arrive and depart, as the city is a hub of the Hunan-Guangxi Railway and Guilin - Guangzhou High Speed Railway. The South Station is located to the south of the city center and is more easily reached than the North Station. The North Railway Station is situated in the northern suburbs of the city and has less convenient links with the city center. If the train you take stops at both of the stations, it's better to get off at the South Station where handy transportation to the surrounding places is available, as well as trains connecting to China's major cities.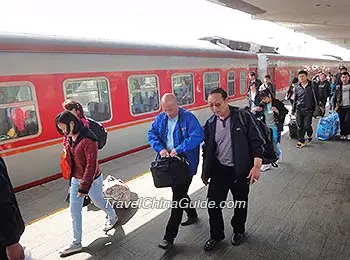 On the Platform of the Railway Station

Tip: It's not easy to buy sleeper tickets at the Guilin sales office, as the city is a mid-route stop rather than a terminus. Therefore, it's better to buy tickets departing from the city in advance.



Guilin Railway Station


North Railway Station


West Railway Station


Yangshuo Railway Station


Guilin - Yangshuo Trains


Guilin - Shenzhen Trains


Hong Kong - Guilin Trains
Because most coach buses which bound for the surrounding cities in Guangxi and other provinces like Guangdong depart from the South Bus Station, here the bus schedule of this station is offered for reference:
There are three bus stations: the South Bus Station, the Qintan Bus Station the North Bus Station. The South Bus Station is at west of Kaifeng Road and south of West Chadian Road. You can take city bus No. 96, K99, 12, 28 or 5 to reach there. Most buses set off from this station for surrounding cities in Guangxi, Guangdong and Hunan provinces. The Qintan Bus Station is located at Cuizhu Road and can be reached by city bus No.12, 81 and 91. The North Bus Station is at Beichen Road and can be reached by city bus No.100.
Destination
Departure Time

Guangxi

Longsheng
departing every 15-30min during 06:15-17:50
Yangshuo
departing every 1h10min during 08:00-18:00
Nanning
10:30
Liuzhou
09:40, 10:30
Rongshui
06:00, 06:50, 07:35, 09:00, 12:00, 13:00, 14:00, 14:30
Wuzhou
10:00, 13:30, 15:35
Yulin
11:00

Guangdong

Guangzhou
17:10, 18:00, 18:30, 19:30
Dongguan
17:10, 17:30, 18:00
Shenzhen
17:10, 17:30, 18:00, 19:00
Zhuhai
09:00, 18:00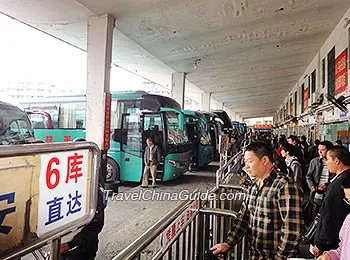 Chief Bus Station

It is worthy mentioning that the long-distance bus is available to Yangshuo which is a popular tourist destination located about 40 miles (65 kilometers) south of the city center. Tourists who reach Guilin either by air, by train or by long-distance bus can also get to Yangshuo easily.



How to Travel From Guilin to Yangshuo


How to Travel From Yangshuo to Guilin
Water
There are two main docks for passenger transport service in the city. One is Mopanshan Passenger Transport Dock which is near Mopanshan Mountain, 28 kilometers (about 17 miles) from downtown area. Covering an area of 233,350 square meters (about 0.09 square miles), this dock is designed to look like a beautiful garden and has well-equipped establishments including five waiting halls. In the city center there is no public bus to the dock, so tourists have to spend approximately CNY60 for a taxi to reach this dock.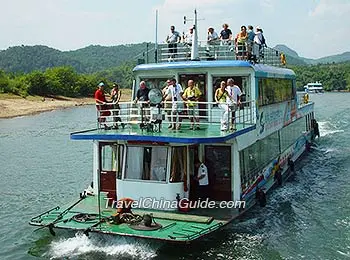 Cruise Ship on Li River
Another dock is Zhujiang Dock which is 32 kilometers (about 20 miles) southeast of the city center and two-kilometers (about 1.2 miles) by waterway from Mopanshan Dock. Covering an area of 48,200 square meters (0.0186 square miles), Zhujiang Dock is 400 meters (about 0.25 miles) long and has nine berths, a big waiting building, and a parking lot. This dock is mainly designed for foreign tourists and is the must-use dock for high officials from both China and foreign countries.

Every year more than 300,000 tourists take the cruise ship from Zhujiang Dock to travel along the Li River. Traveling the Li River to Yangshuo is a journey of about 54 kilometers (about 34 miles). The cruise ships from the berths downtown to Yangshuo usually set off at 9:00 and 9:30, and will take about 4.5 hours to complete the journey. A gentle breeze will caress your face and picture postcard riverside scenery will please your eyes as the beauty unfolds around you. However, remember that in winter the water level is rather low, so the cruise is limited to just 10 kilometers (about 6.2miles) instead of the normal 82 kilometers (about 51 miles).


How to Travel from Guilin to Other Cities

Further Reading:
How to Travel between Hong Kong and Guilin & Yangshuo
How to Travel from Guilin to Zhangjiajie
How to Travel from Zhangjiajie to Guilin
-
- Last modified on May. 17, 2021 -
Questions & Answers on Guilin Transportation
Asked by flori from ITALY | Nov. 20, 2019 06:38

Reply
Bus from Xinghuicheng, Guilin to Zhujiang Port (PIer)
I posted the same question also "How to Travel Between Hong Kong and Guilin & Yangshuo"
Please accept my appologize if this is not the best place.

Hi,

please can someone help us with an advice?

We will be in Guilin for the Li River Cruise.
As far as we undertstood from internet, we need first to get to the Zhujiang Port (Pier) in order to get on boat.

We will be statying at Xinghuicheng 5栋1单元904, Guilin.
Do you know there is a bus service from our place to the Zhujiang Port (Pier)?
If yes:
we we can take it (closest bus stop)?
what are its schedule?
how much will cost per person?

Thank you so much,
Kind regards,
Flori
Answers (3)
Answered by Pandora from UNITED KINGDOM | Nov. 20, 2019 22:16

0

0

Reply
Yes, you need to go to Zhujiang Port to get on boat.
From your living place to Zhujiang Port: There is no direct public transportation. You need to transfer public bus for several times. Thus for your convenience, you can take a taxi directly.
About the public transportation, take bus no.81 to Tian'etang Bus Stop. Then transfer to bus no.9 Zhujiang Line to Zhujiang Port.
Answered by flori from ITALY | Nov. 21, 2019 14:48

0

0

Reply
Hi,

thanks for your detailed replay; much appreciated!

What about taking the curise from Lijiang River Cruise Ticket Center (漓江游船售票中心), address Binjiang Rd, Xiangshan, Guilin, Guangxi, China (广西壮族自治区桂林市象山区滨江路), 779W+Q8 Xiangshan, Guilin, Guangxi, China?

Is there any bu(es) to this address from our flat?

Cheers,
Flori
Answered by Liz from SINGAPORE | Nov. 21, 2019 18:36

0

0

Reply
From Lijiang River Cruise Ticket Center, you can walk south around 150m to Binjiang Road.
Asked by Xenia from AUSTRALIA | Nov. 19, 2019 02:04

Reply
How do I get to and from my hotel in Guilin?
Hi! -- Do you know how we could go from North Railway Station to Zizhou Panorama Resort by bus? And how would we get from the accommodation to the City Sightseeing Bus to take us to Reed Flute Cave and Elephant Trunk Hill?
Answers (1)
Answered by Paloma from CANADA | Nov. 20, 2019 22:12

0

0

Reply
1. From North Railway Station to Hotel: The distance is not far. For your convenience, you are suggested to take taxi directly.
2. You can take the tourists bus at the entrance Elephant Trunk Hill. Thus from hotel, just walk to there directly.

Hope helpful!
Asked by Galina from UNITED STATES | Sep. 27, 2019 22:23

Reply
Buses from the Guilin airport after 20:00
My flight was changed to one hour later, now arriving at 19:45 on November 5. So I'll most likely miss the last bus to Yangshuo at 20:00. I understands there are buses to Yangshuo from the South Bus station, but one website shows the last bust from the Airport to Guilin South at 18:00. How do I get to Guilin South in the evening?
Arte the bus tickets to Yangshuo sold directly on the bus? Where exactly at the bus station should I look for the Yangshuo bus? How often do they go in the evening and when is the last one?
Any better suggestions how to get to Yangshuo for a reasonable price?
Answers (1)
Answered by Liz from SINGAPORE | Oct. 07, 2019 18:59

0

0

Reply
Actually, you can take direct bus from the airport to Yangshuo. It runs from 9:30 to 22:30 with interval of 2 hours with CNY50 and 90 minutes on the way. You can follow guide in the airport and buy the bus ticket first, then go to the pick-up place.
Asked by Vivian from MALAYSIA | Aug. 05, 2019 07:29

Reply
How far is the distance between Guilin Railway station & West railway station ?
What is the duration does it take to reach GL Railway station from West railway station by car/taxi?

I'm going to Chongqing by train but is unsure which railway station is more convenient from city center.
Answers (1)
Answered by Alex from USA | Aug. 08, 2019 17:59

0

0

Reply
It takes around 30 minutes (14km) if you take taxi from Guilin Railway Station to West Railway Station.
Asked by Gary from USA | Aug. 02, 2019 11:38

Reply
Enough river water for boat ride from Guilin to Yangshuo in last week of November?
How many boats are going from Guilin to Yangshuo? Do I need to make early reservation for the boat tickets?
Can I order the tickets online?
Thanks
Answers (1)
Answered by Lenora from USA | Aug. 05, 2019 19:42

0

0

Reply
You don't need to worry about this issue at all. The boat will be enough. You need to buy the ticket on the spot or book it from local travel agency.