Guilin Transportation -- Getting There
Air

Guilin Flights
(flight search & ticket booking)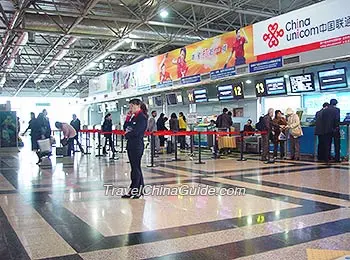 Liangjiang International Airport
Guilin Liangjiang International Airport
(KWL) is about 28 kilometers (about 17.4 miles) from the city center. About 50 airlines connect the city with domestic cities as well as foreign countries such as Japan, Korea, Malaysia, Singapore, Thailand, etc. In particular, airlines schedule several flights daily to and from major cities in China like Beijing, Chongqing, Guangzhou, Guiyang, Haikou, Hangzhou, Hong Kong, Kunming, Macau, Nanjing, Nanning, Qingdao, Sanya, Shanghai, Shenzhen, Taiyuan, Wuhan, Xi'an, Zhengzhou, Dalian, Shantou, Chengdu, Lanzhou, Tianjin, Jinan, Wenzhou, Changsha, Fuzhou, and Zhuhai.
The airport shuttle bus runs between the airport and the Civil Aviation Mansion located at No.18 Shanghai Road and the bus fare is about CNY20. The bus leaves for the city center following the flight arrivals. In the city center the bus leaves for the airport every 30 minutes from 6:30 to 20:00. Remember to take the bus two hours before your fight. It costs about CNY80 for taking taxi.
Ticket Office: Airport Terminal
Ticket Booking Telephone (Enquiry): 0773-2152222

Guilin Train Schedule (train search & ticket booking)
The Guilin Railway Station (South Station) and North Railway Station are the two main railroad passenger transport stations in the city. Every day many trains arrive and depart, as the city is a hub of the Hunan-Guangxi Railway and Guilin - Guangzhou High Speed Railway. The South Station is located to the south of the city center and is more easily reached than the North Station. The North Railway Station is situated in the northern suburbs of the city and has less convenient links with the city center. If the train you take stops at both of the stations, it's better to get off at the South Station where handy transportation to the surrounding places is available, as well as trains connecting to China's major cities.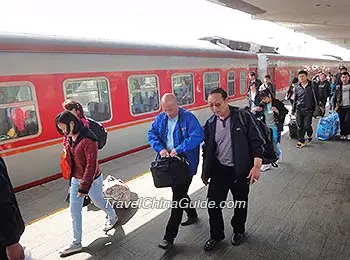 On the Platform of the Railway Station

Tip: It's not easy to buy sleeper tickets at the Guilin sales office, as the city is a mid-route stop rather than a terminus. Therefore, it's better to buy tickets departing from the city in advance.



Guilin Railway Station


North Railway Station


West Railway Station


Yangshuo Railway Station


Guilin - Yangshuo Trains


Guilin - Shenzhen Trains


Hong Kong - Guilin Trains
Long-distance Bus
Because most coach buses which bound for the surrounding cities in Guangxi and other provinces like Guangdong depart from the South Bus Station, here the bus schedule of this station is offered for reference:
There are three bus stations: the South Bus Station, the Qintan Bus Station the North Bus Station. The South Bus Station is at west of Kaifeng Road and south of West Chadian Road. You can take city bus No. 96, K99, 12, 28 or 5 to reach there. Most buses set off from this station for surrounding cities in Guangxi, Guangdong and Hunan provinces. The Qintan Bus Station is located at Cuizhu Road and can be reached by city bus No.12, 81 and 91. The North Bus Station is at Beichen Road and can be reached by city bus No.100.
Destination
Departure Time

Guangxi

Longsheng
departing every 30 minutes between 06:10-19:00
Yangshuo
departing every 30 minutes between 07:00-20:30
Nanning

11:30 17:30

Liuzhou
9:40
Rongshui
departing every 1-2 hours between 6:00-14:30
Wuzhou

08:40

 

11:30

 

13:50

15:35

16:30

Yulin
14:00

Guangdong

Guangzhou
18:30 19:30 
Dongguan
18:10 18:30
Shenzhen
18:40 20:30
Zhuhai
10:20 19:00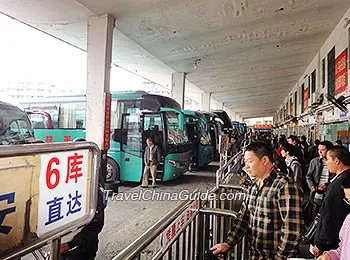 Chief Bus Statio

It is worthy mentioning that the long-distance bus is available to Yangshuo which is a popular tourist destination located about 40 miles (65 kilometers) south of the city center. Tourists who reach Guilin either by air, by train or by long-distance bus can also get to Yangshuo easily.



How to Travel From Guilin to Yangshuo
Water
There are two main docks for passenger transport service in the city. One is Mopanshan Passenger Transport Dock which is near Mopanshan Mountain, 28 kilometers (about 17 miles) from downtown area. Covering an area of 233,350 square meters (about 0.09 square miles), this dock is designed to look like a beautiful garden and has well-equipped establishments including five waiting halls. In the city center there is no public bus to the dock, so tourists have to spend approximately CNY60 for a taxi to reach this dock.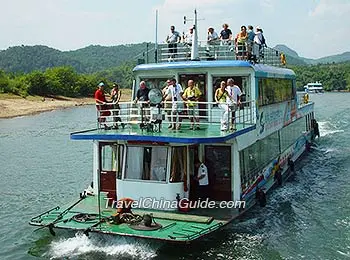 Cruise Ship on Li River
Another dock is Zhujiang Dock which is 32 kilometers (about 20 miles) southeast of the city center and two-kilometers (about 1.2 miles) by waterway from Mopanshan Dock. Covering an area of 48,200 square meters (0.0186 square miles), Zhujiang Dock is 400 meters (about 0.25 miles) long and has nine berths, a big waiting building, and a parking lot. This dock is mainly designed for foreign tourists and is the must-use dock for high officials from both China and foreign countries.

Every year more than 300,000 tourists take the cruise ship from Zhujiang Dock to travel along the Li River. Traveling the Li River to Yangshuo is a journey of about 54 kilometers (about 34 miles). The cruise ships from the berths downtown to Yangshuo usually set off at 9:00 and 9:30, and will take about 4.5 hours to complete the journey. A gentle breeze will caress your face and picture postcard riverside scenery will please your eyes as the beauty unfolds around you. However, remember that in winter the water level is rather low, so the cruise is limited to just 10 kilometers (about 6.2miles) instead of the normal 82 kilometers (about 51 miles).



Further Reading: How to Travel Between Hong Kong and Guilin & Yangshuo
-
- Last modified on Oct. 11, 2019 -