Guilin Transportation -- Getting Around
City-bus
As a developed tourism city, Guilin boasts convenient transportation. And what's more, you will be delighted to know that there are 8 tourism buses serving 110 routes free of charge for both locals and tourists alike. Just be prepared for these buses to be very crowded between 09:00 and 17:00 daily. The terminals and attractions are as follows:

No.51 from Donghuan Parking Lot to Guilin Station
No.52 from Donghuan Parking Lot to Seven-Star Park
No.53 from Gongjiao Company to Beiji Square
No.54 from Guilin Southern Company via Chuanshan Park to Hi-tech Zone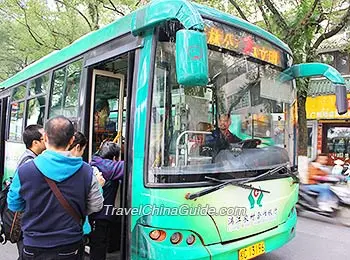 Getting on the City Bus One by One
No.55 from Pingshan to Cheguansuo
No.56 from Pingshan via Nanxi Park back to Pingshan
No.57 from Xifeng Road via Elephant Trunk Hill Park back to Xifeng Road
No.58 from Nanxi Park, Elephant Trunk Hill Park, Seven Star Park, Folk Customs Center, Fubo Hill Park, Diecai Hill Park, Yu Hill Park to Reed Flute Park

Most buses charge CNY1.2 but without air conditioning. No.99 Bus from north to the south of the city is air conditioned, charging CNY2. The buses run begin from 06:00 to 07:00 in the morning to 18:00 to 21:30 in the evening.

In addition, the detailed information of the city buses which are mentioned in the articles is shown below for reference:
| No. | Operating Hours | Stops |
| --- | --- | --- |
| 1 | 06:00-23:30 | North (Railway) Station—Beiji Square—Bo Ai (Humanity) Hospital—Shizi Street (Jiefang Road West) —Xiangjiang Restaurant |
| 3 | 07:00-21:20 | South (Railway) Station—Chief Bus Station—Wei Xiao Tang Building—Xishan Park—Jiashan Restaurant—Changhai Mechanics Factory |
| 4 | 07:00-22:00 | South Station—Guiqing Road—Nan Xi Hospital—Chongxin Road—Tourist Commodities Wholesale City—Qifeng Town—Dongshan |
| 11 | 06:00-21:00 | Pingshan—Chongxin Road—Nanxi Hospital—Nanxi Park—South Station—Chief Bus Station—Shizi Street—Seven Star Park |
| 16 | 06:00-21:00 | Guangxi Normal University—Sanlidian Square—Lijiang Road (East)—181 Hospital—Elephant Trunk Hill Park |
| 18 | 06:00-21:20 | Sever Star Park—Shizi Street—FengBei Road—Dongzhen Road—Beiji Square—Qunzhong Road—Wushi Street—North Station—Yingfeng Road—310 Hospital—Bali Street |
| 22 | 06:20-20:50 | Tian E Tang—South Station—Chief Bus Station—Guangxi College of Education—Lijun Road—Shizi Street—Sihui Road—Ludi (reed flute) Road—Shengli Road—Railway Hospital—Welfare Hospital |
| 26 | 06:30-20:00 | Donglian Village—Chengnan Bus Station—Heishan Road—Cuizhu Road—Xiangjiang Restaurant—Guilin Medical College—Shizi Street |
| 27 | 06:40-20:30 | Sanlidian Square—Lijiang Road (East)—International Conference & Exhibition Center—South Station—Xiangjiang Restaurant—Cuizhu Road—Donglian Village—Qintan Village—Tangjia Villge |
| 99 | 07:00-18:30 | Qunzhong Road—Beiji Square—Dongzhen Road—Fengbei Road—Shizi Street (Central Square)—Chief Bus Station—South Station—Guiqing Road—Nanxi Park—Nanxishan Hospital—Chongxin Road |
| | |
| --- | --- |
| Taxi in Dark Blue and Yellow | Taxi in Yellow and Green |
Taxi
There are almost 2,000 taxis in the city. Touring the city by taxi is quite convenient and efficient. Usually, many drivers charge by meter if you travel in town, while they prefer flat rate for long-distance trips. Suppose you go to airport or attractions outside the city, it is best to negotiate a reasonable price before boarding.
Fare
Daytime
Night (23:00 - 06:00)
Flag-down Rate for First 2km (1.2mi)
CNY9
CNY11
Surcharge per kilometer (0.6mi)
CNY1.9
CNY2
Waiting Fee
Free for the first 3 minutes; 20% of the unit price per kilometer (0.6mi) for every extra minute and the rate increases to 40% during rush hours between 17:00 and 19:00.
Reference Taxi Fare:
To Liangjiang Airport: CNY100-120
To Yangshuo: CNY200-250
To Yangdi Dock: CNY150-200
To Longji Rice Terraces: CNY400-600 (round trip)

Bicycle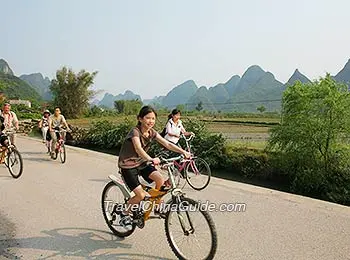 Visit by Bicycle
Guilin is a compact city so using a bicycle is a good option. "When in Rome, do as the Romans do" as the saying goes. Riding a bike will let you experience the leisurely pace of life in rural China. They can be rented at most hotels. The charge is either by the hour or the day depending how long you wish to have the bicycle. The daily rate is approximately CNY15. You can also ride a dockless sharing bike to tour around the city.
The advantages of traveling by bicycle: Firstly, you can decide where and when to go; secondly, you can stop to explore the local customs in the villages on the journey; thirdly, it is a good exercise for your body and your mind; lastly, it only uses up a little bit of your money on transportation within the city. Some notes for you on using the bicycle there:

1. Choose an ideal bicycle for your taste (usually a bicycle safety fork is needed when you choose the one type)
2. Before starting, check all the bicycle spare parts and accessories. Don't take things that are very heavy with you. If you must, put them on the bicycle frame behind you and not in the front.
3. Don't ride too far or too fast. You may get cramps in your legs. Take a rest every two hours. Take care of yourself on the journey.
- Last modified on Apr. 15, 2021 -
Questions & Answers on Getting Around Guilin
Asked by tomas from SLOVAKIA | Jan. 09, 2020 02:04

Reply
li river cruise from Guangzhou
i would like to travel from Guangzhou to Gullin by a train, then do river cruise to Xingping and take train back to Guangzhou. is this doable in 12 hours?
Answers (2)
Answered by Kathy from UNITED KINGDOM | Jan. 09, 2020 18:51

0

0

Reply
It may not. Train from Guangzhou to Gulin takes 2-3 hours. The river cruise to Xingping takes around 3.5 hours. Last but not least, I didn't find the train from Xingping to Guangzhou.
Answered by Tomas from SLOVAKIA | Jan. 11, 2020 00:28

0

0

Reply
I thought that xingping is actually train station for yangshuo
Asked by DAVID WALLEE from BELGIUM | Aug. 16, 2019 03:10

Reply
xiangbi mountain + fubo hill + seven star park
which bus I have to take to go from xiangi montain (elephant) to fubo hill, and then from fubo hill to seven star park? Thanks...
Answers (1)
Answered by Nick from USA | Aug. 19, 2019 18:26

0

0

Reply
To Fubo Hill: You can take bus No.2 from Lijiang Theater Station to Fubo Station. It takes around 20 minutes with CNY2.

To Seven Star Park: You can take bus No.206 from Fubo hill station to it directly. It takes around 20 minutes with CNY1.
Asked by Alice from AUSTRALIA | Aug. 15, 2019 04:20

Reply
We are arriving by train to Guilin West Railway Station and need to travel to Main Station.
Is there a subway system or suburban trains to use? Alice Australia
Answers (1)
Answered by Brian from UNITED KINGDOM | Aug. 15, 2019 19:52

0

0

Reply
You can take bus No.22 to railway station directly. It takes around 75 minutes with CNY2.
Asked by Justin from NEW ZEALAND | Aug. 14, 2019 14:53

Reply
Can you pay the driver in Guilin by WeChat Pay?
Answers (1)
Answered by Daine from GERMANY | Aug. 15, 2019 00:45

0

0

Reply
As I know, yes, you can pay the driver in there by WeChat Pay.
Asked by Jane from UK | Jun. 28, 2019 00:35

Reply
Guilin West train station to Guilin Central Square?
Any recommendation for public transport? Or better to take taxi? Thanks for your advice.
Answers (1)
Answered by Raven from USA | Jun. 30, 2019 19:56

0

0

Reply
If you choose public transport, you can take bus No. 22 to Shizi Street Station, then walk south of 800m to your destination. It takes you 1 hour with CNY2. So you could take taxi, it costs CNY30-40 with 30 minutes.