Harbin Travel Guide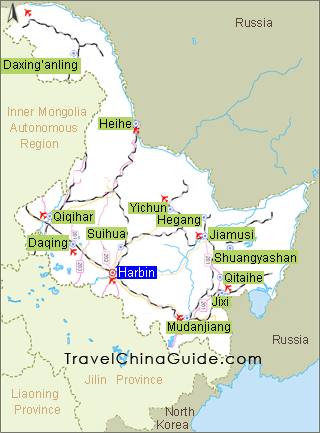 Harbin, the renowned 'Ice City', is located in the south of Heilongjiang Province, the most northeastern part of China with a shape of a swan when viewed on a map. Not only for the city's special position, but also as the center of Heilongjiang's political, economic, educational and cultural life, Harbin is described as the pearl beneath the swan's neck, and plays a vital role in communications between South and North Asia as well the regions of Europe and the Pacific Ocean.

Before you visit a city, it is always useful to know at least a little of its history. It was the birthplace of Jin (1115-1234) and Qing (1644-1911) Dynasties, the latter of which had a very considerable influence on modern Chinese history. At the end of the 19th century, Russia built the terminus of the Middle East Railway here. Later, more than 160,000 foreigners from 33 countries migrated to this place, promoting the development of a capitalist economy in the city.

Every year, vast numbers of visitors flock to this city and the city has adapted itself to meet the needs of this great influx of tourists. Convenient transportation by air and water can ease your journeys and ensuring a comfortable way of either getting to or around the city. A large number of star-rated hotels with good services await you here.
Being the famous 'Ice City', Harbin attracts visitors from home and abroad by the Harbin Ice and Snow Festival it helds each year. It is a happy carnival which provides visitors a whole world of ice and snow. The festival usually begins from January and last for over one month. The best collections of ice artworks are mainly exhibited in the following venues:

Ice and Snow World
Sun Island Scenic Area
Zhaolin Park
Ice Lantern Garden Party
Yabuli International Ski Resort

| | |
| --- | --- |
| Central Street | Ice and Snow World |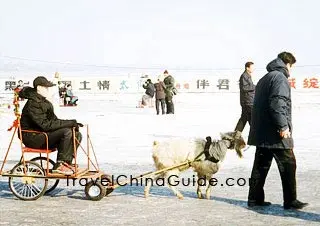 Bank of Songhua River in Winter
The economy and culture of Harbin achieved unprecedented prosperity at that time and the city gradually grew into a famous international commercial port. Assimilating external culture, the city created its unique and exotic cityscape. The majestic St. Sophia Cathedral and Central Street each built in a European style have the effect of bringing you into an 'eastern Moscow'. Even though you are sure to be attracted by various exotic buildings, the Dragon Tower which embodies the wisdom of the Chinese people is a must on your journey.

Besides these rich cultural heritages, this city is favored with beautiful natural scenery. Based on meandering Songhua River and subject to severe low temperatures in winter, the city boasts a unique ice and snow culture. So, it is also called the 'Ice City'. Each winter fantastic sculptures created from snow and ice, ice lanterns and exciting sporting events attract thousands of visitors from home and abroad. The cool summers make the city highly popular as a natural summer resort. It is widely accepted that the Sun Island Scenic Resort is the best choice during a sweltering summer.

Other Scenic Spots:
Harbin Ice Festival Tour: 4 Days city visiting including Sunisland Snow Sculpture, St. Sophia Cathedral, Centre Street, Grand World of Snow, etc
More China Tour Packages

More info:

As of August 1st, 2015, foreign visitors from qualified countries can enjoy the 72 hours visa-free transit policy when transiting in Taiping International Airport.
- Last modified on Feb. 25, 2019 -
Questions & Answers on Harbin Travel
Asked by Hussaini from INDIA | Feb. 25, 2019 04:54

Reply
How to travel from Shanghai to Harbin?
Answers (1)
Answered by Zion from DENMARK | Feb. 25, 2019 18:04

0

0

Reply
For your convenience, you are suggested to take a plane from Shanghai Pudong Airport to Taiping Airport. The travel time is around 3 hours.
Asked by Belinda from NEPAL | Feb. 11, 2019 04:28

Reply
How do I get from Longchuan road apartments to Harbin Sophia Cathedral?
Answers (1)
Answered by Jack from CAMEROON | Feb. 15, 2019 01:08

0

0

Reply
Walk south around 800 meters to get to Jiujiu Jiayuan Bus Stop first. Then take public bus no.47 to Art Square Bus Stop. Afterwards, walk southeast around 200 meters to find the church.
Asked by ivan from INDONESIA | Jan. 30, 2019 02:55

Reply
Hello, what is name of the closest metro station to Harbin Zhongyang dajie or St Sophia Cathedral
Answers (1)
Answered by Chanel from CAMEROON | Feb. 01, 2019 01:18

0

0

Reply
Well, Yidayiyuan Metro Station on line 1 is the nearest one.
Asked by Martin Havelka from CZECH | Jan. 04, 2019 18:50

Reply
I would like to travel from airport Harbin to Europaer Hotel. Which transport is the best one ?
Answers (1)
Answered by Hazel from AUSTRALIA | Jan. 07, 2019 19:56

0

0

Reply
Upon landing, take airport shuttle bus line 3 to Central Street. Then walk north around 90 meters to find your hotel.
Asked by stela from INDONESIA | Dec. 25, 2018 14:40

Reply
Where is the Harbin Opera House (Harbin Grand Theater) located?
How do you go there by bus from Zhaolin Park in downtown?
Answers (1)
Answered by Abigail from DENMARK | Dec. 25, 2018 17:01

0

0

Reply
The theater is located inside the Songbei Cultural Center.
From Zhaolin Park, there is no direct bus. Take bus no.126 from Central Street to Bei'an Mingzhu first. Then transfer to bus no.35 to the destination.