Heilongjiang Travel Guide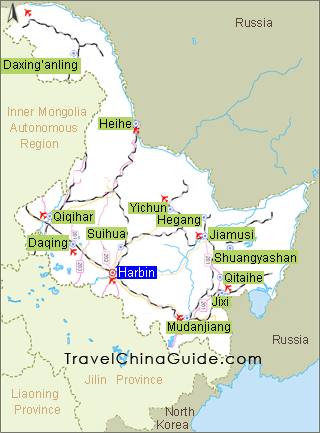 Heilongjiang Facts
Chinese Name: 黑龙江 (bǎo dìng)
Population: 37,731,000
Area: 473,000 square kilometers (182,626 square miles)
Location: in the north of China
Administrative Division: 11 cities (Harbin, Qiqihar, Mudanjiang, Jiamusi, Daqing, Jixi, Shuangyashan, Yichun, Qitaihe, Hegang, Suihua, Heihe); 1 area (Daxing'anling)
GDP (2018): CNY 1,361.27 billion (USD 197.31 billion)

China's Northernmost Province with the Higheset Latitude
Located in the northeast of China, with Harbin as the capital, Heilongjiang Province has the highest latitude in the country. It is adjacent to Inner Mongolia to the west, Jilin Province to the south. As Heilongjiang faces Russia across the river to the north and east, it has become an important road from Asia and the Pacific to Russia and Europe, and an important window for China to open up. If you want to see a white wonderland in China, you should go to Heilongjiang. You will have a chance to enjoy the Ski Festival and Ice Festival held every year, and also the culture in the famous music town Harbin. Ski resorts, Russian-style architecture, virgin forests, hot springs, magical volcano gardens, mountain lakes and northern lights will treat visitors a fancy trip to Heilongjiang.


Cities
Ethnic Minority Groups
With a population of over 36.8 million, there are about 35 ethical groups living in Heilongjiang Province. Among them the most characteristic ethical groups are
Hezhe
fishermen,
Ewenki
Hunters and
Daur
ethnical group, who raises mainly cattles. Their life styles are very different from each others. So if you are interested, you might feel free to spend time with them.
When to Go
In summer, if you go to this province, you will feel cool and comfortable. Average temperature is around 18

C to 23

C in July. It's definitely a summer resort. In winter, you will experience harsh and extreme cold. Winter there is long, cold and dry. In January, average temperature is about -31

C to -15

C, and the record low temperature was -52.3

C. So wrap up before you go, or purchase the fine quality leather hats, overcoats and shoes there to keep you warm. Annual average rainfall is 250 to 700 millimeters (9.8 to 27.56 inches), so the crops grow well and the typical northeast foods are dumplings, bread and sausages.

Heilongjiang Weather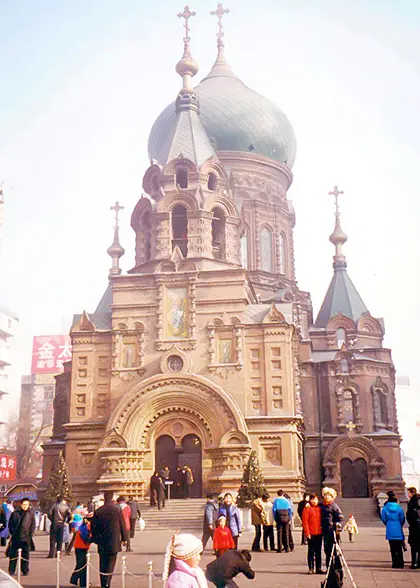 St. Sophia Church
What to See
Of course, there is more than just cold. You can visit the snow resort.
Wudalianchi Global Geopark
, a natural volcano garden famous throughout the world, is also worth a visit. This unique land witnessed volcanoes' ravage to Heilongjiang Province.
Jingpo Lake
, the largest mountain lake in China, has a particular and wonderful Diaoshuilou waterfall. In the arctic pole village Mohe, you may be fortunate to see aurora borealis.
Festivals
The national Ski Festival is a wonderful program for those who like skiing; and the national Ice Festival displays the exquisite art of ice carvings and its elegant masterpieces. Both festivals are held annually from December to January. During the famous Summer Concerts in Harbin you will hear the most beautiful music in the world, especially the Chinese classical music. All this is pleasing to all both your eyes and ears.
Every year, tourists from various countries gather here in the winter months just to get a glimpse of snow. For some visitors it is a once in a lifetime opportunity to see snow.
Temple of

Bliss,

Harbin

Ice Sculpture, Zhaolin Park
- Last updated on Jun. 15, 2022 -
Questions & Answers on Heilongjiang Travel
Asked by Alicia Chin from MALAYSIA | May. 28, 2016 23:23

Reply
Anyone can confirm Northern Lights appeared on 22.06.11?
My husband and I will be in Harbin to attend my daughter's graduation ceremony in Mid June. We wish to have a chance of a lifetime to witness the Northern Lights in Mohe. Please advise the best date or dates to be in Mohe for June 2016 .

Answers (3)
Answered by Nick from NEW ZEALAND | May. 29, 2016 02:58

1

0

Reply
Hi, around the Summer Solstice, the Northern Lights is very likely to happen. I was amazed by it in 2012. For this summer, you'd better go around Jun. 21. Wish you luck!
Answered by Alicia | May. 29, 2016 20:05

0

0

Reply
To Nick from New Zealand, Thank you for your useful reply. We will be in Hulunbuir , please advise me the best transport from Hulunbuir to Mohe on the 19th June 2016 so that I can get to see Northern Lights from Mohe.
Answered by Nick | May. 29, 2016 20:41

0

0

Reply
Hi again, Alicia. You can take the only train from Hailar to Mangui within 13 hours. Then transfer to a direct long-distance bus to Mohe County within 3.5-4 hours. After that, two buses are scheduled at Mohe Bus Station (13:30 and 18:00) for the famous Arctic Village (Bei Ji Cun), which the best place to enjoy the Northern Lights.
Asked by Mel from PHILIPPINES | Jan. 05, 2016 08:51

Reply
How about English competency of people in Heilongjiang
I would like to visit with friends who can't speak Chinese dialect. Will it difficult for a foreigner like us to have a tour in Harbin?
Answers (1)
Answered by Mia from ITALY | Jan. 05, 2016 21:47

2

0

Reply
The local people can only speak very simple English. It may be hard to understand and communicate with them. However, as I know, there are clear English guiding signs at some public places and scenic areas. Though it might be hard for you to commute by bus, subway and taxi can be a good choice for you. To take a taxi, you can show the driver Chinese note. Then I believe there won't be problem in touring on your own. Have fun! :)
Asked by Kathleen from UNITED STATES | Jul. 20, 2015 21:49

Reply
I may be traveling to Heilongjiang province either May or June of 2016.
What is the average temperature during that time. Is there a lot of rain during that time?
Answers (1)
Answered by Locas from USA | Jul. 21, 2015 00:56

1

1

Reply
According to the previous weather statistics, the temperature of May is 49 F to 68 F.
And June is 63 F to 81 F. June has more rainy days than May. In general, the climate is cool and comfortable. You can bring jackets, T-shirts and jeans.
Have a good journey!
Asked by Eddie from SINGAPORE | Jan. 19, 2015 03:13

Reply
What are public bus or tourist bus from Harbin to Yabuli Resort & how much is the fare?
Two of us are visiting Yabuli Ski Resort in late Feb 2015, we travel from Harbin. Besides railway which cost 30 to 50Yuan and takes 3 hours. Where can we take public bus or tourist bus from Harbin? What is the fare & what frequencies of departures? How long is the journey?
Answers (1)
Answered by Anna from AUSTRALIA | Jan. 20, 2015 02:04

1

4

Reply
Hey, there is only one bus running from Harbin to Yabuli every day. You can take bus from three locations in Harbin. No. 4-1, Jiuzhan Street at 06:00; Xierdao Street at 06:05; Beijing Street at 06:20. It takes about 3.5 hours to reach and cost CNY70.
Asked by Tammy Tam from SINGAPORE | Oct. 23, 2014 09:09

Reply
visit 19 dec to 26 dec 14 in Heilongjiang. what will temperature look like during thar period?
Answers (1)
Answered by Martin from FINLAND | Oct. 23, 2014 21:06

1

1

Reply
In December, the temperature is about -13 °F to 33.8 °F.
Before you go, you should buy fine quality leather hats, overcoats and shoes to keep you warm.