Daxing'anling Travel Guide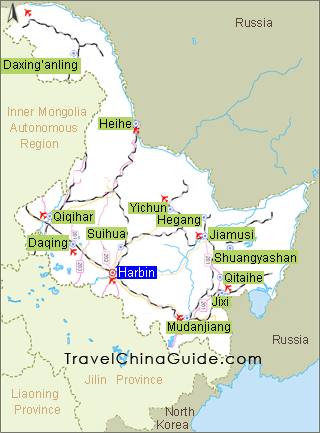 Daxing'anling Facts
Chinese Name: 大兴安岭 (dà xīng ān lǐng)
Population: 540,000
Area: 84,600 square kilometers (32,664 square miles)
Location: in northwest of Heilongjiang Province, northeast China
Administrative Division: 4 districts (Jiagedaqi, Songling, Xinlin, Huzhong); 3 counties (Huma, Tahe, Mohe)
Area Code: 0457
Zip Code: 165000
GDP (2018): CNY 12.89 billion (USD 1.95 billion)
Nationalities: Manchu, Mongol, Ewenki

Daxing'anling is in the north end of China's territory. It is east to Xiaoxing'anling, west to
Inner Mongolia
, north to Songnen Plain and south to Russia. It is the only coniferous forest area and the remaining biological gene bank of cold temperate zone in China. Within Daxing'anling, Beiji Village, Ewenki Reindeer Park, Birch Forest are hot places to visit. Travelers can enjoy the beautiful snowy scenery, go winter fishing and taste Northeast Cuisine.
Daxing'anling Attractions - Things to Do
Huzhong National Nature Reserve
Located between Daxing'anling main range and Yilehuli Mountain, it is the largest primitive Eastern larch forest in northern China. It is home to many kinds of rare animals and plants. Dabai Mountain, the peak of north range of Daxing'anling Mountain, is the highlight of the area.

Mohe County
It is situated in the north end of China and borders Russia. Beiji Village (The Village of Northern-Pole) is the only place in China to enjoy polar day and polelight. The cross-border river Heilongjiang River rises from Mohe. The 'Gold Path' is said to be the way where gold was transported in ancient times. Yanzhizhou is the famous gold production base where tourists can experience the gold rush by themselves.

Shibazhan Oroqen Town
This town is where the Oroqen (a hunting ethnic minority group) people inhabit. The mysterious local custom and primitive life habit are most attractive.

Gaxian Cave
Located in northwest of Jiagedaqi District, it is an ancient cave where the ancestors of Sarbi people lived thousands of years ago. It is now under the first level state protection.
How to get to/around Daxing'anling
Jiegedaqi Gaxian Airport in Jiagedaqi District is 8 kilometers (5 miles) to downtown Jiagedaqi, which has flights to Beijing, Shanghai, Dalian, Harbin, Hohhot, Hailar and Mohe.

Mohe Gulian Airport in Mohe City has opened flights to/from Beijing, Chengdu, Harbin, Jiagedaqi and Jieyang. Taxi is the only way to travel between the airport and downtown.

Jiagedaqi also has direct railway lines to Harbin, Beijing, Shenyang, Hailar and Manzhouli. Highways are quite well constructed, linking Daxing'anling together with other cities and counties of Heilongjiang Province. To get to Mohe, visitors need firstly get to Harbin; take trains from Harbin to Jiagedaqi for about nine hours and then continue a ten-hour train journey to Mohe.
Weather
-
In Daxing'anling, winter is quite long and cold while summer is short and cool. The annual average temperature is only minus 2.8°C (27°F). Winter there lasts as long as seven months and the temperature can be lower than minus 40°C (minus 40°F). Summer there lasts only two months. From June to August, the sunlit period can last for 17 hours.

When to Go
: June to August is the best time to visit that place, when the daytime is long enough for visitors to explore the land. Moreover, every year when the Summer Solstice comes on June 21st or June 22nd, the rare polar days can be witnessed. Visitors can also enjoy the magnificent polelight if they're lucky enough. Winter is for those who would like to experience the extreme snow and ice scenery. Please remember to take thick clothes and keep warm if you visit in winter.
Daxing'anling Travel Tips

History: Early in the late Paleolithic Age, human beings started to live in this area. It was already a state of the Zhou Dynasty (770BC-221BC) empire. From Sui Dynasty (581-618) to Liao Dynasty (916-1125), it was controlled by the Shiwei people (the ancestor of Oroqen Nationality). In the 16th century, it was reigned by the Manchu people. In 1970, it became a district under the direct guide of Heilongjiang Province.



Physical Features: With Daxing'anling mountain ranges lying in the west, this area inclines from high west to low east. The whole area is covered with mountains, hills and basins among mountains.



Local Highlights: Daxing'anling is a natural unpolluted area with peculiar landscape of forest, rivers, ice and snow. It is the largest modern national forest area in China. Large areas of forest offer the locals with abundant wild plants and animals resources. In addition, it is rich in minerals especially gold.



Special Local Products: Natural plants in the thick mountain forest provide rich food resources including daylily, needle mushroom, agaricus, and glossy ganoderma.
- Last updated on Apr. 21, 2020 -
Questions & Answers on Daxing\anling Travel
Asked by Cary Li from HONG KONG | Jul. 03, 2018 03:01

Reply
in which month can see the Aurora Borealis in Mohe county Daxing'anling prefecture China ?
I Plan the trip to Mohe by the end of November this year , is it possible to see the northern light on that time
Answers (2)
Answered by Nina from POLAND | Jul. 04, 2018 02:48

0

0

Reply
Generally, the most probable time to see the Aurora Borealis is several days before and after the summer solstice.
Answered by CARY Li from HONG KONG | Jul. 05, 2018 16:51

0

0

Reply
Thank you for your valuable comments
Asked by Eric from SINGAPORE | Dec. 04, 2017 01:43

Reply
We are planning to visit Beiji village in Jan 2018.
Hi,
We will land in mohe airport at 4pm. May i know how to do we go to the village?

Thank you.
Answers (1)
Answered by William from AUSTRALIA | Dec. 04, 2017 18:54

0

0

Reply
You are suggested to hire a local car to the village, and it costs around CNY100 and takes about 1h.
Asked by Tony Santana from USA | Jun. 27, 2014 10:37

Reply
Xingan Larch Forest
What is the best way to see the Xingan Larch Forest views? I will fly into Mohe. How to get there, where to go?
Answers (1)
Answered by Andy from ITALY | Jun. 27, 2014 21:14

1

0

Reply
You can take a bus or rent a car from Mohe to Luoguhe Village (洛古河村), where the Larch Forest is located! It takes around two hours to arrive!
Asked by Vincent from SINGAPORE | May. 19, 2014 03:12

Reply
Visiting Mohe
Hi, I am Vincent from Singapore. I plan to visit Mohe this coming June to watch the Northern Lights. though it was mentioned that one is able to see it in June but from other online information it says to watch NL it will be in fall/early winter at China's Arctic village. Is there any different. How can one plan to go there alone and by flight instead of long train ride. Beside the NL what other places can of interests. Thanks
Answers (1)
Answered by Lynn from USA | May. 19, 2014 23:01

1

0

Reply
The China's Arctic Village in Mohe is the best place to see the northern lights and the chances to see the lights are in June around 22nd.

To reach Mohe, you can head for Mohe from Harbin by flight or by train. Upon reaching Mohe, you can hire a local car to reach the China's Arctic Village.

Besides the Mohe, you can visit the Harbin city to see the Central Avenue and so on in summr time.
Asked by Tora from THAILAND | Jan. 19, 2014 10:47

Reply
Where to stay at mohe
I am planning to go up to Mohe this Late May. from Shenyang and return to Harbin, The better ways is Flight/Train? and The weather it change to summer?. and possible to view the some northern lights?
What else can i do at Mohe? Where to stay at that place? Sorry for many question.
Answers (2)
Answered by Pier from FRANCE | Jan. 19, 2014 20:52

0

1

Reply
From SY, there is only one train 2667, taking about 31 hours on the way. There is no other better methods if you do not want to transfer.
If transfering is accepted, you can take bullet trains for Harbin and then fly to Mohe.
The average temperature is around 10 to 20C in the summer time for that place and it is a wonderful place for enjoying cool summer. For the northern lights, I think you may mean the aurora, right? If so, it is suggested to go there around June 20.
For living, the Mohe BeiBei International Youth Hostel and Lvyou Zhijia International Youth Hostel are suggested and you can find the detail information on the Youth Hostel Association website.
Answered by Tony Santana from USA | Jun. 27, 2014 10:36

0

0

Reply
The airport at Mohe (OHE) is now open with 1.5 hour flight from Harbin. One can also fly further to the south to Jiadeqi airport, though further away.