Heihe Travel Guide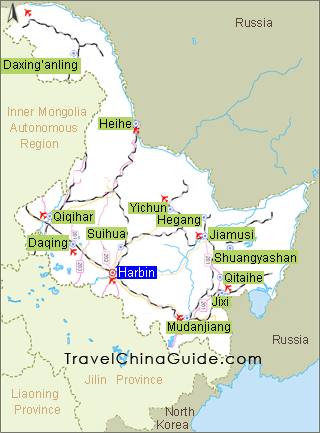 Heihe Facts
Chinese Name: 黑河 (hēi hé)
Population: 1,593,000
Area: 68,726 square kilometers (26,535 square miles)
Location: in the north of Heilongjiang Province, northeastern China
Administrative Division: 1 district (Aihui); 3 counties (Nenjiang, Xunke, Sunwu); 2 county-level cities (Bei'an, Wudalianchi)
Area Code: 0456
Zip Code: 164300
GDP (2018): CNY 50.51 billion (USD 7.63 billion)
Trade Center on Border with Russia
Heihe is located in the northeast region of Heilongjiang Province, neighboring Yichun and Suihua to the southeast and Qiqihar to the southwest. It is separated by the Nenjiang River from Inner Mongolia on the west and by the Heilongjiang River (Amur River) from Amur Oblast of Russia on the northeast. Heihe is the most striking city on the 2,981 kilometers (1,852 miles) long border between Heilongjiang and Russia.

There is no city in northeastern China like it that faces Russia across the river in such a close distance. Walking on the street, you can see signs of Chinese and Russian languages in a row. And Heihe has close economic and cultural exchanges with Bragoveshinsk, the capital of Amur, also the nearest Russian city to Heihe. Visitors can take a short trip to this city to have a glimpse of Russia. As for Heihe travel, the Wudalianchi Global Geopark highlighting the unique volcanic landscape and five connected lakes is a must-see place. During the Dragon Boat Festival, the Heilongjiang International Volcano Tourism Festival and Wudalianchi Drinking Festival will attract a lot of visitors. A series of activities will also be held at that time, including square performances, outdoor movies, a lantern show, Dragon Dance, Yangge Dance and other large-scale
Heihe Attractions - Things to Do
Wudalianchi Global Geopark: Wudalianchi, also known as the Five Large Connected Lakes was formed by lava. Wudalianchi Geopark is also a comprehensive scenic area combining sightseeing, health restoration and scientific research. Around the scenic area, there are in total fourteen volcanoes. Home to a unique volcano landscape and special mineral water, it ranks among the top attractions in Heilongjiang.

Longzhu Far East International Skiing Resort and the Woniuhu Skiing Resort comprise a large ski area on the border between Northeast China and the Far East region of Russia. It is an ever fascinating outdoor holiday resort in winter.
How to get to/around Heihe
1. Heihe Aihui Airport is located 17 kilometers (10 miles) southwest of the city proper, and has flights to Beijing, Harbin, Shanghai, Zhuhai and Zhengzhou.

2. Heihe Railway Station can be found in the southeast part of the city proper. Visitors to Wudalianchi can take trains from Harbin or Qiqihar and change to buses in Bei'an City.

3. The long-distance bus station is located in the south part of city. Buses to other cities and counties of Heihe can be found there.



See also Heihe to Harbin Train
Weather
-
Heihe City is adjacent to the cold, windy grasslands of Siberia. It enjoys a cold temperate continental monsoon climate with long, chilly winters, and cool, short summers. Its annual average temperature is around -1.3-0.4°C (29.7-32.7°F).

When to Go:
May to September is the best time to visit there.
Heihe Travel Tips

History: Heihe is one of the five ancient cities of Heilongjiang Province. Humans settled there as early as the Paleolithic Age and it became home to local tribes later. During the Qing Dynasty (1644-1911), this was the first place troops sent to Heilongjiang were stationed.



Physical Features: Heihe is located in the northern area of Xiaoxing'anling and east region of Daxing'anling. The city is built among undulating mountains and crisscrossing river valleys. Medium and low mountains make up the main components of Heihe's landform. Along the Heilongjiang and Nenjiang Rivers, there are plains distributed. The elevation of the city's terrain generally falls from the northwest to the southeast.



Special Local Products: Agaric (field mushroom), mushroom, persimmon, mineral water from Wudalianchi
Note: The east section of Hailan Jie is a commercial street for Russian commodities and is the first street in China mainly selling goods from Russia.
- Last updated on Apr. 21, 2020 -
Questions & Answers on Heihe Travel
Asked by Boon from THAILAND | Feb. 15, 2020 08:02

Reply
How can I get to Xunke from Heihe?
Is there anything nice to see in Xunke or near by?
Thanks for every comments.
Answers (1)
Answered by Harold from UNITED KINGDOM | Feb. 15, 2020 17:05

0

0

Reply
You can take direct coach from Heihe Coach Station. The bus schedules are 06:20, 09:00, 09:20 and 15:10.
Xunke Daping Rime Scenic Spot and Kuerbin River are recommended.
Asked by Domi from SWITZERLAND | Feb. 07, 2018 01:36

Reply
Crossing from Heihe (China) to Blagoveshensk (Russia)
I shall be arriving by train to Heihe and I would like to know what is the procedure to cross the border to Blagoveshensk in Russia. Are there taxis or transportation available at railway station ?
I have a valid Russian visa.
Answers (2)
Answered by Phill from ITALY | Feb. 07, 2018 20:50

1

0

Reply
The passport and visa are enough! You can take a taxi to the pier to take a boat to the city. Have a nice trip!
Answered by Domi from SWITZERLAND | Feb. 09, 2018 19:09

0

0

Reply
Thank you, Phil from Italy. We've crossed the border yesterday and it was very easy. We took a taxi to the Chinese customs building, went through customs, then we took a bus to cross the river on a temporary pontoon on ice, and then went through the Russian customs. Everything went smoothly. Just for information for people who would like to cross the Amur river in winter, you have to pay 35 Yuan for pontoon access and 91 Yuan for the bus ticket.
Asked by Jack from EU | Nov. 05, 2016 09:50

Reply
I am a EU citizen. Can I visit Heihe from the Russian side without visa?
Answers (1)
Answered by Brain | Nov. 06, 2016 01:19

0

0

Reply
I'm afraid you have to hold a valid visa for this case.
Asked by Akahori Minae from JAPAN | Aug. 21, 2016 22:31

Reply
I went to Woniuhu Scenic Resort: along the road there was a memorial photo spot witha golden ox
Why is a cow statue there? In chinese character the name of that lake include a cow. Does the lake have something to do with a cow?
Answers (1)
Answered by Lucy from USA | Aug. 22, 2016 01:25

2

0

Reply
Hi, dear! "Woniuhu" literally means a lake with a squatting cow. It was orginally called "Enihu" (Mom Lake). There is a sad story of "Enihu". A young brave hunter died when he went for hunting. His mom looked for him along the hunting route, weeping sadly. Thus, her tears gathered and formed a lake.

Later, Enihu was passed down as "Woniuhu" due to sound shift, and a stone cow statue was erected by the lake.
Asked by Ho Sow Leng from SINGAPORE | Apr. 11, 2016 09:20

Reply
How far is the distance from Heihe to Wudalianchi? What transportation by bus or taxi or train?
Answers (1)
Answered by Brian from BRAZIL | Apr. 12, 2016 03:10

0

0

Reply
The distance is about 172 miles (277 km). You can take a train to Beian Railway Station. The trains are scheduled at 8:20, 9:20, and 19:15. The trip takes about 5 to 6 hours. Upon arrival, you can take direct shuttle bus to the Wudalianchi Scenic Area.

Or, you can take a bus to Wudalianchi. The buses are scheduled at 8:10 and 15:30, and the trip takes about 4 hours. :)