Heihe Travel Guide
Heihe Facts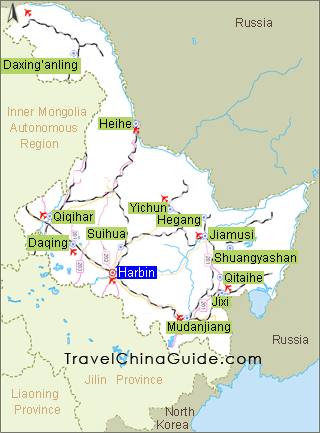 Chinese Name: 黑河市 (hēi hé shì)
Population:
1,740,000
Area:
68,726 square kilometers (26,535 square miles)
Nationalities:
Han
Location:
Heihe City is located in the northeast region of Heilongjiang Province, neighboring Yichun and Suihua in the southeast and Qiqihar in the southwest. It is separated by the Nenjiang River from Inner Mongolia in the west and by Heilongjiang River (Amur River) from Amur Oblast of Russia in the northeast. To the north, it neighbors Daxing'anling Region.
Administrative Division:
1 district (Aihui); 3 counties (Nenjiang, Xunke, Sunwu); 2 county-level cities (Bei'an, Wudalianchi)
Seat of the City Government:
No.2, Tongjiang Lu, Aihui District
Useful Telephone Numbers
:
Tourist Complaints: 0456-8221780
Weather Forecast: 121
Zip Code Inquiry: 184
Bank of China Branch:
No.140, Xinglin Jie, Aihui District
China Post Branch:
No.333, Zhongyang Jie, Aihui District
Heihe Attractions - Things to Do
Wudalianchi Global Geopark: Wudalianchi, also known as the Five Large Connected Lakes was formed by lava. Wudalianchi Geopark is also a comprehensive scenic area combining sightseeing, health restoration and scientific research. Around the scenic area, there are in total fourteen volcanoes. Home to a unique volcano landscape and special mineral water, it ranks among the top attractions in Heilongjiang.

Longzhu Far East International Skiing Resort and the Woniuhu Skiing Resort comprise a large ski area on the border between Northeast China and the Far East region of Russia. It is an ever fascinating outdoor holiday resort in winter.
How to get to/around Heihe
1. Heihe Airport is located 17 kilometers (11 miles) southwest of the city proper, and has flights to Harbin, Shenyang, Dalian, Weihai, Jinan and Qingdao.

2. Heihe Railway Station can be found in the southeast part of the city proper. Visitors to Wudalianchi can take trains from Harbin or Qiqihar and change to buses in Bei'an City.

3. The long-distance bus station is located in the south part of city. Buses to other cities and counties of Heihe can be found there.
Weather
-
Heihe City is adjacent to the cold, windy grasslands of Siberia. It enjoys a cold temperate continental monsoon climate with long, chilly winters, and cool, short summers. Its annual average temperature is around -1.3-0.4°C (29.7-32.7°F).

When to Go:
May to September is the best time to visit there.
Heihe Travel Tips

History: Heihe is one of the five ancient cities of Heilongjiang Province. Humans settled there as early as the Paleolithic Age and it became home to local tribes later. During the Qing Dynasty (1644-1911), this was the first place troops sent to Heilongjiang were stationed.



Physical Features: Heihe is located in the northern area of Xiaoxing'anling and east region of Daxing'anling. The city is built among undulating mountains and crisscrossing river valleys. Medium and low mountains make up the main components of Heihe's landform. Along the Heilongjiang and Nenjiang Rivers, there are plains distributed. The elevation of the city's terrain generally falls from the northwest to the southeast.



Special Local Products: Agaric (field mushroom), mushroom, persimmon, mineral water from Wudalianchi
Note: The east section of Hailan Jie is a commercial street for Russian commodities and is the first street in China mainly selling goods from Russia.