Daqing Travel Guide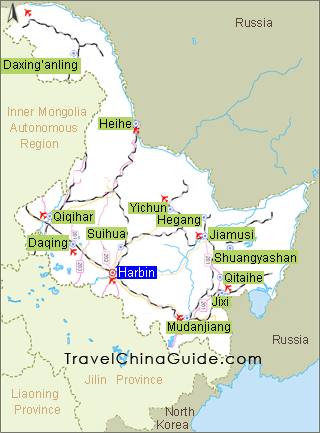 Daqing Facts
Chinese Name: 大庆 (dà qìng)
Population: 3,200,000
Area: 21,000 square kilometers (8,108 square miles)
Location: in the west of Heilongjiang Province, northeastern China
Administrative Division: 5 districts (Saertu, Longfeng, Ranghulu, Datong, Honggang); 3 counties (Zhaozhou, Zhaoyuan, Linxun); 1 autonomous county (Dorbod Mongol Autonomous county), 1 high and new technology industrial development zone (Daqing)
Area Code: 0316
Zip Code: 065000
GDP (2019): CNY 256.83 billion (USD 37.23 billion)
World Famous Oil City with 150 Natural Lakes
Daqing is a famous industrial city with oil and petrochemical as its pillar industries. It neighbors Suihua to the east, Qiqihar to the west and north and faces Jilin Province across the Songhua River. Daqing Oil Filed, found in 1959, the largest oil field in China and the tenth largest oil field in the world is located here. The oil-bearing area of the Daqing oil field is more than 6,000 square kilometers (2,317 square miles) and the proved oil geological reserves are 6.7 billion tons. However, when stepping into Daqing, what you can see is not normal cityscape, but vast wetlands and grasslands. Daqing has more than 150 natural lakes. The best places to enjoy the natural scenery are the Lianhuanhu Scenic Area and Lianhua Lake. Also, tourists can experience grassland horse racing and water hunting here.

You may like: Top 10 Biggest Cities in China by Area
Daqing Attractions - Things to Do

Lianhuanhu Scenic Area: the only international waterfowl hunting ground in China and wonderful summer resort of that city located 21 kilometers west of Dorbod Mongol Autonomous county.



Lianhua (Lotus) Lake: a South Chinese-style water town which is unusual because it is situated in a typical North Chinese industrial city.

Recommended Scenic Spots: Museum of Petroleum Technology, Dumeng Grassland, Lindian Hot Springs.
How to get to/around Daqing
1. Tourists can get to Daqing by air and land in Daqing Sartu Airport. The railway connecting Harbin City and Manzhouli City in Inner Mongolia passes through that city. The city is also connected by railway to Inner Mongolia and Liaoning. It is more convenient for visitors to change trains at Daqing from Harbin, Qiqihar, Manzhouli, Tongliao and Chifeng.

2. Its Central Passenger Bus Station in No.14, Huizhan Jie of Saertu District is one of the eight largest passenger transport stations in Heilongjiang Province. It is located to the right of local railway station and offers buses to Beijing, as well as many cities and counties in Liaoning and Heilongjiang provinces.

3. Zhaoyuan Town, of Zhaoyuan county in Daqing, is the fourth largest port in Heilongjiang. It has tourist yachts which offer trips to the docks at the Sino-Russian border.
Weather
-
Daqing enjoys a temperate continental monsoon climate. Affected by the cold air from inland Mongolia and the warm current of the Pacific Ocean, it has chilly and snowy winters and windy springs and autumns. Its annual average temperature is around 4.7°C (40.5°F).

When to Go:
Summer and autumn
Daqing Travel Tips

History: This region was the hunting land of the Mongolian Dorbod tribe during the early years of the Qing Dynasty (1644-1911). Soviet Russia established Saertu Station during the construction of the middle East Railway. Land reclamation in this region began in 1904 and villages were gradually developed. It was in 1959, with the discovery of the Daqing Oilfield, that the city - formerly Anda City - was established.



Physical Features: The city's terrain is flat and slopes gently downward from the northeast to the southwest. The city has vast areas of meadow and water.



Special Local Products: Sunflowers, mung beans, carrots, monkey head mushrooms and black fungi.



Local Highlights: Petroleum may be the most famous local export, but the full-bodied Mongolian flavor of Dorbod Mongol Autonomous county is also worth tourists' consideration. The fertile grassland, far-reaching reed marshes and lakes, natural forest and unsophisticated Mongolian flavor shape the unique atmosphere to be enjoyed in Daqing.
- Last updated on Nov. 26, 2020 -
Questions & Answers on Daqing Travel
Asked by Monire from IRAN | Mar. 27, 2018 03:56

Reply
Is there any halal restaurant in Daqing?
If yes where is the address?
Answers (1)
Answered by Helen from CANADA | Mar. 27, 2018 20:06

0

0

Reply
You can go to Xiangheshun Halal Restaurant in 8-7 Wei'er Rd, New Dongfeng Vilage, S'ertu District! It's great! Oh, another Yangshi Halal Restaurant in 140 Zhongyang Avenue, Changqing'er District is also good, you can have a try!
Asked by Maryam from IRAN | Mar. 26, 2018 12:11

Reply
Is there any mosque in Daqing?
If yes where is the address?
Answers (2)
Answered by Helen from CANADA | Mar. 26, 2018 19:53

0

0

Reply
I happen to know a Mosque in Dorbet County, Daqing city, and it's near the county hospital in Rangdu Street. You can have a look!
Answered by Maryam from IRAN | Mar. 27, 2018 03:40

0

0

Reply
Thank you very much
It was realy helpful
Asked by Tyla from SOUTH AFRICA | Mar. 26, 2018 03:04

Reply
Is Daqing a nice place for two young girls to live?
By my question i mean is it a nice place for two young english teachers to live and enjoy the city and the activities within? Is it easily accessible to get around and is it a city that is enjoyable?
Answers (1)
Answered by Jude from FRANCE | Mar. 26, 2018 20:41

0

0

Reply
Yes, the small city is great and people are friendly! I once went there and they are so warm-hearted to give me help! Oh, there are many wonderful lakes and wetlands scenery, if interested, you can have a look!
Oh, btw, the temperature is rather cold in cold, so you may prepare for some warm clothes!
Asked by Christo from SOUTH AFRICA | Dec. 04, 2017 12:33

Reply
Is it possible to get more information regarding the cost of living in Daqing?
Kind regards
Answers (2)
Answered by Nicole from USA | Dec. 04, 2017 20:25

1

0

Reply
In average, about CNY2,000 can afford the everyday life. So if you earn over CNY3,000, it is easy to keep some savings.
Answered by Christo from SOUTH AFRICA | Dec. 05, 2017 01:06

0

0

Reply
Thank you. That is quite helpful.