Jixi Travel Guide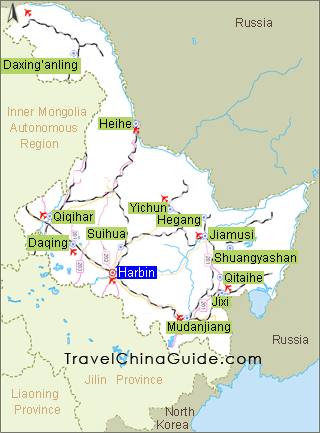 Jixi Facts
Chinese Name: 鸡西 (jī xī)
Population: 1,859,000
Area: 22,500 square kilometers (8,687 square miles)
Location: in the southeast of Heilongjiang Province, northeastern China
Administrative Division: 6 districts (Jiguan, Hengshan, Didao, Lishu, Chengzihe, Mashan); 1 county (Jidong); 2 county-level cities (Hulin, Mishan)
Area Code: 0467
Zip Code: 158100
GDP (2018): CNY 53.52 billion (USD 8.09 billion)
Known for Jixi Printmaking & Boundary Khanka Lake
Located in the southeast of Heilongjiang Province, Jixi shares a boundary line of 631 kilometers (392 miles) with Russia to the east and southeast, and it is close to Mudanjiang to the west and south and Qitaihe to the north. Jixi used to be an industrial city dominated by coal mining. Many bold, natural and beautiful Jixi printmaking works have been created since the 1980s. These works take the life of coal miners, northern scenery and regional culture as the main themes, enjoying a high reputation in the Chinese printmaking circle. A lot of fine printings have been collected in art galleries and exhibited abroad. You can appreciate and buy printmaking works at the Jixi Printmaking Gallery. The emerald-like Khanka Lake, which remarks the boundary line of China and Russia, is one of the highlights of Jixi travel. With a beautiful original wetland environment and pleasant climate, the lake has attracted many visitors and photographers for watching birds in spring and spending a summer holiday.
Jixi Attractions - Things to Do
Khanka Lake
Khanka Lake is a boundary lake with its northern part belonging to China and southern part belonging to Russia. It was formed by the sinking of the earth's crust caused by eruption of a volcano. Except long and chilly winter, the lake favorable for visiting at the rest time of a year. Red-crowned cranes, mews, swans and egrets are regular callers of the lake.

Jixi Printmaking Gallery
Located in the City Forest Park, Jixi Printmaking Gallery is composed of printmaking workshops, exhibition halls and a training center.

Other Scenic Spots: Baleng Mountain, Treasure Island, Qilin (Unicorn) Mountain
How to get to/around Jixi
Jixi Xingkaihu Airport is located in Hada Town which is 18 kilometers (11 miles) to the city center of Jixi. And filghts in the airport can fly to Beijing, Shanghai, Guangzhou, Dalian, Haibin, Qingdao, Shenyang and Tianjin directly.
The city has fifteen bus stations in total. Basically, buses can get to every villages of the city. Mudanjiang is 250 kilometers (155 miles) from Jixi, and visitor can have the aid of the Mudanjiang Airport to get to reach that city. But Harbin, the capital city of Heilongjiang is much farer. It is about 500 kilometers (311 miles) from Jixi with more than six hours' drive at least.
Weather
-
Jixi enjoys a cold temperate continental monsoon climate, bearing an annual average temperature of 4.7

C (40.5

F). Due to the influence of the oceanic climate, winter there is warmer than any other cities around the city, praised to be the 'spring city in North China.

When to Go: The city has a cool summer that is said to be the best time to visit the city.
Jixi Travel Tips

History: Thousands years ago, this area was inhabited by ancestors of the Manchu. They fishing and hunting for life. By the Shang Dynasty (16th - 11th century BC), dwellers here had began to communicated with people in Central Plain. It was in the Han Dynasty (206BC-220AD) that primitive agriculture in this region had made a great progress.



Physical Features: The city is surrounded by mountains in northern, western and eastern sides with the Musuo River flows through the city southwest to northeast, forming a spacious hoof-shaped basin. Low mountainous and hilly areas constitute the main landform of the city, together with plains and valleys along the rivers and lakes.



Special Local Products: Topmouth culter and shrimp of Khanka Lake, salmon of Wusuli River, dark honey, mycorrhizal fungi
- Last updated on Apr. 28, 2020 -
Questions & Answers on Jixi Travel
Asked by Lawrence from SYDNEY, AUSTRALIA | Jan. 23, 2014 14:06

Reply
How to travel from Jixi, Heilongjiang to Beijing and return
Hi,

Please advise in detail how the best and most convenient to travel from Beijing to JX, Heilongjiang and return. (Air / Train).

Thank you.
Lawrence.



Answers (1)
Answered by Alina from SAUDI ARABIA | Jan. 23, 2014 20:08

2

2

Reply
It is best to travel by air and it only takes around two hours. However, I remember the direct plane does't fly every day, so you'd better check the schedule in advance.
Asked by Low Kw from SINGAPORE | Jul. 23, 2011 01:35

Reply
travel to Jixi
May I know how to get there in the fastest way from Beijing
Answers (1)
Answered by Shan from CHINA | Jul. 23, 2011 02:06

1

1

Reply
From Beijing Capital Airport, you could take a flight to reach there in 2.5 hours.