Hegang Travel Guide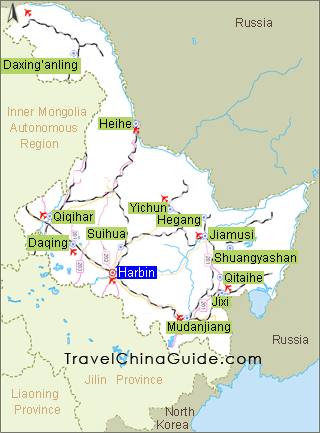 Hegang Facts
Chinese Name: 鹤岗 (hè gǎng)
Population: 995,000
Area: 15,000 square kilometers (5,791 square miles)
Location: in the northeast of Heilongjiang Province, northeastern China
Administrative Division: 6 districts (Xingshan, Xiangyang, Gongnong, Nanshan, Xing'an, Dongshan); 2 counties (Luobei, Suibin)
Area Code: 0468
Zip Code: 154100
GDP (2017): CNY 28.29 billion (USD 4.28 billion)
A Resource-Based City on the Border with Russia
Situated in northeastern Heilongjiang Province, Hegang is separated from Jiamusi by the Mudan (Peony) River on the south and separated from Russia by the Amur (Heilongjiang) River on the north. Sharing 235 kilometers (146 miles) long boundary lines with Russia, Hegang is a major city for opening up to Russia. Hegang has set up 16 enterprises and factories in Russia and the number of economic and technological cooperation projects with Russia has reached 44. It is a resource-based city with huge reserves of coal and graphite. But the ecological environment in Hegang is well preserved. Rivers, forests, wetlands and stone forests can be seen here. Many natural reserves were built, providing visitors with opportunities to get close to nature such as the Hegang National Forest Park. In winter, the Wangyunfeng Skiing Resort becomes a hot spot.
Hegang Attractions - Things to Do
Hegang National Forest Park is embraced by the Lesser Xing'an Mountains in north of the city. Covering an area of 2,636 hectare (6514 acres), the park consists of primitive pine forest, eco-tourist resort and folk-custom garden. Especially the folk-custom garden which is 32 kilometers (20 miles) northeast of the city show best flavors of ethnic minorities in Heilongjiang Province.

Wangyunfeng Skiing Resort is a pleasant winter resort seated in the Damahe Forestry Center, 45 kilometer (28 miles) north of the Luobei County.

Other Scenic Spots: Bailong (White Dragon) Canyon, Songhe Xihu Park
How to get to Hegang from Jiamusi
Hegang is only 50 kilometers (31 miles) from the Jiamusi Airport. Road transport between these two cities is quite convenient. From the Jiamusi Heping bus station, buses to that city depart every 30 minutes, and the total 71 kilometers (44 miles) will cost about one hour.
Weather
-
Hegang lies between mid and high latitudes, bearing a continental monsoon climate. July to August is the hottest period during a year, and January to February is the coldest. The extremely low temperature in winter can reach -39°C (-38.2°F).

When to Go
: As to the golden season to visit that city, December to January the next year is the best time to enjoy the fascinating snow scenes, while June to August is the fine season to shelter into the summer resort along the Amur River and in the primitive forest.
Hegang Travel Tips

History: Hegang was originally called Xingshan named after the Xinghua Mine that established in early twentieth century. By 1900s, few people had settled down there. Later, the city got increasingly large-scale exploitation due to its large cache of coal.



Physical Features: The terrain of the city slopes downwards from the west to the east. Northern and central parts belong to the mountainous area at the south foot of the Lesser Xing'an Mountains (Xiaoxing'anling). Its southern territory is located in the transition belt between mountains and plains, being the hilly area, while the southeast of Hegang is occupied by plain that undulates much gently.



Special Local Products: agaric, mushroom, pine nut, deer antler, weasel skin
- Last updated on Apr. 21, 2020 -
Questions & Answers on Hegang Travel
Asked by Kay Speedling from USA | Feb. 03, 2014 19:52

Reply
Could I please see a list of all hotels in Hegang?
Answers (1)
Answered by Samel from CANADA | Feb. 08, 2014 20:48

1

0

Reply
As I know so far, I only know 14 hotels in that place and they are Bihai Lantian Business Apartment Hotel, Dongfang Hotel, Longyun Hotel, Home Inn, Hegang Mining Industry Group Hotel, Hanting Express Hotel HG Train Station, Xilong Hotel Hegang Xinshiji Square, Jiuzhou Hotel and so on.
These ones are comparatively nice and hope it helps.