Mudanjiang Travel Guide
Mudanjiang Facts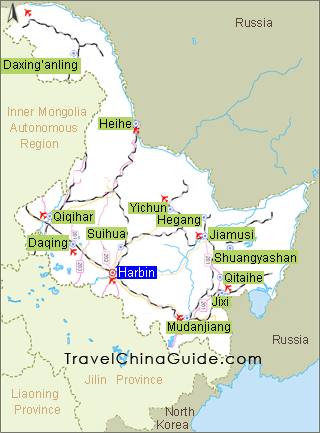 Chinese Name: 牡丹江 (mǔ dān jiāng)
Population: 2,750,000
Area: 40,600 square kilometers (15,676 square miles)
Nationalities: Han, Man (Manchu), Chaoxian (Korean)

Location: Situated in southeastern Heilongjiang Province, Mudanjiang City is bounded on the south by Jilin Province, and neighbors Russia in the East, adjacent to the Sea of Japan. It is about about 358 kilometers (222 miles) southeast of the capital city of Heilongjiang, Harbin.

Administrative Division: 4 districts (Aimin, Dong'an, Yangming, Xi'an), 2 counties (Dongning, Linkou); 4 county-level cities (Muling, Suifenhe, Hailin, Ning'an)

Useful Telephone Numbers:
Tourist Complaints: 0453-6821997
Weather Forecast: 121
Zip Code Inquiries: 184
Bank of China: 0453-6678006

Mudanjiang Attractions - Things to Do
It is the largest alpine barrier lake in China formed by volcanic eruptions ten thousand years ago. Mountains surround this narrow and long lake while the lake embraces islets in the water. Diaoshuilou Waterfall, underground lava tunnels and crater forests constitute the highlights of the scenic area.

Shuangfeng Forestry Center
If visitors want to experience the interesting skiing, sledding and grand snowscape, the Shuangfeng Forestry Center is the best choice. Located in Changting Town of Hailin City, the forestry center is reputed as the 'snow town'. Its nival period lasts for seven months from October to the next April.
How to get to/around Mudanjiang
Mudanjiang Airport is 9 kilometers (6 miles) southwest of its city downtown area, operating flights to Beijing, Guangzhou, Dalian, Qingdao, Yanji and Wuhan. It is about four hours' ride from Harbin to Mudanjiang, and then visitors can get to the Jingpo Lake within about two hours.

Mudanjiang Railway Station operates both normal speed trains and high speed trains. Passengers can go to Beijing, Tianjin, Qiqihar, Changchun, Shenyang, Jilin, Dalian and some other cities.
Weather
-
Enjoying a temperate continental monsoon climate, Mudanjiang has clear four seasons with an annual average temperature of 4.5°C (40°F). Its weather is cool and rarely windy in spring and autumn.

When to Go: June to September is the best time to visit that city, not only for the cool weather, but also for the highest water level of a year. That will be the best time to viewing waterfall and boating on lakes. Winter there is extremely cold. Apart from the winter wear, visitors should also keep their photographic equipment properly protected.
Mudanjiang Travel Tips

History: Mudanjiang, also called Mudan Ula by Manchu, stands for a meandrous river. In the 2,300 years from the Shang Dynasty (16th-11th century BC) to Sui Dynasty (581-618), it was inhabited by the ancestors of the Manchu. The central government began to administrate this area in the Tang Dynasty (618-907) and it was one of the headstreams of the uprising of the Qing Dynasty (1644-1911). The city gains its name for the Mudanjiang River flowing through it.



Geograpgy Features: The city is surrounded by mountains, flat in the central part. Mountainous and hilly areas constitute the main landform of the city. The eastern part belongs to the Changbai Mountain area, and the central land is the valley-basin of Mudanjiang River.



Special Local Products: Black Fungi, wild fungus, Hericium Erinaceus
- Last modified on Sep. 11, 2019 -
Questions & Answers on Mudanjiang Travel
Asked by kornelia from POLAND | Jun. 04, 2019 10:30

Reply
Jingpo Hu, Diaoshuilou Waterfall & Underground forest
hi, do you have any idea what time do buses leave from Mudanjiang to get to these sites - Jingpo Hu, Diaoshuilou Waterfall & Underground forest? is it doable in one full day? how reliable is it? i mean the transport? thank you kornelia
Answers (4)
Answered by Edgar from UNITED KINGDOM | Jun. 04, 2019 19:50

0

0

Reply
From June to October, there is a tourist bus departing from Mudanjiang Railway Station Square at 8:00 and it takes about CNY30 for a single journey. There are 2 buses departing from Mudanjiang Bus Terminal at 13:20 and 14:30. The bus fare is around CNY20. The time is too tight to cover all the spots in one day.
Answered by kornelia from POLAND | Jun. 05, 2019 03:16

0

0

Reply
hi Edgar,

thank you very much for your reply, do you know anything about the returning bus schedule?
Answered by Edgar from UNITED KINGDOM | Jun. 05, 2019 18:39

0

0

Reply
The returning bus is at about 16:00 and 17:00 but it is better for you to confirm it with the staff of bus.
Answered by kornelia from POLAND | Jun. 06, 2019 02:16

0

0

Reply
Thank you once again!
Asked by Julia Susilowati from INDONESIA | Nov. 24, 2018 00:36

Reply
Is there a bus directly from mudanjiang station to China snow town village? And how much?
I want to go there on Jan 9. Thank you
Answers (1)
Answered by Buster from CANADA | Nov. 25, 2018 22:11

0

0

Reply
Yes, at Xishiyi Passenger Station, only one bus running to Snow Town ever day, departing at about 14:00. The duration is about 5 hours and the ticket fare is CNY37 per person.
Asked by Farhan from CHINA | Nov. 06, 2017 00:54

Reply
Mudanjaing to Jingpu lake
Can I go Jingpo lake and on the way back go to China snow town instead of coming back to MDJ ?

are there any busses from Jingpu to China snow town or I need to hire a taxi?
Answers (1)
Answered by Julie from NEW ZEALAND | Nov. 06, 2017 20:56

0

0

Reply
From MDJ to the lake, you can take a regular bus from the Square of Railway Station.
But no bus is available from the lake to Snow Town, so you need to hire a taxi or local car, which may cost CNY600 for a single trip.
Asked by lolo from CHINA | Feb. 06, 2017 09:58

Reply
hi from where to take the bus from mudanjiang to go to snow town xuexiang?
Answers (1)
Answered by Anna | Feb. 07, 2017 02:17

2

0

Reply
I have no idea if there is direct bus. I just know at MDJ General Bus Station, you can take a bus to Changting first. Then change to another bus to Snow Town directly.