Qitaihe Travel Guide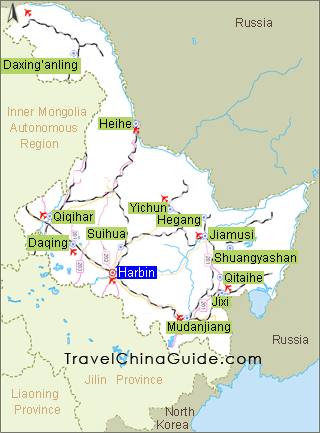 Qitaihe Facts
Chinese Name: 七台河 (qī tái hé)
Population: 777,100
Area: 6,221 square kilometers (2,402 square miles)
Location: in the east of Heilongjiang Province, northeastern China
Administrative Division: 3 districts (Taoshan, Xinxing, Qiezihe); 1 county (Boli)
Area Code: 0464
Zip Code: 1546000
GDP (2018): CNY 25.032 billion (USD 3.783 billion)
The Smallest City of Heilongjiang
Qitaihe City lies in the east region of Heilongjiang Province. It is bordered with Jixi and Mudanjiang to the south, Jiamusi and Hegang to the north, in the neighborhood of Shuangyashan to the east and Harbin to the west. Qitaihe is an emerging city dominated by the coal and wood processing industry. Qitaihe coal field has a total proved reserves of 2.215 billion tons, which is one of the three rare coal fields. Hence Qihaihe has become an important coal and power production base, coke production base and coal chemical industry base in Northeast China. But Qitaihe still has a green cityscape for the high forest coverage.
Qitaihe Attractions - Things to Do
Xidaquan Forest Park is a national forest resort in Boli County combining canyon drifting, rock climbing, primitive forest exploration.

Other Scenic Spots: Wanbaoshan Skiing Resort, Wanbaohu Children's Park, Jixinghe Reservoir, Shilongshan Reservoir.
How to get to/around Qitaihe
1. This city is located in the center of the five big cities of Heilongjiang: Harbin, Jiamusi, Mudanjiang, Jixi and Shuangyashan. The transportation is convenient relying on traffic facilities of these surrounding cities.

2. Qitaihe can be accessed within two hours from either Mudanjiang Airport or Jiamusi Airport. Only thirty minutes are needed from Qitaihe city proper to Jixi Airport.

3. Through the railway, visitors can depart from Qitaihe to the Port of Vladivostok via Suifenhe (a county-level city of Mudanjiang) and the Port of Dalian via Harbin. Additionally, this city has a well developed highway network. Through these highways, Jixi can be reached in forty minutes, Mudanjiang and Shuangyashan in two hours, Jiamusi in one and a half hour and Harbin in three and a half hours. As to the three important ports to Russia: Mishan, Hulin (county-level cities of Jixi) and Suifenhe, they can be reached from this city in two hours through expressways.
Weather
-
Bearing a cold temperate continental monsoon climate, Qitaihe has four distinct seasons. It is dry and seldom rainy in spring, hot and moist in summer. The weather is cool and refreshing in autumn and singularly cold and arid in winter. Its annual average temperature falls around 5°C (41°F).

When to Go:
June to August is the most favorable season to visit Qitaihe.
Qitaihe Travel Tips

History: In the Shang (16th - 11th century BC) and Zhou (11th century BC-221BC) dynasties, this region was inhabited by the Sushen Tribe, which is one of the ancient ethnic minorities in North China and the forefathers of Manchu, formerly Jurchen. This city was established in 1970s based on the Qitaihe Special District and Qitaihe Coal Mining Area.



Physical Features: The city is surrounded by mountains in the east, south and west. The eastern region is mountainous area and hilly region makes up the central of the city. The northwest is distributed by plains. There are in total twenty-seven peaks that are all offshoots of Wanda Mountains. The Woken River flows through the city proper and Boli County.



Special Local Products: Chinese straw brush, herbs, agaric (field mushrooms), monkey head fungi, dear antler
- Last updated on Apr. 05, 2022 -
Questions & Answers on Qitaihe Travel
Asked by Ms.Vicky from USA | Jul. 14, 2009 04:45

Reply
How to get to Qitaihe from Mudanjiang airport?
Answers (2)
Answered by Mr.Derek | Jul. 16, 2009 01:46

0

0

Reply
No easy way. You may go to the Mudanjiang railway station and then go to Qitaihe by train. There are two trains in a day. One leaves at 02:31 and the other leaves at 05:16. You will spend around 5 hours on the trip. If you cannot catch either of these two trains, you may go to Qitaihe by bus.
Answered by Sherlock | Apr. 05, 2022 01:30

0

0

Reply
Now it is easier. You can take a high-speed rail and it will only cost you 1 hour.