Shuangyashan Travel Guide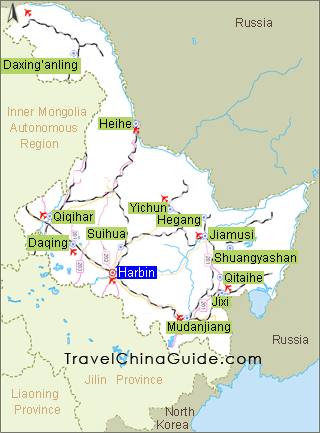 Shuangyashan Facts
Chinese Name: 双鸭山 (shuāng yā shān)
Population: 1,408,000
Area: 22,483 square kilometers (8,681 square miles)
Location: in the northeast of Heilongjiang Province, northeastern China
Administrative Division: 4 districts (Jianshan, Lingdong, Sifangtai, Baoshan); 4 counties (Jixian, Youyi, Baoqing, Raohe)
Area Code: 0469
Zip Code: 155100
GDP (2018): CNY 50.7 billion (USD 7.7 billion)
A City Rich in Grain Production and Wetlands
Shuangyashan City is located in the northeast of Heilongjiang Province, 460 kilometers (286 miles) away from Harbin. It is separated from Russia in the east. It borders the cities of Jiamusi and Qitaihe in Heilongjiang. Due to its fertile black soil, Shuangyashan is an important grain production area in China, with an annual grain output of more than 7 billion kilograms. Soybean, rice, corn are the mian crops. Shuangyashan is also rich in coal reserves and has a large area of wetlands and forests. The city's coal reserves are 11.7 billion tons, accounting for 47% of the Heilongjiang's total reserves. Wetlands such as Anbang River, Qixing River, Yanwo Island and Qianniao Lake stretch more than 300 kilometers (186 miles) from west to east. Hundreds of thousands of birds live and breed here from spring to autumn every year. And many nature reserves and forest parks have been established accordingly.
Shuangyashan Attractions - Things to Do

Qixing River Wetland National Nature Reserve
The Qixing River Wetland National Nature Reserve, 100 kilometers (62 miles) away from the urban Shuangyashan City, features wetland landscapes such as reed swamp, meadow, wet meadow. As the habitat and stopover place of many migratory birds, the reserve has many wild animals including red-crowned cranes, oriental white storks and white spoonbills. Tourists can enjoy the beautiful wetlands by cycling or boating. Fishing and watching the sunset are also recommended.



Beixiu Park
Beixiu Park is located at the foot of Ma'anshan at the south end of the city and covers an area of 230,000 square meters (275,078 square yards). Anbang River flows slowly from east to west. It is known as a natural forest park for the lush plants and flowers. Many fine sculptures, rockeries, pavilions, lakes and bridges are also dotted here and there. In addition to the beautiful scenery, there are two water parks, animal and plant parks, swimming pools, amusement parks and lawns for tourists to enjoy their time.

Others:Yanwo Islet Nature Reserve,Qingshan National Forest Park, Longhu Forest Park



Rivers: Wusuli River, Anbang River
How to get to Shuangyashan
To get there, visitors can firstly get to Jiamusi by plane and then change a bus directly to Shuangyashan, which is only 50 kms (31 miles) away from Jiamusi Airport (JMU). The local railway station is located in the west of the urban city and operates scheduled trains to Jiamusi and Harbin each day. Opposite to the railway station is the Bus Station of that city. Visitors can take buses to counties and towns in Shuangyashan as well as many other cities in Heilongjiang.
Weather
-
Shuangyashan belongs to the temperate monsoon climate zone. Winter lasts for a long time and the weather is dry and cold. The annual average temperature of the coldest month January is about minus 18°C (minus 0.4°F). Summer is short, rainy and hot. July is the hottest month with the average temperature of 22°C (72°F).

When to Go
: Summer and autumn are best time to visit there, when it is warm and humid.
Shuangyashan Travel Tips

History: The land of Shuangyashan has been cultivated by human beings since the Neolithic Age. It belonged to the Sushen State in the Western Zhou Dynasty (11th century BC-771BC). This area is also where the ancestor of the Qing Dynasty (1644-1911) emperors set up the first empire. During the Chinese Anti-Japanese War in the early 20th century, it was occupied by the invaders. After the new Republic of China was established, a coal mine agency called Shuangyashan was set up there. Then in 1966, it became a prefecture-level city under the direct guide of Heilongjiang.



Physical Features: The whole area is high in the southeast and low in the northwest. Mountains, hills, forests and fluvial plain are the main local geographic features.



Local Highlights: Boasting of rich coal resource, this city is called 'Coal City' in China. It is also an important agricultural base of China due to its location in the middle of fertile Sanjiang Plain.



Special Local Products: In the thick forests and large area of mountains, pure natural plants grow well, providing a wide range of foods for the locals. The most famous are mushroom and agaric. Big black ant products and milk products are also well sold throughout China.
- Last updated on Jun. 13, 2022 -
Questions & Answers on Shuangyashan Travel
Asked by Vladimir from GERMANY | Nov. 08, 2019 05:37

Reply
Hi, is there an Udege (乌德盖人, Kyakala) village in Shuangyashan?
I visited last year some Udege (Kyakala) villages in Russia (Krasnij Jar) — and I wonder if there is any Udege village in Shuangyashan? Because the local Russian Udege says that they visited such a village in Shuangyashan... It would be very interesting to visit it! Thank you.
Answers (1)
Answered by Kira from UNITED KINGDOM | Nov. 11, 2019 00:54

0

0

Reply
Sorry, I can't find this kind of village in Shuangyashan.
Asked by John from UK | Apr. 02, 2019 14:52

Reply
Is there still any railway interest in Shuangyashan?
I visited here in 2000 when standard gauge QJ and SY steam locos still operated on the coal mine railway. Is there still any interesting railway action to see whether it is standard gauge diesels or narrow gauge coal mine railways?
Answers (1)
Answered by Banner from MALAYSIA | Apr. 10, 2019 00:07

0

0

Reply
Yes, the railway is still open even though most of the mines had been closed.
Asked by Ms.Ellen | Jun. 02, 2010 23:13

Reply
Hi, can anyone please advice me on Shuangyashan city.i would like to visit it for a day.
Answers (1)
Answered by Mr.Clark | Jun. 08, 2010 04:11

2

0

Reply
Hezhe Minority is a very special ethnic group in China. They live in forest and hunting, fishing. You can visit Hezhe Village in Spai Township of Raohe County then get to 珍宝岛 from Raohe.