Yichun Travel Guide
Yichun Facts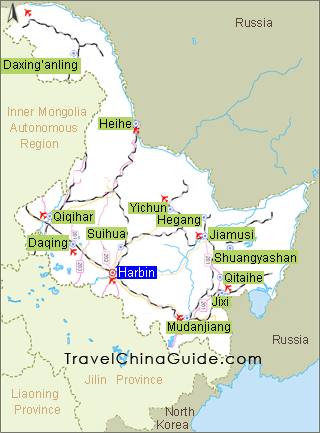 Chinese Name: 伊春市 (yī chūn shì)
Population: 1,320,000
Area: 33,000 square kilometers (12,741 square miles)
Nationalities: Han

Location: Situated in the northeastern area of Heilongjiang Province, Yichun City is bordered by Hegang in the east, Harbin in the south and Suining in the west. In the north, it is separated from Russia by the Heilongjiang River and sharing a boundary of 246 kilometers (153 miles) with the country.

Administrative Division: 15 districts (Yichun, Nancha, Youhao, Xilin, Cuiluan, Xinqing, Meixi, Jinshantun, Wuying, Wumahe, Tangwanghe, Dailing, Wuyiling, Hongxing, Shangganling); 1 county (Jiayin); 1 county-level city (Tieli)
Seat of the City Government: Xicheng New District, Yichun District

Useful Telephone Numbers:
Tourist Complaints: 0458-3878937
Weather Forecast: 121
Zip Code Inquiry: 184

Bank of China: No.211, Xinxing Xi Lu, Yichun District
Yichun Attractions - Things to Do

Tangwanghe National Park, 75 miles (120 kilometers) from the city center, is famous for Tangwang River, a mother river of Yichun, as well as the Stone Forest Scenic Area and Remains of Korean Pines damaged by a windstorm.



Wuying National Forest Park, together with Fenglin Nature Reserve in Wuying County, has the largest and most well-preserved Korean pine forest in Asia.



Local Dinosaur Museum is the largest dinosaur museum in Northeast China on the right side of the Water Park in its city downtown area.



Folk-Custom Garden of Korean is located in Yunshan Village of Nianfeng Korean Township which is 7.5 kilometers (about 4.7 miles) from Tieli City. Apart from folk performances, visitors can also please their palates by tasting the traditional food of the Korean ethnic minority.

Other Scenic Spots: Riyuexia Skiing Field, Lesser Khingan Range Botanical Garden
How to get to/around Yichun
1. Yichun is 350 kilometers (218 miles) from Harbin Taiping International Airport while Jimusi Airport is 150 kilometers (93 miles) away from the city. Although relatively smaller, it can offer an important transfer station to the city. Tourists have the use of both these two airports to visit other cities in China and abroad.

2. Trains are the most important vehicles in the city's transportation system. There are direct trains to Beijing, Tianjin, Shandong, Liaoning and the capital city of Heilongjiang, Harbin, as well as trains to forestry areas of the city.
Weather
-
Enjoying a cold temperate monsoon climate, Yichun is one of the cities with the lowest average temperature in China. The temperature varies greatly in different seasons and during a day. The city has four clear seasons. January is the coldest period of a year with an average temperature of minus 23 to 25 degrees (-9.4 to -13 degrees Fahrenheit), while July is the hottest month with an average temperature of 25 to 27 degrees (77-80.6 degrees Fahrenheit).

When to Go:
The scenery there is distinctive in different seasons. Summer is best for drifting in forested areas and autumn is a colorful season to view the stunning forests and mountains. The snow-covered forests shall be the most beautiful scene in winter.
Yichun Travel Tips

History: Yichun is Manchu for place teeming with animal pelt. Before the Tang Dynasty (618-907), it was inhabited by ethnic minorities in the northern border area of China. Since then, the city was brought into the sphere of authority in the following dynasties.



Physical Features: The city is located in the hinterland of Xiaoxing'anling mountain area boasting luxuriant forests. Mountainous region occupies more than eighty percent of its total territory, and there are hundreds of rivers of all sizes crisscrossing all over the city.



Special Local Products: Ginseng, deer antler, bass honey, pine nut, black fungi, Chinese gooseberry, Chinese walnut, hazel, wild grape.



Local Highlights:
Festivals: Forest Eco-Tourism Festival (July); Winter Photography Festival (January)
Ethnic Minorities: To learn more about the folklore of the ethnic minorities in that city, visitors can get to Wulaga Town in southeastern Jiayin County, a compact community of Oroqen ethnic minority which is one of the smallest minorities of China, and Nianfeng Township which is a major settlement for the Chaoxian (Korean) ethnic minority.