Qiqihar Travel Guide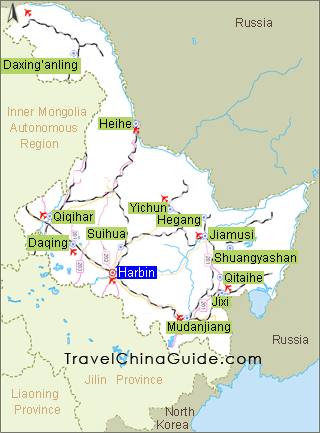 Qiqihar Facts
Chinese Name: 齐齐哈尔 (qí qí hā ěr)
Population: 5,337,000
Area: 42,469 square kilometers (16,397 square miles)
Location: in the northwest of Heilongjiang Province, northeastern China
Administrative Division: 7 districts (Jianhua, Longsha, Tiefeng, Angangxi, Fularji, Nianzishan, Meilisi Daur); 8 counties (Longjiang, Yian, Tailai, Gannan, Fuyu, Keshan, Kedong, Baiquan); 1 county-level city (Nehe)
Area Code: 0452
Zip Code: 161000
GDP (2018): CNY 134.02 billion (USD 20.25 billion)
The Hometown of the Red-Crowned Cranes
Situated in the northwest of Heilongjiang Province, Qiqihar is the traffic hub of western Heilongjiang. It neighbors Jilin to the south and Inner Mongolia to the west. It is 359 kilometers (223 miles) from the capital city Harbin. Qiqihar is the second largest city in Heilongjiang Province with a large amount of wetlands. It is called the hometown of Red-Crowned Cranes because the Zhalong National Nature Reserve provides a good habitat for rare waterfowls including Red-Crowned Cranes. The nature reserve is a top attraction in Qiqihar for shooting beautiful scenery and seeing migratory birds as well. As the largest and most well-preserved mosques in Heilongjiang Province, the Bukui Mosque built in the Qing Dynasty (1636 - 1912) has preserved many fine colorful paintings, wood carvings and brick carving. This city also has a lot of delicacies such as North Korean food and barbecue. It is said that a trip to Qiqqihar is meaningless without having a barbecue.
Qiqihar Attractions - Things to Do
Zhalong Nature Reserve
It is a famous nature reserve for bird fowl with an area of 210,000 hectares (2,100 sq kilometers). Reputed as the town of the cranes, it attracts two hundred and ninety-six species of birds in total, with the cranes being the largest in number.

Bukui Mosque
Constructed in the Qing Dynasty (1644-1911), this mosque is composed of the west and the east mosques. It is one of the largest and most well-preserved mosques in Heilongjiang Province.
How to get to/around Qiqihar
Qiqihar Sanjiazi Airport is 13 kilometers (8 miles) southeast of the city proper operating flights to Beijing, Dalian, Guangzhou, Jinan, Qingdao, Shenzhen, Tianjin and Shanghai. In addition, it is about four hours' ride from the city to Harbin by train and five hours by long-distance bus. Zhalong Nature Reserve is only 27 kilometers (17 miles) south of Qiqihar Downtown, about half an hour's ride, and the road conditions are good.
Weather
-
Qiqihar enjoys a temperate continental monsoon climate at a high altitude, the spring is dry and windy, and summer is hot and rainy. The autumn is shorter and the winter is chilly and long. The average temperature of a year is between 0.7-4.2°C (33.3-39.6°F).

When to Go
: Every year from May to July is the most favorable season to visit there.
Qiqihar Travel Tips

History: As early as 10,000 years ago, the ancient people living on the banks of Nenjiang River created brilliant civilizations on the black soil. According to the archeological discoveries, it was 2,500 years ago that Qiqihar entered the highly developed Bronze Age. This city is the convergence point of the three ancient ethnic groups of Sushen, Donghu and Huimo because of the inter-cultural mixing and resettlement among them.



Physical Features: The city is located in the Songnen Plain, and the terrain slopes downward from the north to the south. It lies at the south foot of the Lesser Xing'an Mountain (Xiao Xing'an Ling), and its south and central part are alluvial plains.



Local Highlights: Qiqihar Crane Watching Festival (August); Qiqihar Ice and Snow Event (late December); Nadamu and Aobao get-together in Meilisi Daur District (early September)



Special Local Products : paper cuttings, shadow puppetry, fungus, ginsengs
- Last updated on Apr. 28, 2020 -
Questions & Answers on Qiqihar Travel
Asked by Eric Tan from SINGAPOREEI | Feb. 27, 2018 23:00

Reply
I hope to visit Harbin then to Qiqihar and on to Mohe. Any high speed train to Mohe?
Answers (1)
Answered by Italy from AUSTRALIA | Feb. 28, 2018 00:19

1

0

Reply
Sorry to tell you that there is no high speed train, and only three trains are in use, leaving Mohe at 09:13, 20:33, and 22:06.
Asked by Mfai from GREECE | Feb. 26, 2018 09:16

Reply
How do I get from Railway Station to Qiqihar Museum? By bus or on foot?
Thanks.
Answers (1)
Answered by Amy from FINLAND | Feb. 26, 2018 20:19

1

0

Reply
Take bus 13 to Beiguan Shichang and you will see the museum.
Asked by Dickson from MALAYSIA | Jul. 14, 2017 02:11

Reply
Visit to Zhalong Nature Reserve
Hi, I will be visiting Harbin in early August2017 and am thinking to visit Zhalong.

Is a day trip to Zhalong advisable? If not, what would be the ideal days to visit Zhalong and where is the nearest accommodation to Zhalong?
Answers (1)
Answered by Julie from UK | Jul. 18, 2017 20:11

1

0

Reply
Yes, you can take one day to visit there. In addition, you may never miss the performance of freeing red-crowned crane. This performance will start at 9:30, 11:00, 14:00 and 15:30.

As I know, there is a hotel located in the scenic spot. You can take it into consideration.
Asked by BG from SG | Dec. 12, 2016 10:01

Reply
May I know if there are cranes to see Zhalong in January?
Thanks.
Answers (1)
Answered by Rose from USA | Dec. 13, 2016 03:27

0

0

Reply
Yes! You can see the elegant cranes at Zhalong Natural Reserve in January. Have a good day!
Asked by Noel from SINGAPORE | Jun. 04, 2014 05:32

Reply
I am planning on visiting Qiqihar and want to find out how to get from there to Zhalong Nature Reserve?
Are there buses that go there?

Thanks.
Answers (1)
Answered by Juana from AUSTRALIA | Jun. 04, 2014 22:17

0

0

Reply
Local bus no. 306 can directly take you to Zhalong Nature Reserve. Where are u staying in the city exactly? Maybe I can find the closest boarding site for u.