Jilin Travel Guide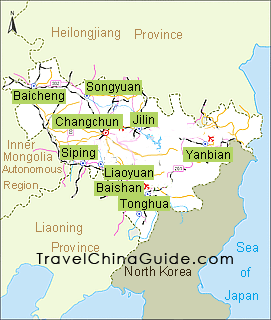 Jilin Facts
Chinese Name: 吉林 (jí lín)
Abbreviation: Ji
Population: 27,040,600
Area: 187,400 square kilometers (72,356 square miles)
Location: in the northeast of China
Administrative Division: 8 cities (Changchun, Jilin, Siping, Tonghua, Baicheng, Liaoyuan, Songyuan, Baishan); 1 autonomous prefecture (Yanbian Korean Autonomous Prefecture)
GDP (2019): CNY 1,172.68 billion (USD 169.978 billion)
Nationalities: Han, Chaoxian, Man, Mongolian, Hui, Xibe


Jilin Weather

Popular Ski Destination in Northeast China
Jilin with Changchun as the capital, is situated in the northeast of China and adjacent to Russia and North Korea to the southeast and Heilongjiang, Liaoning and Inner Mongolia to the north, south and west. 49 ethnic groups live in Jilin, of which the Korean population ranks first in China.

Only 15 kilometers (9.3 miles) away from the Sea of Japan and 4 kilometers (2.2 miles) away from the Boshet Bay of Russia, the special location not only enhances active trade and exchanges of Jilin with Japan and Russia but also gives the province favorable temperate climate, which includes a lengthy winter with snow that can start as early as October and last until April. Despite the winter cold, people flock to this area for the Ice Lantern Festival and the winter sports. Jilin is known as an area for winter sports and has produced some of the best ski resorts in China. However, it has many other natural and historical attractions to entertain its residents and visitors like China's largest nature reserve Changbai Mountain and Museum of the Imperial Palace of Manchukuo.
Cities in Jilin
What to See
Changbaishan (Tall White Mountain) includes several highlights that will delight any visitor. There is the mountain itself, which is a nature preserve that has tigers, deer, black bears, leopards, and sable among the more than 200 varieties of wildlife that live in its original, undisturbed forests. Within the forests are innumerable hot springs and a more than 1,500 species of plants. Rare birds, such as the flying Dragon Bird, also make their home in this mountain forest. On the very top of the mountain is Tianchi (Heavenly Lake). The view is nothing short of miraculous and perhaps, as a reward for climbing up this volcanic cone, you might be lucky enough to catch a glimpse of the lake's very own resident 'monster.' The mountain also includes a spectacular waterfall which is the source of the Song Hua River. The western side of the mountain range has three lakes: Songhua, Tai Lake, and Dongting Lake, as well as China's largest ice-skating training facility.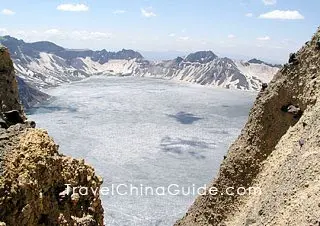 Heavenly Lake, Changbai Mountain
Another nature preserve in this province is Xianghai in Tongyu County. This preserve contains more than 100 swamps of varying sizes, 170 species of birds including many that are rarely seen elsewhere, a wide variety of fish, more than 250 different herbal plants, and a wide variety trees.
Interesting historical landmarks are also available in the Province. One of the most famous is the General's Tomb. This granite pyramid was built in the 4th Century for the king of the Gaogouli nation. Its seven stories sit on a base that covers almost 1,000 square meters (about 10,746 square feet). The stones of this pyramid each weigh several tons. The construction of this pyramid was an ominous undertaking for its time. Hiding within the massive stone structure, are a secret passage and the coffin of the king.
In Fu Yu County there is a stele monument called Deshengtuo. The stele was built in the Jin Dynasty (1115-1234 A.D.) and has a singular beauty.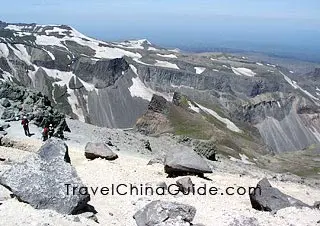 Changbai Mountain
Made of a green stone, the top has four dragons carved into it. The center part has 815 characters of poetry and praise on one side and the other side has double that amount of writing. At the base is a giant tortoise, whose body is also heavily inscribed, finishes the composition of this stele.
Pu Yi, the last Emperor of the Qing Dynasty, lived in Chang Chun, the capital city of Jilin, in an Museum of the Imperial Palace of Manchukuo for 14 years (1931 - 1945). This luxurious palace, which also was the administrative departments of the 'Puppet Manchurian Government' has hills, gardens, ponds, swimming pools, and various other forms of recreational facilities. The architecture and design of this 12-hectare (30-acre) palace is a worthy site to visit for its beauty and unique historical importance. Photographs of the emperor, his weddings, wives, parents, and English teacher are on display in the museum.
Jilin has so much to offer in natural beauty and resources - fertile land, dense forests, and rich mineral deposits, countless plants and herbs, a wide variety of birds and animals, and vast grasslands. Did you know that in the city of Jilin there is a Meteorite Shower Museum that houses the largest piece of a meteorite found anywhere in the world? The province truly has a diversity of activities and sights.

China Tour Packages
- Last updated on May. 30, 2022 -
Questions & Answers on Jilin Travel
Asked by Shirley from SINGAPORE | Jan. 10, 2020 07:03

Reply
Are there any vegetarian restaurants in Jilin?
Answers (1)
Answered by Henry from MALAYSIA | Jan. 12, 2020 22:47

0

0

Reply
Yes, of course. But could you be more specific? Because Jilin covers a large area. You can provide your living place. Then I can find several vegetarian restaurants.
Asked by Bannashree from INDIA | Apr. 18, 2018 05:38

Reply
What is the best way for Jilin city to changbai mountain?
Answers (1)
Answered by Terra from SINGAPORE | Apr. 18, 2018 21:17

0

0

Reply
You can take a train from Changchun to Antu first and then hire a local car to the mountain.
Asked by SL Lau from MALAYSIA | May. 14, 2017 04:06

Reply
We shall be visiting Dongbei and Harbin in early October this year.
How is the weather there during this time?

Thank you.
Answers (1)
Answered by Polo from FRANCE | May. 15, 2017 05:00

1

0

Reply
According to the history data, it will be cloudy with the shower in the most days and it will be sunny sometimes. The temperature will be 30F to 70F during that time.
Asked by SL Lau from MALAYSIA | May. 14, 2017 04:02

Reply
pedestrian walks and night markets with street vendors and food
We shall be visiting Jilin, Tong Hua and Baishan in October. Where are the pedestrian walks and night markets in these cities? Any recommended hotels near these areas? where can we find street vendors and local foods?

Thank you.
Answers (1)
Answered by Nancy from ITALY | May. 16, 2017 02:48

1

0

Reply
JL:
Henan Street Pedestrian: near no.51 Henan Street
Dongshi Pedestrian: near the crossing of Chongqing Street and Changsha Road, Chuanying District
Hunchun Street Night Market: near no.182, Hunchun Street, Chuanying District
Accommodation recommendation: JL Shengjia Business Hotel located at no.14, Henan Street will be quite convenient for you to visit the pedestrian and the night market. It may charge around CNY150-200/night for a standard room.
Tonghua:
Xinzhan Pedestrian: near no.855, Xincheng Road, Dongchang District
Accommodation recommendation: Jinjiang Inn is located at no.508, Shengli Road, Dongchang District. It is only about 500 meters to the pedestrian. A standard room may cost CNY200 or so.
Baishan:
Jingyu Pedestrian: no.13, Shichang Street, Jingyu County
Accommodation recommendation: Jingyu Yimiyangguang Business Hotel is located at the intersection of Tuanjie Street and South Xidajie Road. It is only about 500 meters to the pedestrian. It may cost CNY150-200 for a standard room.
It is quite easy to find the local food along these pedestrians and markets.
Asked by John Hardin from USA | Feb. 04, 2016 13:01

Reply
Aproximately how much would it cost to take a taxi from Changchun to Jilin leaving at midnight?
Answers (1)
Answered by Polar from CANADA | Feb. 05, 2016 18:53

0

0

Reply
Well, I'm afraid that you cannot easily get a taxi at the midnight because of the long distance. It is best to stay in Changchun overnight and leave for the destination by bullet train.

Or you are suggested to hire a private car or mini van nearby train station or bus stations. Generally speaking, the fare is CNY500 or more in the night.