Siping Travel Guide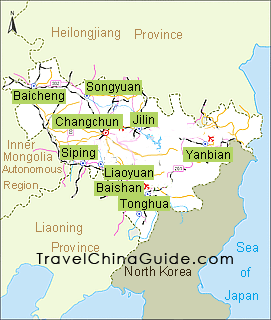 Siping Facts
Chinese Name: 四平 (sì píng)
Population: 3,182,000
Area: 14,323 square kilometers (5,530 square miles)
Location: in the southeast of Jilin Province, northeast China
Administrative Division: 2 districts (Xiexi, Tiedong); 1 county (Lishu); 1 autonomous county (Yitong Manchu Autonomous County); 2 county-level cities (Gongzhuling, Shuangliao)
Area Code: 0434
Zip Code: 136000
GDP (2019): CNY 79.62 billion (USD 11.54 billion)
Nationalities: Han, Man, Mongolian, Hui, Chaoxian
A Key Transportation Hub in Northeast China
Standing in the center of the Songliao Plain, southwest of Jilin Province, Siping is located at the convergence of Jilin, Liaoning and Inner Mongolia. It is bordered by Changchun, the capital city of Jilin to the northeast. Since Siping is the only way for Jilin, Heilongjiang and the eastern part of Inner Mongolia to the coastal port and the nearest city around the Bohai Sea and the Yellow Sea, it plays a role of an important transportation hub in northeast China. Thanks to low transportation costs, the modern commercial logistics industry is booming in this city. Siping is known as one of the birthplaces of the Manchu. If you want to know more about Manchu, you cannot miss the Yehe Ancient City where you can learn about history of Manchu Yehe tribute, Manchu folk art and costumes. Many Manchu cultural relics are displayed in Yitong Manchu Folk Museum. In addition, Siping is a national key commodity grain production base in China, being awarded one of three granaries in northeast China.
Siping Attractions - Things to Do
Yitong Volcano Group
It is a national nature reserve consisted of sixteen volcanoes. Large-scale rock caves and columns of pagoda-shaped rock scattered around the volcanoes may bring people into exceedingly fanciful land. Relying on its unique volcano landscape resources, Yitong is always attracting frequent influxes of geologists and tourists.

Other Scenic Spots: Shanmen Scenic Area, Old Town of Yehenala
How to Get to Siping
Siping lies on the half way of Changchun-Shenyang Expressway. It will cost eighty and a hundred minutes from Siping to Changchun and Shenyang. Sping's central bus station stands in Zhanqian Street, Tiexi District, and the express bus station of the city is located in No.144, Nanyijing Street, Tiedong District. Siping Airport is planned to be extended for civilian use which will be built 80km (50 mi) northeast of downtown. Visitors who want to travel to Siping by air now can have the aid of Shenyang Taoxian International Airport and Changchun Longjia International Airport.
Weather
-
Bearing a temperate continental monsoon climate, the city is characterized by dry and windy spring, wet and hot summer, moderate and cool autumn, as well as long and chilly winter. Mainly, the rainfall concentrated on the period from June to August. The annual average temperature of Siping weather falls between 4 and 6 degree centigrade (39.2-42.8 degree Fahrenheit). Spring and autumn are favorable for visiting, however, snowscape in Siping's winter is also attracting.
Siping Travel Tips

History: Since the Shang Dynasty (16th-11th century BC), this region had been inhabited by settlers. Historically, it was inhabited successively by Fuyu, Korean, Kitanyes, Jurchen, Mongolian, Manchu and kingdoms of these ancient ethnic minorities in Northeast China.

Physical Features: Located in the hinterland of Songliao Plain, nearly eighty percent of the city's territory is occupied by plain area, while hilly area is in the second place, at a percentage of fifteen. Mountains only account of six percent. On the whole, the terrain of the city declines from southeast to northwest.

Special Local Products: deer antler, ginseng, jade carving, carpet, embroidery, willow-twig weaving product
- Last updated on Apr. 08, 2021 -
Questions & Answers on Siping Travel
Asked by Derek Layland from AUSTRALIA | May. 25, 2015 17:16

Reply
What are the recommended hotels in Siping and is there an Ibis hotel there?
Answers (1)
Answered by Lily from ICELAND | May. 25, 2015 21:31

0

0

Reply
Yes, there is Ibis Hotel in the city and it is located at the intersection of East Zhongyang Road and Tuanjie Street, Tiedong District.

Asked by supercat from CALIFORNIA | Nov. 01, 2014 17:29

Reply
what is the capital of siping thanks
can you answer this question asap maybe by this sunday?(tomorrow)
Answers (1)
Answered by Nick from UNITED KINGDOM | Nov. 01, 2014 19:42

0

0

Reply
It is a county-level city, having no the capital city. It belongs to Jilin province, whose capital is Changchun city.
Asked by Mr.Seyfulla from AZERBAIJAN | Jul. 10, 2010 02:19

Reply
Is there Jiotong Hotel in Siping? Adress: Siping city, Zhan Qian Guangchang. I can't find this hotel in the internet.
Answers (2)
Answered by Mr.Alan | Jul. 10, 2010 04:16

0

0

Reply
Yes, there is Jiaotong Hotel in Siping.
Answered by Mrs.B from E | Jul. 19, 2010 12:54

0

0

Reply
I wouldnt worry about booking ahead, Ive never seen it full or had a problem booking rooms and if we went it could have been 1-6 rooms.. Check out the Japanese restaurant around the corner from the multi-level stall shop. (Walk out of KFC across the road the building to the right are the shops i speak about, follow the walk way to the left of that building and visit the second restaurant it should be two levels) enjoy..
Asked by Mr.Ali from IRAN | Feb. 08, 2010 06:16

Reply

which one is the nearest way to Siping city? Shanghai or Beijing?
Answers (1)
Answered by Mr.Qi | Feb. 18, 2010 01:49

0

0

Reply
Beijing, only 5.5 hours by bullet train.