Baishan Travel Guide
Baishan Facts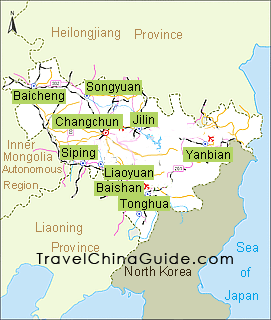 Chinese Name: 白山 (bái shān)
Population: 1,181,000
Area: 17,505 square kilometers (6,759 square miles)
Location: in the southeast of Jilin Province, northeast China
Administrative Division: 2 districts (Badaojiang, Jiangyuan); 2 counties (Fusong, Jingyu); 1 autonomous county (Changbai Chaoxianzu Autonomous County); 1 county-level city (Linjiang)
Area Code: 0439
Zip Code: 134300
GDP (2018): CNY 66.17 billion (USD 10 billion)
Famous for Changbai Mountain Nature Reserve
Baishan is a beautiful city in southeast Jilin and neighbors to cities of Yanbian, Tonghua and Jilin. Yalujiang River separates it from North Korea to the south. Located in the hinterland of Changbai Mountain, Baishan has a great number of wild animals, plants and rare tonics. Yalujiang River and Songhuajiang River are like two green and crystal belts winding through the forests. Baisha Reservoir area and Yalu River Yunfeng Reservoir Area are the best places to enjoy such beautiful scenery. About 60% of the area of Changbai Mountain Nature Reserve which is famous for clean Tianchi (Heavenly Lake), spectacular waterfalls and steep valley is in Baishan. The best time to visit this place is from July to August but many tourists also hit there in winter to experience skiing. Tasting local food is also an important part of a Baishan trip. There are not only Korean and northeastern food but also many fresh delicacies from the mountain.
Baishan Attractions - Things to Do
Scenic Areas
Changbai Mountain National Nature Reserve, Heavenly Lake, Jinjiang Grand Canyon, Changbai Mountain Karst Caves, Longshan Lake Scenic Area, Yalujiang River Cruise, Beishan Park
Ancient Sites
Tang Dynasty (618-907) Lingguang Pagoda, Puyi (the last emperor of the Qing Dynasty (1644-1911)) Abdication Site, Qidaojiang Meeting (an important meeting during the Chinese Civil War) Site, Xianren Cave
Amusement
Lushuihe International Hunting Field, Baishan Skiing Filed, Changbai Hot Springs, Fusong Hot Spring
How to Get to Baishan
To get to Baishan, visitors can fly to Changbaishan Airport first, then take a taxi to Songjianghe Railway Station and go to Baishan by train. Also, tourists can firstly get to Changchun by air, and then take a bus directly to get there. Baishan Airport is still in the plan which will be about 20 kilometers (12 miles) to downtown Baishan.

Located in Badaojiang District, Baisha Railway Station has trains to many Jilin provincial cities including Tonghua, Baihe, Changchun, Linjiang, Huniang etc. It can be reached by city bus line No.2 and No.3. Traveling by bus is quite convenient in Baishan as the highways are well constructed there. They connect Baishan with the cisborder cities and counties as well as other Jilin provincial cities such as Changchun, Ji'an, Erdaojiang and Meihe. Two tourism bus routes to Changbai Mountain go across Baishan, providing easy access to the mountain and its around scenic spots.
Weather
-
The area belongs to the temperate continental monsoon climate zone. It is the coldest city of Jilin with the annual average temperature of 4.6

C (40.3

F). In spring, the temperature difference of Baishan weather between day time and night is quite high. Summer is very short and rainy while winter is long and dry. Autumn has the most pleasant weather with more cool and sunny days. It's wonderful to visit the region in every season of a year. Each year in summer, autumn and winter, the city hold different tourism festivals such as Wild Flowers Festival in spring, Red Leaves Festival in autumn as well as Ice and Snow Festival in winter.
Baishan Travel Tips

History: As early as the Neolithic Age, human beings started to live in this area. It once belonged to different provinces including Fengtian, Tonghua, Liaoning in the early 20th century. In 1959, Jilin government set up Hunjiang City in this area, starting the history of its belonging to Jilin Province. In 1994, the city name of Hunjiang was changed into Baishan.



Physical Features: Baishan is covered with mountains, hills and valleys with rivers winding across. Lava tableland is a special geographic feature of the land.

Local Highlights: Baishan is endowed with the famous mountain Changbai. Thick forests provide rich animal and plant resources. It is the hometown of 'Three Treasures in Northeast China' - ginseng, marten and deer antlers. It is also one of the three most important herb medicine production bases in China. Changbai Mountain itself is a charming tourist spot with breath-taking scenery such as the Heavenly Lake and Jinjiang Grand Canyon.

Special Local Products: ginseng, Panax Quinquefolius, marten, deer antlers, Rana chensinensis, rhodiola sachlinesis, Schisandra chinen
- Last updated on Sep. 01, 2023 -
Questions & Answers on Baishan Travel
Asked by Mr.ken from THAILAND | Dec. 04, 2010 23:03

Reply
how can i travel from beijing to baishan?
Answers (2)
Answered by Ms.Sara | Dec. 05, 2010 01:22

1

1

Reply
I think you can take flight from Beijing to Changchun, then take bus or train from Changchun to that city.
Answered by Mr.Akash from INDIA | Dec. 17, 2010 07:34

1

1

Reply
This is what my gf and me had done..we took a train from Beijing to Dunhua in Jilin. From Dunhua there are buses directly to the vilage of Er bai du ke where the changbai mountains are located. We stayed at the local farmer's house there..dont worry you get a private heated room with ur own bathroom. The other option is 5star hotels! From there u can head to changbai mountains by a small bus..usually the villagers will help u out as they did in our case. On the bus the tourist guide will ask u for money but we opted out as we wanted to explore the place by ourselves and thats what we did! Guess what we saw more and had the time of our life! So I would suggest the same. Have fun and stay safe! And do where big goggles or some form of specs cause at the top of the mountain its windy and tiny rocks and pebbles gets into ur eyes...and its damn cold at the top, but u can rent warm jackets for 50rmb at the base where the car takes u to the hill.
Asked by Mrs.Rose from SINGAPORE | Aug. 28, 2009 07:43

Reply
howcan we travel from changchun to Baishan. How long does it take the journey by bus? How much is the fare?
Answers (3)
Answered by Mr.Clark | Aug. 31, 2009 01:08

3

2

Reply
4 hours are enough and the ticket fare is about 80RMB. Changchun Bus Terminal has the bus leaving at 6:30, 18:00.
Answered by Mr.t | Dec. 10, 2009 22:47

0

2

Reply
Hello Mr Clarke,

Would you know please, if there is a direct train between the two places? i.e. Could we get the train there, without having to change trains at Jilin and Dunhua?

Best regards,
Mr. T
Answered by Mr.Shan | Dec. 11, 2009 20:21

2

1

Reply
Hi Mr. t, there is no direct train is in operation currently.