Tonghua Travel Guide
Tonghua Facts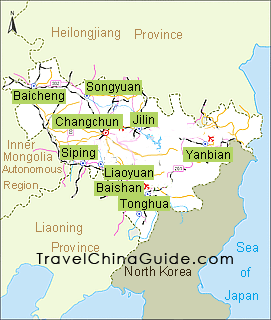 Chinese Name: 通化 (tōng huà)
Population: 2,300,000
Area: 15,699 square kilometers (6,601 square miles)
Location: in the south of Jilin Province, northeast China
Administrative Division: 2 districts (Dongchang, Erdaojiang); 3 counties (Tonghua, Huinan, Liuhe); 2 county-level cities (Meihekou, Ji'an)
Area Code: 0435
Zip Code: 134000
GDP (2018): CNY 82.93 billion (USD 12.53 billion)
Famous for Producing Traditional Chinese Medicine – Ginseng
Situated in the south part of Jilin, It is neighbor to cities of Baishan, Liaoyuan, Jilin of Jilin Province and Tieling, Dandong of Liaoning Province. The Yalujiang River separates it from North Korea in its south. Tonghua is rich in traditional Chinese medicine and has many pharmaceutical enterprises. One-quarter of the ginseng in China is produced from Tonghua. Wine is also a local high-quality specialty and you can take it home as a travel gift. Koguryo Kingdom (37 BC – 668 AD) set Tonghua as capital for 425 years, so ancient cites and tombs of Koguryo kings and nobles can be seen in Koguryo Cultural Relics Scenic Spot. As for the natural landscape, Tonghua has established several forest parks and nature reserves. In winter, you can enjoy various ice and snow sports and activities in Tonghua, such as skiing, skating, snowmobiling and snow carving.
Tonghua Attractions - Things to Do
Scenic Areas
Longwan National Forest Park, Sanjiaowan Lake, Yuhuangshan Park, Wunvfeng National Forest Park, Yunfeng Lake, Yalujiang River
Ancient Sites
Donggou Ancient Tombs, Huifa Ancient City, Luotong Mountain City
Amusement
Qianyehu Skiing Resort, Jinchang Skiing Resort
How to Get to Tonghua
Tonghua Sanyuanpu Airport is 38.5 km (24 mi) to the city center and has opened direct flights to/from Beijing, Chongqing, Dalian, Guangzhou, Shanghai, Tianjin and Taizhou. To get to downtown, shuttle bus and taxi are available.

Three railway lines connect in the city, linking it with other neighboring cities in northeast China. Tonghua Railway Station is located in Jianshe Street and can be reached by city bus line No.1, No.6 and No.42. East Railway Station is located in Erdaojiang District, where tourists can take trains to Ji'an, Baihe and other cisborder counties.

Tonghua Long Distance Bus Station is near the Tonghua Railway Station. It operates buses not only to other provincial cities such as Changchun, Jilin, Siping, Fushun, but also counties around Tonghua.
Weather
-
The area enjoys typical temperate continental climate. Tonghua weather is dry and windy in spring while hot and rainy in summer. Winter is quite long and cold. Autumn is a good tourism season due to the pleasant weather. Each year in May, the Azalea Festival held in Longwan Nature Reserve attracts many tourists. If you are fond of skiing and snow scenery, winter is the best time to visit Tonghua-this 'Town of Skiing'.
Tonghua Travel Tips

History: About 6,000 years ago, human beings started to live in this area. It is the cradle of China's northeast ethnic minority group Gaojuli and Manchu culture. In the Western Han Dynasty (260BC-24), it belonged to the Zhenfan Shire. The Qing Dynasty (1644-1911) government firstly set up county there formally. In 1985, it became a prefecture-level city in the approval of the State Council.

Physical Features: Most of Tonghua's land is covered with mountains and hills which incline from high south to low north.

Local Highlights: Tonghua is one of the three largest natural herb bases of China. Medicine industry is well developed there. It is also an important forest area of Jilin and the 'Town of Skiing' in China. The ethnic minority group Gaojuli culture and the revolutionary culture of the Chinese Anti-Japanese War add more interest to the charm of the city.

Special Local Products: ginseng and wine
- Last updated on Apr. 25, 2023 -
Questions & Answers on Tonghua Travel
Asked by SR from MALAYSIA | Oct. 20, 2017 05:32

Reply
Tonghua to Changbaishan
Hi, I understand that i can take the bus to Changbaishan.
1) May i know what time the bus will leave to Changbaishan?
2) How long does it take?
3) Where does it drop me at in Changbaishan?
4) Will the road conditions permit travel in November?
Any other better alternatives to get to Changbaishan?
Thanks in advance. Appreciate it.
Answers (3)
Answered by Lily from CHINA | Oct. 24, 2017 03:29

0

0

Reply
I don't think any bus directly to the mountain is available. But a direct bus to Erdao Baihe is scheduled at 13:35 at local Long-distance Bus Station. It takes around 6h. Then take a taxi or take the shuttle bus to the North Slope. The road in Nov. can be fine, safe enough. Don't worry!
Answered by loh from SINGAPORE | Oct. 29, 2017 18:28

0

0

Reply
Hi Lily,
Thanks alot for the info. Any earlier busses to erdao baihe? Cause my overnight train reaches at 6.30 am. Hoping to catch an earlier bus over. or are there any trains to erdao baihe?

Answered by Lily from CHINA | Oct. 29, 2017 21:05

0

0

Reply
There is only one bus, and as I know, the trains to Baihe leave at 3:37, 6:37 and 16:27. So bus may be the best choice.
Asked by Bronislaw Dombrowski from POLAND | May. 18, 2015 03:45

Reply
Does anyone know if it is possible to travel from Tonghua to Ji'an by train?
Some maps show a train between these two places, others do not.
Thank you................Bronislaw Dombrowski, Poland
Answers (1)
Answered by Emma from RUSSIA | May. 19, 2015 02:01

1

0

Reply
Well, as I know, the only schedule is at 06:55 every day. The duration is about 3 hours.

Or you can take coach at TH Bus Station, and arrive at Jian Bus Station.
The schedules are 08:40, 10:30, 13:00, 14:05, 16:00, 17:00 and 18:00 with the ticket fare is CNY 14 per person.

You can choose the way you like.
Asked by moiz from CHINA | Dec. 11, 2014 21:27

Reply
is there a church in Jilin Tonghua City
Answers (1)
Answered by Linda from EL SALVADOR | Dec. 12, 2014 00:26

0

0

Reply
Yes, there are churches in that city, and I know one Christian Church located near the Dongchang Road. You can go there to check it out.