Dandong Travel Guide
Dandong Facts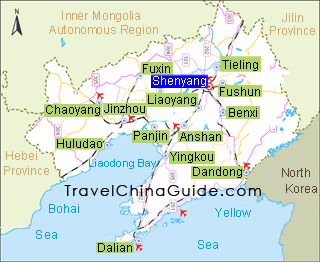 Chinese Name: 丹东 (dān dōng)
Population: 2,390,000
Area: 15,200 square kilometers (58,689 square miles)
Location: in the southeast of Liaoning Province, northeast China
Administrative Division: 3 districts (Zhenxing, Yuanbao, Zhen'an); 1 autonomous county (Kuandian Manchu Autonomous County); 2 county-level cities (Fengcheng, Donggang)
Area Code: 0415
Zip Code: 118000
GDP (2018): CNY 81.67 billion (USD 12.34 billion)
Largest Port City Trading with North Korea and Top Bird Watching City
Dandong lies in the southeast of Liaoning Province, separated from North Korea by the exotic Yalu River. The Yellow Sea is off its south edge and the modern city Dalian is just adjacent to the city to the northeast. Excellent geographical location and perfect air, sea and land transportations enable Dandong to have economic and trade exchanges with more than 100 countries and regions. In particular, it is the largest port city in China trading with North Korea, accounting for nearly 70% of China's total imports and exports to North Korea.

Boasting lush and verdant mountains, jade-like rivers and stretching coastlines, the natural scenery in Dandong is comparable to that of in Suzhou and Hangzhou. And Dandong is neither too cold in winter nor too hot in summer. From the middle of April to the middle of May, more than one million migratory birds fly to Yalujiangkou Wetland National Nature Reserve in Donggang. The reserve is regarded as one of the three best bird watching places in the world. Moreover, the annual Yalu River Estuary Wetland International Bird Watching Festival is expected to be held in April in Donggang. There are also many historical sites such as ancient temple buildings of the Tang Dynasty (618 - 907), the east end of the Great Wall of the Ming Dynasty (1368 - 1644) - Hushan Great Wall and modern battlefields.
Dandong Attractions - Things to Do
Dalu (Deer) Island
It lies in Dagushan Town of Donggang City. It is a vital fortress and port on the sea, and a beautiful island for tourists. The Sino-Japanese War (1894-1895) broke out on the sea around the island, left tourists endless meditation for the past. This island is also rich in sea product and boasts natural bathing beaches. While having a pleasant time in the soft beach, visitors can also please their palate.
Fenghuang (Phoenix) Mountain
Located about 57 kilometers (35 miles) northwest to the city proper, is one of the four famous mountains in Liaoning. It features different fascinating sceneries in different seasons. Temples, stone inscriptions and many other humanistic relics surrounded by emerald mountains make up an exquisite piece of landscape painting.



Other Scenic Spots: Qingshan Gully, Yalu River Bridge, the Great Wall on Hushan (Tiger) Mountain
How to Get to Dandong
1. Dandong Langtou International Airport stands in the southwest outskirt, about 14 kilometers (9 miles) from downtown offering direct flights to Beijing, Shanghai, Shenzhen, Qingdao and Yantai. To travel to the downtown, passengers can take shuttle bus, intercity bus and taxi.

2. Dandong is about 250 kilometers (155 miles) from Shenyang and 300 kilometers (186 miles) from Dalian, about three and a half hours' drive to the destinations. For individual visitors, buses to Shenyang and Dalian are easily available from the passenger transport central station in No.98, Shiwei Road, Zhenxing District.
3. The Port of Dandong is seated on the west side of the Yalu River outlet. It consists of a sea port and a river port: Dadong in southern Donggang City and Langtou in Langtou Town on the lower reaches of the Yalu River. They are respectively 43 and 12 kilometers (27 and 7.5 miles) from the city proper. From the port, visitors can go upstream and admire the scenery along the river. Furthermore, there are two passenger transport ships a week running from Dandong to Inchon and Busan of Korea.
4. Located at No. 1 Eleven Wei Road, Zhenxing Distract, Dandong City, Dandong Railway Station is the terminus of Shenyang - Dandong High Speed Railway. Except for the regular high speed trains between Shenyang and Dandong, there are more bullets trains operated from this station to Beijing South Station, Shanghai Hongqiao Station, Harbin West Station, Dalian North Station, Jilin Station, etc.
Weather
-
Enjoying a temperate humid continental monsoon climate, moderate weather, harmonious distribution of rainfall and sunshine make the city a wet land in dry Noth China and a warm area in cold Northeast China. The city's rainstorms mainly concentrate on the period from mid-July to mid-August. Dandong weather has an annual temperature of 6.8-8.7

C (44.2-47.7

F), summer is hot but torrid duration during the season is really short. April to October is the best time to pay a visit.
Dandong Travel Tips

History: Situated in China's frontier area, it has always been a vital fortress of great military importance since extremely long ago. During the last years of the Ming Dynasty (1368-1644), the cutting-off of trade communication with outside areas made it decay, and it was gradually involved in a promising state in early Qing Dynasty (1644-1911). It was until 1965 that it was changed its present name from Andong City.

Physical Features: Except the coastal plain, majority of the city's territory is seated in the vast mountainous and hilly area in eastern Liaoning. Medium and low mountains in the north, hilly area in the south and the coastal plain in south fringes of Dandong constitute the main components of the city's landform.

Local Highlights: Yalu River International Tourism Festival usually in September

Special Local Products: tussah, shellfish, honey
- Last updated on Apr. 08, 2021 -
Questions & Answers on Dandong Travel
Asked by LewaPng from PAPUA NEW GUINEA | Aug. 31, 2019 08:20

Reply
What bus number should I take to go to Fenghuang Mountain from Dandong?
and how much does it cost?
Answers (1)
Answered by Hayden from USA | Sep. 03, 2019 18:59

0

0

Reply
You can take direct bus from Dandong Coach station to Fenghuangshan there is no bus number. The ticket fare is around CNY10-20/person.
Asked by Abirodh Ranabhat from NEPAL | Jul. 30, 2019 20:32

Reply
I want to visit Dandong glass bridge from Jinzhou, How can i get there? Please give me tips.
Answers (1)
Answered by Moss from USA | Aug. 04, 2019 19:56

0

0

Reply
You can take high speed train from Jinzhou South Station to Dandong Railway Station. It departs from 8:30, 12:30 and 16:30 with around 3 hours on the way and CNY135. Then take bus from Coach Station, which is near the Railway Station, to Fenghuang Mountain, and you can walk to glass bridge.
Asked by Jayashree | Jun. 27, 2019 07:59

Reply
hello. I'd like to know if we can use the rope car to climb down the fenghuang mountain too?
Answers (1)
Answered by Bella from UNITED KINGDOM | Jun. 27, 2019 20:52

0

0

Reply
Sorry, I haven't found the cable car to take people climbing down the mountain. But many visitors said it is not that difficult to walk down the mountain.
Asked by Adrian from ENGLAND | Sep. 09, 2018 06:58

Reply
Dandong Railway Station Location
Please advise the location of the Railway station for trains arriving from Beijing and departing to Pyongyang
Answers (1)
Answered by Daniel from USA | Sep. 09, 2018 23:52

0

0

Reply
It's in No. 1, Shiwei Lu, Zhenxing Qu.