Dandong Travel Guide
Dandong Facts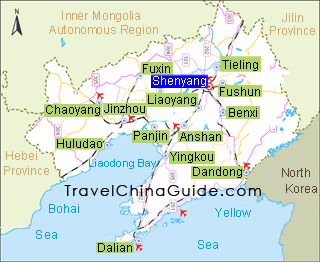 Chinese Name: 丹东市
Location: Dandong lies in the southeast of Liaoning Province, separated from the North Korea by the exotic Yalu River. The Yellow Sea is off its south edge and the modern city Dalian is just adjacent to the city in the northeast.

Population: 2,410,000
Area: 14,981 square kilometers (5,784 square miles)
Nationalities: Han, Manchu
Administrative Division: 3 districts (Zhenxing, Yuanbao, Zhen'an); 1 autonomous county (Kuandian Manchu Autonomous County); 2 county-level cities (Fengcheng, Donggang)
Seat of the city government: No.1, Jinshan Dajie, Zhenxing District
Bank of China: No.108, Jinshan Dajie, Zhenxing District
China Post: Qijing Street, Zhenxing District
Useful Telephone Numbers:
Tourist Complaints: 0415-3147943
Weather Forecast: 121
Zip Code Inquiry: 184
Dandong Attractions - Things to Do
Dalu (Deer) Island
It lies in Dagushan Town of Donggang City. It is a vital fortress and port on the sea, and a beautiful island for tourists. The Sino-Japanese War (1894-1895) broke out on the sea around the island, left tourists endless meditation for the past. This island is also rich in sea product and boasts natural bathing beaches. While having a pleasant time in the soft beach, visitors can also please their palate.
Fenghuang (Phoenix) Mountain
Located about 57 kilometers (35 miles) northwest to the city proper, is one of the four famous mountains in Liaoning. It features different fascinating sceneries in different seasons. Temples, stone inscriptions and many other humanistic relics surrounded by emerald mountains make up an exquisite piece of landscape painting.



Other Scenic Spots: Qingshan Gully, Yalu River Bridge, the Great Wall on Hushan (Tiger) Mountain
How to Get to Dandong
1. Dandong Airport stands in the southwest outskirt, about 14 kilometers (8.7 miles) from downtown offering flights to Beijing everyday and three flights a week to Shanghai and Shenzhen, two flights to Sanya. In 2007, Dandong-Seoul flight was opened in May.
2. Dandong is about 250 kilometers (155 miles) from Shenyang and 300 kilometers (186 miles) from Dalian, about three and a half hours' drive to the destinations. For individual visitors, buses to Shenyang and Dalian are easily available from the passenger transport central station in No.98, Shiwei Road, Zhenxing District.
3. The Port of Dandong is seated on the west side of the Yalu River outlet. It consists of a sea port and a river port: Dadong in southern Donggang City and Langtou in Langtou Town on the lower reaches of the Yalu River. They are respectively 43 and 12 kilometers (27 and 7.5 miles) from the city proper. From the port, visitors can go upstream and admire the scenery along the river. Furthermore, there are two passenger transport ships a week running from Dandong to Inchon and Busan of Korea.
4. Located at No. 1 Eleven Wei Road, Zhenxing Distract, Dandong City, Dandong Railway Station is the terminus of Shenyang - Dandong High Speed Railway. Except for the regular high speed trains between Shenyang and Dandong, there are more bullets trains operated from this station to Beijing South Station, Shanghai Hongqiao Station, Harbin West Station, Dalian North Station, Jilin Station, etc.

See Beijing - Dandong Train
Weather
-
Enjoying a temperate humid continental monsoon climate, moderate weather, harmonious distribution of rainfall and sunshine make the city a wet land in dry Noth China and a warm area in cold Northeast China. The city's rainstorms mainly concentrate on the period from mid-July to mid-August. Dandong weather has an annual temperature of 6.8-8.7

C (44.2-47.7

F), summer is hot but torrid duration during the season is really short. April to October is the best time to pay a visit.
Dandong Travel Tips

History: Situated in China's frontier area, it has always been a vital fortress of great military importance since extremely long ago. During the last years of the Ming Dynasty (1368-1644), the cutting-off of trade communication with outside areas made it decay, and it was gradually involved in a promising state in early Qing Dynasty (1644-1911). It was until 1965 that it was changed its present name from Andong City.

Physical Features: Except the coastal plain, majority of the city's territory is seated in the vast mountainous and hilly area in eastern Liaoning. Medium and low mountains in the north, hilly area in the south and the coastal plain in south fringes of Dandong constitute the main components of the city's landform.

Local Highlights: Yalu River International Tourism Festival usually in September

Special Local Products: tussah, shellfish, honey