Huludao Travel Guide
Huludao Facts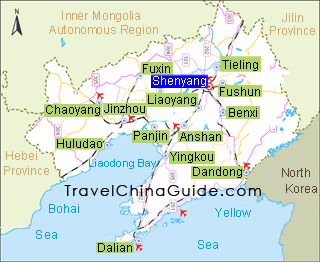 Chinese Name: 葫芦岛 (hú lú dǎo)
Population: 2,800,000
Area: 10,400 square kilometers (4,015 square miles)
Location: in the west of Liaoning Province, northeast China
Administrative Division: 3 districts (Longgang, Lianshan, Nanpiao); 2 counties (Suizhong, Jianchang); 1 county-level city (Xingcheng)
Area Code: 0429
Zip Code: 125000
GDP (2019): CNY 80.7 billion (USD 11.70 billion)
Coastal Ancient City with Jiumenkou Great Wall over Water
Located in the southwest coastal area of Liaoning Province, Huludao neighbors the Bohai Bay to the south, and is bounded on the west by Shanhaiguan Pass. It is 240 kilometers (149 miles) southwest of Shenyang and 420 kilometers (261 miles) east of Beijing. Huludao is near the mountain and by the sea. The continuous coastline not only provides rich seafood but also many sun-kissed beaches, which are ideal venues for summer tourism.

There are many cultural landscapes as well. Xingcheng Ancient City and Jiumenkou Great Wall are the two biggest highlights. Xingcheng Ancient City is one of the four most complete ancient cities from the Ming Dynasty (1368 - 1644) with many ancient buildings such as the Confucious Temple, stone memorial archways, City God Temple and former residences. Jiangmenkou Great Wall connects to a part of the Shanhaiguan Great Wall, with a total length of 1,704 meters (5,591 feet). What makes it special is that it was built over the Jiujiang River and then continues to stretch northward to the mountains.
Huludao Attractions - Things to Do
Xingcheng Haibin National Park
(Haibin: Seaside)
This is the most celebrated tourist location incorporating mountain, sea, hot spring, island and old town. Among the attractions, the Juhua Island is the largest island in Bohai Bay boasting many historical sites and an enthralling seascape. Visitors can take a boat to the island from the dock in northern Xinghai Park. Visitors can also mount the city wall of the Xingcheng Ancient City, which is the most well preserved town of the Ming Dynasty (1368-1644).
How to Get to Huludao
Huludao is about 4.5 hours ride from Dalian. Visitors can arrive in Shenyang and Beijing in 3 and 5 hours respectively. In addition, Jingzhou Airport is 50 kilometers (31 miles) east of the city and the Qinhuangdao Airport is only 20 kilometers (12 miles) west of it. This makes for convenient communications with Huludao.
Weather
-
The area enjoys a temperate continental monsoon climate although it is situated in the coastal area of the Bohai Bay, being that the Bohai Sea is an enclosed sea. Huludao weather is chilly in winter and torrid in autumn. The annual rainfall is concentrated around the months of July and August. It is no doubt a good idea to have a holiday at the seaside in summer.
Huludao Travel Tips

History: Huludao City, former Jinxi City, belonged to the Yan Kingdom in the Warring States Period (476BC-221BC). It was not until the late Qing Dynasty (1644-1911) that the government set up the Jinxian County in this region. It was promoted to city status in 1989, and in 1994, Jinxi changed its name to Huludao - the youngest city of Liaoning.

Physical Features: Huludao is supported to the north by the Yanshan Mountains, and the terrain descends generally from the northwest to the southeast. Due to the staircase distribution of the landforms, the city can be divided into three geographic regions: low mountain area, hilly area and plain area.

Local Products: Chinese gooseberry, white pear, straw knitting of Suizhong County; jellyfish
- Last modified on Apr. 08, 2021 -
Questions & Answers on Huludao Travel
Asked by Aevelina Rahman from BANGLADESH | Jul. 11, 2018 05:00

Reply
Hi! I want to go to Chrysanthemum island from Beijing. Can you please suggest the way to get there?
Answers (5)
Answered by Anne from FINLAND | Jul. 11, 2018 20:04

0

0

Reply
Hi, you can take train from BJ to Xingcheng. After arrival, take the bus line 1 from the railway station to Xingcheng Seaside Scenic Spot, then take a ferry to Chrysanthemum island.
Answered by aevelina from BANGLADESH | Jul. 12, 2018 19:19

0

0

Reply
Thank you for your answer. Approximately how far is the dock from the train station? can i take a taxi instead of bus? If not, do i have to prebook the bus tickets? also do i need to prebook the boat/ferry ticket?
Answered by Anne | Jul. 12, 2018 23:14

0

0

Reply
Of course you can take a taxi and you don't need to prebook the ferry ticket.
Answered by aevelina from BANGLADESH | Jul. 14, 2018 22:41

0

0

Reply
Thank you. do u know if the ferry runs at night? like when does the last ferry departs from dock to chrysanthemum?
Answered by Anne | Jul. 15, 2018 18:44

0

0

Reply
No, the last departure is at 17:00.
Asked by Asim from PAKISTAN | Jul. 24, 2016 14:43

Reply
how much cost from xingcheng to chrysanthemum? Can I stay in chrysanthemum island at night?
Answers (1)
Answered by Molly from RUSSIA | Jul. 25, 2016 02:15

0

0

Reply
Direct boats are in service between Xingcheng Dock and Chrysanthemum Island. It takes 40-50min. I remember the fare is CNY175 which covers the round-trip boat cost, entrance fee of the island and shuttle bus on the island, but not sure if it changes now.
Asked by prrl from USA | Feb. 27, 2015 08:48

Reply
I want to take a ferry from Dalian to Huludao.
I can speak Chinese so not difficult for me to get around. Is there any ferry service between those two cities?

Any ferry service between Dalian & Qinhuangdao?

Thank you!
Answers (1)
Answered by Esher from INDONESIA | Feb. 28, 2015 21:28

0

0

Reply
At Dalian Port, located at no. 1, Gangwan Street, Zhongshan District, you can take a boat to HLD. However, I heard the ferry service to Qinhuangdao has been closed, for which matter, you'd better consult further.
Asked by Noel from SINGAPORE | May. 12, 2014 11:06

Reply
From Shenyang, I found fast trains to Huludao (north station). I would also like to visit Xingcheng for it's Walls.
What's the best way to get between HLD and Xingcheng and how much will it cost?

Thanks.
Answers (1)
Answered by Gorden from SINGAPORE | May. 12, 2014 22:44

1

0

Reply
In my opinion, taxi is the best method. You can take a taxi to reach that place with fare around 40RMB.