Huludao Travel Guide
Huludao Facts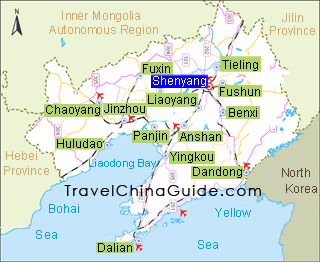 Chinese Name: 葫芦岛市 (hú lú dǎo shì)
Location: Located in the southwest coastal area of Liaoning Province, Huludao City neighbors the Bohai Bay in the south, and is bounded on the west by the 'first pass under heaven', Shanhaiguan Pass. It is 240 kilometers (149 miles) southwest of Shenyang and 420 kilometers (261 miles) east of Beijing.

Population: 2,737,000
Area: 10,376 square kilometers (4,006 square miles)
Nationalities: Han, Man
Administrative Division: 3 districts (Longgang, Lianshan, Nanpiao); 2 counties (Suizhong, Jianchang); 1 county-level city (Xingcheng)

Useful Telephone Numbers:
Tourist Complaints: 0429-3152927
Weather Forecast: 121
Zip Code Inquiries: 184
Bank of China: 0429-3124606
Huludao Attractions - Things to Do
Xingcheng Haibin National Park
(Haibin: Seaside)
This is the most celebrated tourist location incorporating mountain, sea, hot spring, island and old town. Among the attractions, the Juhua Island is the largest island in Bohai Bay boasting many historical sites and an enthralling seascape. Visitors can take a boat to the island from the dock in northern Xinghai Park. Visitors can also mount the city wall of the Xingcheng Ancient City, which is the most well preserved town of the Ming Dynasty (1368-1644).
How to Get to Huludao
Huludao is about 4.5 hours ride from Dalian. Visitors can arrive in Shenyang and Beijing in 3 and 5 hours respectively. In addition, Jingzhou Airport is 50 kilometers (31 miles) east of the city and the Qinhuangdao Airport is only 20 kilometers (12 miles) west of it. This makes for convenient communications with Huludao.
Weather
-
The area enjoys a temperate continental monsoon climate although it is situated in the coastal area of the Bohai Bay, being that the Bohai Sea is an enclosed sea. Huludao weather is chilly in winter and torrid in autumn. The annual rainfall is concentrated around the months of July and August. It is no doubt a good idea to have a holiday at the seaside in summer.
Huludao Travel Tips

History: Huludao City, former Jinxi City, belonged to the Yan Kingdom in the Warring States Period (476BC-221BC). It was not until the late Qing Dynasty (1644-1911) that the government set up the Jinxian County in this region. It was promoted to city status in 1989, and in 1994, Jinxi changed its name to Huludao - the youngest city of Liaoning.

Physical Features: Huludao is supported to the north by the Yanshan Mountains, and the terrain descends generally from the northwest to the southeast. Due to the staircase distribution of the landforms, the city can be divided into three geographic regions: low mountain area, hilly area and plain area.

Local Products: Chinese gooseberry, white pear, straw knitting of Suizhong County; jellyfish