Yingkou Travel Guide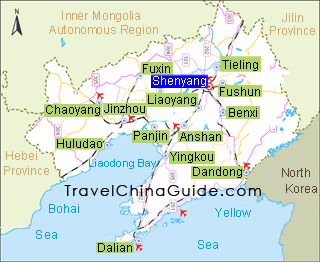 Yingkou Facts:
Chinese Name: 营口市 (yíng kǒu shì)

Population: 2,300,000

Area: 5,365 square kilometers (2,071 square miles)

Nationalities: Han

Administrative Division: 4 districts (Zhanqian, Xishi, Bayuquan, Laobian); 2 county-level cities (Dashiqiao, Gaizhou)

Seat of the City Government: 1, Bohai Da Jie (West), Zhanqian District
Useful Telephone Numbers: Tourist Complaints: 0417-2640777
Weather Forecast: 121
Zip Code Inquiry: 184

Bank of China Yingkou Branch: 5, Tiyu Li, Tiyu Jie, Zhanqian District

China Post Yingkou Branch: 5, Bohai Da Jie (East), Zhanqian District

Location: Yingkou city is situated in southwestern Liaoning Province, neighboring Dalian, Dandong, Anshan and Panjin within the province. It lies in the estuary area of the Liaohe River to the Bohai Sea, facing the Liaodong Bay in the west, about 170 kilometers (106 miles) from Shenyang, the capital city of Liaoning.

History: Before the Qin Dynasty (221BC-206BC) brought it under the administration of Liaodong Shire, Liaodong shire belonged to the Yan Kingdom during the Warring States Period (476BC-221BC). During the Three Kingdoms Period (220-280) up to the Northern (386-581) and Southern (420-589) Dynasties, this area was successively ruled by regimes of the Han, Xianbei and Korean (Goguryeo) ethnic groups and governed by Kitan, Jurchen and Mongolian ethnic regimes in late the Tang Dynasty (618-907).



Physical Features: The terrain of the city basically slopes downwards from southeast to northwest, with low mountains, hills and plains as its main types of landform. The Liaohe River winds southwards through the city and then runs into the Bohai Sea.

Climate: The city is located in the warm temperate semi-humid climatic zone with four distinct seasons and favorable weather. It is rainy and warm in summer.



When to Go: Autumn is the golden season to visit the city, and summer is also great for the city's coastal resorts.

Special Local Products: sea products, fruit (water melon, apple, peach, grape), Yingkou catsup (Dajiang)

Attractions:

Yueyawan Bathing resort is a safe crescent beach in Yingkou Economic and Technological Development Zone south of the Yingkou Port. In addition to the beautiful scenery, this summer resort is well equipped with bathing establishments, including fishing boat, gliders and sailboards.


Wang'er Hill is a low single peak in the orchard. It is a unique tourist area with a theme of mother love. Scenic spots in this area all reflect great love.

Other Scenic Spots: Xianrendao Forest Park, Water Fairyland

Travel Tips:
If traveling by air, visitors should have the benefit of Shenyang Taoxian International Airport and Dalian International Airport, about three hours' drive from downtown Yingkou to both of them.
Yingkou's international ferry terminal is situated in the Huanghe Lu of Economic and Technological Development Zone. It offers two ships a week to Inchon in Korea, departing on Monday and Thursday.
Yingkou Railway Station: in Zhanqian District, adjacent to the Renmin Park , facing the Liaohe Da Jie
Yingkou's central long-distance bus station: 23, Jinniushan Da Jie (East), Zhanqian District.
Shifu Lu and Dongsheng Lu are the busiest commercial streets in downtown. They provide the ideal shopping area.
-