Fushun Travel Guide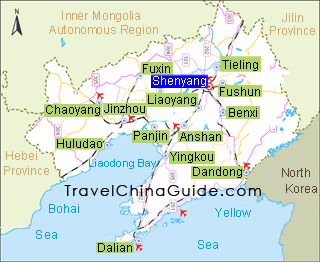 Fushun Facts:
Population: 2,260,000
Area: 11,272 square kilometers (4,352 square miles)
Nationalities: Han, Manchu
Administrative Division: 4 districts (Shuncheng, Xinfu, Dongzhou, Wanghua); 1 county (Fushun); 2 autonomous counties (Xinbin Manchu Autonomous County, Qingyuan Manchu Autonomous County)
Seat of the city government: East Section, Linjiang Road, Shuncheng District
Useful Telephone Numbers:
Tourist Complaints: 0413-7500530
Weather Forecast: 121
Zip Code Inquiry: 184
Bank of China Fushun Branch: No.10, Dongyi Road, Xinfu District
China Post Fushun Branch: No.1, Changchun Street, Shuncheng District

Location:
Fushun lies in the east part of Liaoning Province, neighboring Jinglin Province in its east. It occupies an advantageous location, 200 kilometers (124 miles) from the Port of Yingkou and 400 kilometers (248 miles) from the Port of Dalian with expressway and railway linking between them. The capital city of Liaoning, Shenyang, is only 45 kilometers (28 miles) away.

History:
Human settlers first came to this area more than seven thousand years ago. By the Han Dynasty (221BC-220AD), coal had been used in daily life or for manufacturing. At the same time, this area had been rather advanced in agriculture, handicraft industry and commerce. During the early Qing Dynasty (1644-1911), Fushun involved in depression for near one and a half centuries. It was in 1783 that the new city was completed southwest of the old one. Gradually, economic rejuvenation made it a distributing center of goods in eastern Liaoning.

Physical Features:
Fushun is located in the mountainous area in eastern Liaoning that belongs to the Longgang Mountains, an offshoot of the Changbai Mountains. Within the city, mountains run from northeast to southwest. The city proper lies in the alluvial plain formed by the Hunhe River which segments it into northern and southern parts.

Climatic Features:
The city belongs to the temperate zone, enjoying a continental monsoon climate. Summer is warm and rainy, but winter is really cold. Relatively, spring and autumn are windy and short. Its annual average temperature is about 14

C (57

F).

When to Go:
May to October is a fine period to visit this area, especially in summer and autumn.

Local Highlights:
China Manchu Folk Custom Tourist Festival (generally in July of August)

Special Local Products:
jet, Chinese mushroom, ginseng, deer antler, amber

Scenic Spots:
Hetuala City
: Hetuala is Manchu language for Henggang, meaning flatheaded hummock. It can be divided into inner city and outer city respectively constructed in 1603 and 1605. It is the native residence of the first emperor of the Qing Dynasty, and the city is reputed as the 'first city of Qing', an eyewitness of the history of Manchu.
Yongling Mausoleum of the Qing Dynasty
: Located in Xinbin Man Autonomous County, the mausoleum buries six fathers of the Qing. It is the location where the grand ancestor worship ceremonies of the Qing were held. As the heritage left by ancestors of the Manchu, Yongling Mausoleum is of great research value.
Admission Fees:
Yongling Mausoleum: CNY 50
Hetuala City: CNY 60
Transportation:
1. Yongling Mausoleum: Buses from Fushun Long Distance Bus Station to Xinbin all pass by the mausoleum.
2. Hetuala City: take buses from Fushun to Xinbin and then take minibus to the city.


Other Scenic Spots: Sa'erhu Scenic Area, Zhonghua Temple, Royal Ocean World

Travel Tips:
Fushun has two bus stations, the north bus station lies in the Chengxi Road, Shuncheng District, and the south bus station is in the Dongyi Road, Xinfu District. Through the expressway, only a half hour's drive is needed to get to Shenyang. The south station offers buses to the emergence place of the Qing Dynasty, Xinbin. The whole journey will coast about three and a half hours.
The city is 40 kilometers (25 miles) from the Shenyang Taoxian International Airport. No direct airport buses operate from the airport to Fushun. Usually, visitors should take the airport bus and get off in the last stop, Ma Lu Wan, and then walk for twenty minutes or take a taxi to the Shenyang Railway Station. Every a few seconds, there are regular buses leaving for Fushun from a street aside.
Weather
-