Anshan Travel Guide
Anshan Facts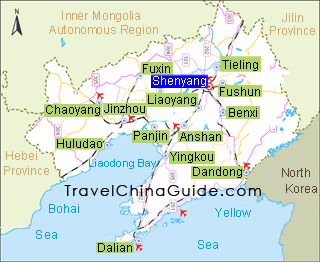 Chinese Name: 鞍山 (ān shān)
Population: 3,598,000
Area: 9,252.35 square kilometers (3,572.35 square miles)
Location: in the central area of Liaoning Province, northeast China
Administrative Division: 4 districts (Tiedong, Tiexi, Lishan, Qianshan); 1 counties (Tai'an); 1 autonomous county (Xiuyan Man Autonomous County); 1 county-level city (Haicheng)
Area Code: 0412
Zip Code: 114000
GDP (2019): CNY 174.53 billion (USD 25.30 billion)
The Largest Iron and Steel Industry City in Northeast China
Located in central Liaoning Province, Anshan is 89 kilometers (55 miles) south of Shenyang and 308 kilometers (191 miles) north of Dalian. Anshan is the largest iron and steel industry city in northeast China. Anshan Iron and Steel Group Co., Ltd., a large iron and steel complex and the earliest established iron and steel production base in China, is headquartered in Anshan.

The largest Xiuyan jade producing area and jade carving handicraft distributing center in China is also located here. The crystal jade is mainly produced in Xiuyan and famous for its fine and moist texture and gorgeous color. Several large jade markets in Xiuyan include China Jade Exhibition Center, Yudu Jade Market and Northeast Jade Trading Center. Mt. Qianshan and Jade Buddha Garden are two highlights of Anshan travel. Mt. Qianshan is composed of lotus-like peaks and many Buddhist and Taoist buildings. The 260.76 - ton jade Buddha carved from a whole piece of jade in Jade Buddha Garden will impress you.
Anshan Attractions - Things to Do
Mt. Qianshan
It is also called the mountain of a thousand lotus flowers, for its a thousand peaks. Located 18 kilometers (11 miles) southeast of the city proper, the mountain is a noted attraction boasting of four scenic areas with hundreds of spots, including Buddhist buildings in Sui (581-618) and Tang (618-907) dynasties. The 70-meter-tall (230-foot-tall) sitting Maitreya Buddha is really spectacular.
Jade Buddha Garden
This scenic spot is built in the 1990s in order to preserve the largest jade Buddha in the world. The 7.95-meter-high (26-foot-high) Buddha is engraved from the Jade King of 261 tons that discovered in Xiuyan Man Autonomous County. The Jade Buddha Pavilion is the grandest building in the garden with a height of 33 meters (108 feet), with Jade Buddha is stored in it.
How to Get to Anshan
1. Anshan Tengao Airport is roughly 11.8 kilometers (7 miles) away from city center. The airport has air routes to cities such as Chengdu, Nanjing, Shanghai, Guangzhou and Beijing. Visitors can take airport shuttle bus travelling between airport and downtown. In addition, there also are shuttle bus from Anshan City Terminal to Shenyang Taoxian International Airport.

2. Anshan's long-distance passenger transport station and train station are near from each other. They are located in the same road, Jianguo Road (South), Tiedong District, but on opposite sides. Buses to Shenyang depart every 15 minutes with about an hour's ride. In addition, there are no less than five buses running to Beijing and Dalian within 7 and 4 hours.

3. Anshan is 90 kilometers (56 miles) from Shenyang, about 1.5 hours drive. Visitors can transfer to buses to Anshan after landing in Shenyang Taoxian International Airport.
Weather
-
The area enjoys a warm temperate continental monsoon climate. Summer is blistering and rich in precipitation. Rainstorm usually happens in this period. Winter of Anshan weather is chilly dry and windy. May to September is favorable season to visit the area for the summer resorts of the city. In addition, visitors can go there to skating and watching snowscape during December to February.
Anshan Travel Tips

History: As early as the Warring States Period (476BC-221BC), there are counties and shires established to administrate this area. It gained its name for a mountain in shape of a saddle. Anshan City is a new industrial city established in 1937 developing along with its steel production.

Physical Features: The terrain of the city inclines downwards from the southeast to the northwest. Its landform can be divided into three parts. The southeastern part is mountainous and hilly region, the central is undulant plains and the northwestern part is alluvial plain.

Special Local Products: Xiuyan jade, jade carving
- Last updated on Apr. 08, 2021 -
Questions & Answers on Anshan Travel
Asked by Tom from USA | Jun. 07, 2020 11:06

Reply
I will be visiting Anshan August or September, I would like to find a 5km running event,
I would like to enter a 5km running event in or close to Anshan. Thank you for any help you can assist with.
Answers (1)
Answered by Alexander from DENMARK | Jun. 08, 2020 02:35

0

0

Reply
Sorry, I didn't find any information about this now. You are suggested to pay attention to the latest news.
Asked by Johnny from NETHERLANDS | Oct. 08, 2018 11:53

Reply
Travel from HK to Liaoning (Shenyang airport) and to Final Anshan.
Dear Sir/Madam,

Do i need to apply for a entry Visa?

I don't know you could help me

I read something about 144-hour Visa-free Transit in Liaoning, How does this work?

Thank You!

Yours Sincerely, Johnny
Answers (3)
Answered by Linda from USA | Oct. 11, 2018 23:45

0

0

Reply
If you have bought the interline tickets from HK to Liaoning to the third country, you don't need a visa and you are allowed to move around the whole province within 144 hours and exit from Shenyang or Dalian airport. If not, you need to apply for a visa before your trip to China.
Answered by Johnny from NETHERLANDS | Oct. 12, 2018 02:34

0

0

Reply
Okay Thank You very much.

After Landingin Lioning, what is the best way to travel to this hotel?

Thanks in advance!

Ibis Anshan Shengli Square
No 9 Six Dao Street, Tiedong District Anshan City, Anshan, Liaoning, China, 114001
Answered by Linda | Oct. 14, 2018 20:09

0

0

Reply
You can advised to hire a car, with the cost of CNY160 - 200.
Asked by tania from NEW ZEALAND | Sep. 18, 2018 23:06

Reply
What buses go from Anshan West train station to Ibis Hotel?
I am trying to find some information about the Tanggangzi hot spring, and buses in Anshan. How much does it cost to use the pools and hot springs at Tanggangzi? What temperatures are the pools? What are the opening hours for the hot pools? What time do buses go to Tanggangzi hot pools, and what time is the last bus?

Thanks in advance.
Answers (3)
Answered by Sansaui from USA | Sep. 20, 2018 20:11

0

0

Reply
You can take the Bus No.58 at the west station and then get off at Anshan Station. Then walk about 16 minutes, you will see the hotel.

Do you want to go to the Tanggangzi hot spring from the hotel? If yes, you can walk about 17 minutes to the Anshan Bus Station to take the Bus 13 or 13B, starting running at 06:30, and get off at Hot Spring Station. After walking about 10 minutes, you will get to the destination. The last bus usually departs at 18:30.

If you only take a bath in hot spring, the cost is about CNY40 -50 per person. The water temperature reaches about 70C. The opening hour of the hot pools is 8:30-22:00.
Answered by tania from NEW ZEALAND | Sep. 20, 2018 23:47

0

0

Reply
Thanks for the information. How much extra does it cost to use the swimming pool? Are most of the hot pools about 70 Celsius?
Answered by Sansaui | Sep. 21, 2018 01:16

0

0

Reply
Sorry, I did't find any information about the swimming pool fare and most people go to Tanggangzi for the hot spring. If you want to know, you can call the scenic area to consult the details. And almost hot spring's temperature may reach 70C. Hope to be helpful.
Asked by vvv from CHINA | Apr. 26, 2018 03:57

Reply
i need to know how to visit the tourist spots in anshan after reaching there
And can you tell me. how to go the cheapest ways to visit.. every spots.... can you tell me fast..
Answers (1)
Answered by Joy from USA | Apr. 28, 2018 01:21

0

0

Reply
You can visit Qianshan Mountain, Jade Buddha Garden, 2.19 Park and Tanggangzi Hot Spring. As for the cheap ways, I think you mean the transport? Then you can use the public transport.

Bus 45 can take you from downtown to Qianshan Mountain. The fare is 1yuan.
To Jade Buddha Garden and 2.19 Park, you can take bus 8 or 34 straight there. The fare is 1/3yuan
To the hot spring, you can take bus 13 there. The fare is 1yuan.
Asked by abdul rehman from PAKISTAN | Mar. 25, 2016 07:37

Reply
what is the estimated cost for hotel in anshan ? like the cheapest one
Answers (1)
Answered by Chad from UNITED KINGDOM | Mar. 26, 2016 01:59

0

0

Reply
Well, in general, the prices of hotels are cheaper than other developed cities in China, such as Beijing and Shanghai. Most of them in this city have reasonable and acceptable prices. As I know, hotels below 3-star-level cost with CNY 200 per night. And the costs of 4 or 5-star levels hotels are CNY 300 to 500 per night.
Maybe you can stay at a hotel nearby the railway station. The surrounding transportation is convenient. As I know, the cheap one is named GreenTree EasternHotel. The price is about CNY 70 per night in usual time. It's located at No.34 Jian Guo South Road,Tie Dong. You can go and see.