Anshan Travel Guide
Anshan Facts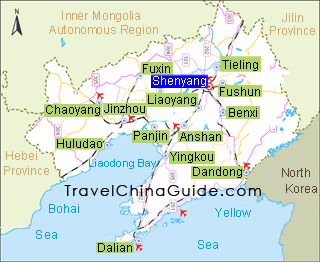 Chinese Name: 鞍山市 (ān shān shì)
Location: Located in central Liaoning Province, Anshan is 89 kilometers (55 miles) south of Shenyang and 308 kilometers (191 miles) north of Dalian.

Population: 3,480,000
Area: 9,252 square kilometers (3,572 square miles)
Nationalities: Han
Administrative Division: 4 districts (Tiedong, Tiexi, Lishan, Qianshan); 1 counties (Tai'an); 1 autonomous county (Xiuyan Man Autonomous County); 1 county-level city (Haicheng)
Useful Telephone Numbers:
Tourist Complaints: 0412-5536485
Weather Forecast: 121
Zip Code Inquiry: 184
Bank of China: 0412-2298103, 2298104
Anshan Attractions - Things to Do
Mt. Qianshan
It is also called the mountain of a thousand lotus flowers, for its a thousand peaks. Located 18 kilometers (11 miles) southeast of the city proper, the mountain is a noted attraction boasting of four scenic areas with hundreds of spots, including Buddhist buildings in Sui (581-618) and Tang (618-907) dynasties. The 70-meter-tall (230-foot-tall) sitting Maitreya Buddha is really spectacular.
Jade Buddha Garden
This scenic spot is built in the 1990s in order to preserve the largest jade Buddha in the world. The 7.95-meter-high (26-foot-high) Buddha is engraved from the Jade King of 261 tons that discovered in Xiuyan Man Autonomous County. The Jade Buddha Pavilion is the grandest building in the garden with a height of 33 meters (108 feet), with Jade Buddha is stored in it.
How to Get to Anshan
1. Anshan's long-distance passenger transport station and train station are near from each other. They are located in the same road, Jianguo Road (South), Tiedong District, but on opposite sides. Buses to Shenyang depart every 15 minutes with about an hour's ride. In addition, there are no less than five buses running to Beijing and Dalian within 7 and 4 hours.
2. Anshan is 90 kilometers (56 miles) from Shenyang, about 1.5 hours drive. Visitors can transfer to buses to Anshan after landing in Shenyang Taoxian International Airport.
Weather
-
The area enjoys a warm temperate continental monsoon climate. Summer is blistering and rich in precipitation. Rainstorm usually happens in this period. Winter of Anshan weather is chilly dry and windy. May to September is favorable season to visit the area for the summer resorts of the city. In addition, visitors can go there to skating and watching snowscape during December to February.
Anshan Travel Tips

History: As early as the Warring States Period (476BC-221BC), there are counties and shires established to administrate this area. It gained its name for a mountain in shape of a saddle. Anshan City is a new industrial city established in 1937 developing along with its steel production.

Physical Features: The terrain of the city inclines downwards from the southeast to the northwest. Its landform can be divided into three parts. The southeastern part is mountainous and hilly region, the central is undulant plains and the northwestern part is alluvial plain.

Special Local Products: Xiuyan jade, jade carving