Jinzhou Travel Guide
Jinzhou Facts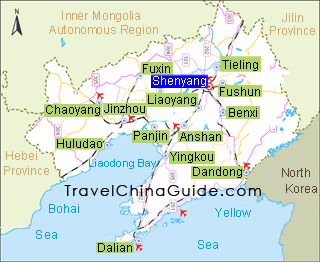 Chinese Name: 锦州 (jǐn zhōu)
Population: 2,949,600
Area: 10,301 square kilometers (3,977 square miles)
Location: in the southwest of Liaoning Province, northeast China
Administrative Division: 3 districts (Taihe, Guta, Linghe); 2 counties (Heishan, Yixian); 2 county-level cities (Linghai, Beizhen) Area Code: 0416
Zip Code: 121000
GDP (2019): CNY 107.3 billion (USD 15.55 billion)
A Port City & Major Logistics Center in Liaoning Province
Located in the southwest of Liaoning Province, Jinzhou neighbors Shenyang to the east and Huludao to the west. It reclines along the Songling Mountains to the north and is facing the Liaodong Bay of the Bohai Sea to the south. Jinzhou is one of the three logistics centers in Liaoning Province and its wholesale and retail trade volume ranks first in western Liaoning Province. Being an important port city in Bohai Bay, Jinzhou operates Jinzhou port which opens transportation routes to major ports in China and more than 80 countries and regions. The Jinzhou travel covers green mountains, magic wetlands, fabulous sea sights, beautiful islands and ancient relics including temples, royal tombs, caves, and towers.
Jinzhou Attractions - Things to Do
Bijia Mountain
The mountain is situated on the coast of the Bohai Sea adjacent to Jinzhou Port. Bijiashan Island and Sky Bridge are the key scenic spots in the mountain resort. The Sky Bridge is exactly a 1,620-meter-long (1772-yard-long) sand and pebble road between the island and the seashore, which dodges in and out of the water as the tide changes. The Sanqing Pavilion is a 'must go' spot in the scenic area. It is a stone, wooden-like building without a single nail standing at the top of the mountain, from which visitors can have a bird's-eye view of the beautiful, vast sea. In addition, there are forty-eight Buddhas sacrificed in the pavilion.
| | |
| --- | --- |
| Admission Fee: | CNY 70 |
| Transportation: | take bus from the western square of the Jinzhou Railway Station to Bijiashan directly. |

Other Scenic Spots: Qingyan Temple, North Putuo Mountain
Transportation
1. Jinzhouwan International Airport is about 25 kilometers (15 miles) from downtown. At present, it operates direct flights to Chengdu, Guangzhou, Harbin, Hangzhou, Kunming, Shenzhen, Shanghai, Wuhan and Yantai.

2. The city has two railway stations. The north station, the older of the two, is located in the Yan'an Lu; in the city proper. Light buses and minibuses to the Bijia Mountain can be easily found in the special bus line station 100 meters (109 yards) west of the railway station. The whole trip will take forty minutes- or a bit longer. The south railway station is in the suburban area, but it is nearer to the Bijia Mountain. Since there is greater access to the main road, taking a taxi is a better choice to get to the scenic area. It is important that visitors visiting the coast in Bijia Mountain should inquire about the times of tidal variations, in order to prevent accidents happening in a dangerous tidal situation.

3. The Central Long-distance Bus Station: 1, fourth section of Yan'an Lu, Linghe District, on the opposite of the north railway station.
Weather
-
The area enjoys a temperate, monsoon climate at middle latitudes. Differences in temperature vary greatly during the whole year. It has distinct four seasons with an average temperature of around 8-9 degrees centigrade (46.4-48.2 degrees Fahrenheit). Considering Jinzhou weather, April to October is the golden season for a visit, while to see the fascinating snowscape and folk festivals, January to February is the best period for traveling.
Jinzhou Travel Tips

History: During the Spring and Autumn Period (770BC-476BC) and Warring Stated Period (476BC-221BC), this area belonged to the Yan Kingdom. In the Qin (221BC-206BC) and Han (206BC-220AD) dynasties, it was included in the shires, or tributaries, in present Liaoning. The current name was initiated in the Liao Dynasty (916-1125).

Physical Features: The terrain here is inclined from the northwest to the southeast. In the northwest and northeast of the city stand the Songling Mountains and Yiwulu Mountains. Southward to the coastal plain area, the average altitude drops to 20 meters (66 feet) or, even lower.

Special Local Products: dried bean curd, smoked chicken, Lingchuan White Wine, sea food of Bohai Bay

Local Highlights: Every year, many Buddhist along with unique folk activities will be held in the North Putuo Mountain (a sacred Buddhist mountain connected with the
South Putuo Mountain
in Zhejiang), attracting numerous travelers and pilgrims from near and far.
- Last modified on Apr. 08, 2021 -
Questions & Answers on Jinzhou Travel
Asked by Mai from RUSSIA | Mar. 05, 2018 03:42

Reply
Sino German Paleontological Museum and Wenya Museum
I am getting off Yixian/Yi County train station in Liaoning. Is it easy to get a taxi to the Sino German Paleontological Museum, 15 km away? Btw, where is the Wenya Museum, I cannot find any information. Thank you!!
Answers (1)
Answered by Ellien from BELGIUM | Mar. 05, 2018 21:01

1

0

Reply
Yes, it's easy to find a taxi to at the train station and it's about 17km away.

Wenya Museum, as I know, has changed its name to Lafayette Museum. It's located in the Lafayette Hotel in Qijia Town, Changping District, Beijing.
Asked by ABDUL NASIR from INDIA | Aug. 30, 2017 06:23

Reply
What are the buses from Jinzhou to Jinzhou South? Time Taken?
Fare? Bus Number?

Regards
ABDUL NASIR
Answers (1)
Answered by J from USA | Aug. 30, 2017 21:53

0

0

Reply
If you mean from JZ Station to South Station, may the following can help!
Since it's not far, you can take a taxi directly there, and it may take CNY40-50 and 20 minutes.
Or you can take Express Bus 205 and get off at South Station, which takes CNY2 and 30 minutes.
Asked by ABDUL NASIR from INDIA | Aug. 29, 2017 04:09

Reply
Jinzhou railway station to Jinjiang Inn Railway Station Zhongyang Avenue 1-5 Jindi Jiayuan
How far is this hotel from the railway station:

Jinjiang Inn Railway Station Zhongyang Avenue
1-5 Jindi Jiayuan, Section 3 Yanan Road, Guta District

How to reach this hotel at 6 AM from the railway station by public bus or metro.

How much bus?/taxi? will cost

Please help
Answers (1)
Answered by Black from UNITED KINGDOM | Aug. 30, 2017 22:05

0

0

Reply
Actually, it's within a walk distance, after you walk out from South Exit of the station, walk west along Yan'an Rd for about 5 minutes, you will see your hotel.
Asked by ABDUL NASIR from INDIA | Aug. 26, 2017 08:16

Reply
I am traveling to Jinzhou from Beijing by train arriving early morning.
How to arrive Jinjiang Inn Railway Station Zhongyang Avenue by a local transport from railway station, where I have a booking?
Answers (1)
Answered by Harvey from CANADA | Aug. 28, 2017 01:11

0

0

Reply
Actually, the hotel is right outside the JZ Railway Station, and you can see it whenyou walk out of the station, so no transportation is needed.