Benxi Travel Guide
Benxi Facts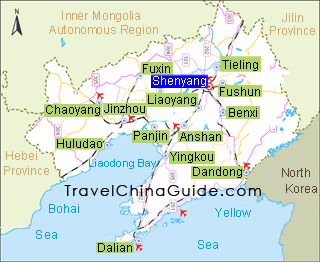 Chinese Name: 本溪市 (běn xī shì)
Location: Benxi lies in the southeastern area of Liaoning Province, at the hinterland of the Liaodong Peninsula. It lies just south of Shenyang and Fushun, and north of Dandong. Anshan and Jilin are respectively located west and east of the city.

Population: 1,567,000
Area: 8,435 square kilometers (3,257 square miles)
Nationalities: Han, Manchu
Administrative Division: 4 districts (Pingshan, Xihu, Mingshan, Nanfen); 2 autonomous counties (Manchu Autonomous County, Huanren Manchu Autonomous County)
Seat of the City Government: 18, Renmin Lu, Pingshan District
Bank of China: Yonghe Jie, Mingshan District
China Post: 35, Jiefang Lu, Pingshan District

Useful Telephone Numbers:
Tourist Complaints: 0414-2846970
Weather Forecast: 121
Zip Code Inquiry: 184
Benxi Attractions - Things to Do
This scenic area dates back nearly five million years, and is recognized as one of the treasures of Northern China. The cave covers an area of 9 acres (3.6 hectares) and stretches inward 3,063 yards (2,800 meters). Entering the semi-lunar mouth of the cave, one finds the 'guest-greeting hall' which is said to have been inhabited by human settlers three thousand years ago. The waterways and the pavilions outside complement the cave perfectly, making this both a scenic and a historic destination. Water Cave lies 22 miles (35 kilometers) east of downtown, on the side of the Taizi River.
Jiuding Tiecha Mountain
It is the cradle of Taoism in Northeast China. Jiuding Tiecha Mountain lies 80 kilometers (50 miles) east of city proper. The mountain is home to many ancient caves, and cliff side inscriptions.

Other Scenic Spots: Guanmen Mountain, Benxi Lake, Hot Spring Temple
How to Get to Benxi
Shenyang is 77 kilometers (48 miles) from Benxi. Visitors can travel to and from the city through the Shenyang Taoxian International Airport. Airport buses provide transportation to Ma Lu Wan in Zhonghua Lu, where transfers can be arranged to Benxi.
The central passenger transportation center is located along Jiefang Bei Lu (Mingshan District). The Dongfen station is located here as well. Buses numbered 1, 16, 19, 25, and 32 stop at Dongfen. The Yongfeng station is adjacent to the city's Railway Station.
Weather
-
The area enjoys a temperate, humid climate, with an annual average temperature of 6.1-7.8 degrees Celsius (43 – 46 degrees Fahrenheit). Summer is slightly warmer, and the average temperature during July (the warmest month) is 24.3 degrees Celsius (76 degrees Fahrenheit). Winter of Benxi weather is quite cold, with an average temperature of –14.3 degrees Celsius (6.3 degrees Fahrenheit). Half of the city's precipitation occurs during July and August. Autumn is the golden season, and the most favorable for visiting the city.
Benxi Travel Tips

History: During the Warring State Period (476BC-221BC), present day downtown and Benxi County fell under the rule of the Yan Kingdom. The Gaoyi, an ancient tribe in northeastern Asia, occupied its remaining areas. In 37BC, the Korean Koguryo Kingdom was established around the Huanran Manchu Autonomous County. The Koguryo Kingdom drew to a close in the Tang Dynasty (608-907).

Physical Features: It is located in eastern Liaoning's mountainous region, with two offshoots of the Changbai Mountains drawing a northeast-southwest divide through the landscape. It's general terrain slopes downward from the eastern and central territories to those southwest. Mountains and hills constitute 80 percent of the land within the city, and four water systems produce river valleys and basins.

Local Highlights: The local Maple Leaf Festival (September): The Maple trees here are at their most beautiful in September, when the ground is aflame with their read leaves. The best place to admire the spectacular natural scenery is the Guanmen Mountain in Manchu Autonomous County, which is a 48-kilometer drive from downtown area.

Special Local Products: Liao Inkstone, butterfly paintings, ginseng
- Last modified on Apr. 24, 2019 -
Questions & Answers on Benxi Travel
Asked by Joseph from CANADA | Apr. 20, 2019 19:36

Reply
Will be in Benxi for 4 days. We plan to see the Water Cave, but are looking for other things to do.
Is there any fishing trips or mountains to hike? Has anyone been to Guanyinshan or Tianlongdong or Xiangshuigu or Guanyinge parks?
Answers (1)
Answered by Chaz from NEW ZEALAND | Apr. 24, 2019 02:04

0

0

Reply
Jiuding Tiecha Mountain and Guanmen Mountain are recommended!
Asked by Ebrahim from SOUTH AFRICA | Sep. 06, 2018 01:25

Reply
Muslim food, are there any halaal restaurant or eateries for muslims in benxi
Answers (1)
Answered by Hailie from NETHERLANDS | Sep. 06, 2018 20:58

0

0

Reply
Yes, there is a San Sheng Xuan Restaurant located in 258-4 Gaoyu Fuxiang Community in Mingshan District.
Asked by DalianBoy from ENGLAND | Feb. 18, 2018 06:02

Reply
Coming the Benxi during Feb/Winter - What can we do there?
On Day 1 we plan to visit the water caves from downtown at around 1pm. Not sure which bus to take but we hope that the trip and excursion wouldn't take too long because we have to be back by 6pm.

On Day 2, not sure what to do in this kind of weather, is there an outdoor spa or onsen that we can visit?

I would welcome any other suggestions on visiting and enjoying Benxi in the -14 temperatures!
Answers (1)
Answered by Olivia from FRANCE | Feb. 22, 2018 20:07

0

0

Reply
To the water caves, you can take a bus from BX Bus Station and the duration is about 50mins for a single trip!
As for onsen, you can go to Huaximu Hot Spring by taxi.
Besides, you can pay a visit to Dong Feng Lake Ice& Snow World!
Asked by ERICPAT | Sep. 16, 2015 00:18

Reply
Air condition bus from Shenyang direct to Benxi Water Cave?
Hello,
I live close to SY railway station. My friends and I from Thailand would like to go the Water Cave in October . Kindly explain
1) by train
2) by air condition bus direct to water cave? Where to get bus?
Answers (1)
Answered by Heidi from UNITED KINGDOM | Sep. 16, 2015 20:34

1

1

Reply
Yes, just in SY Railway Station, you can take a bullet train to Benxi, and the travel time is about 40 mins. If taking the normal speed trains, the travel time is about 1 hour. Upon arrival, take a taxi to Dongfen Bus Station (CNY10), where you can take direct buses to the cave.

There is no direct bus to the water cave. In the opposite of the railway station, there are direct long-distance buses to Benxi, you can take one. Upon arrival, you should also take a bus from Dongfen Bus Station to the water cave.