Benxi Travel Guide
Benxi Facts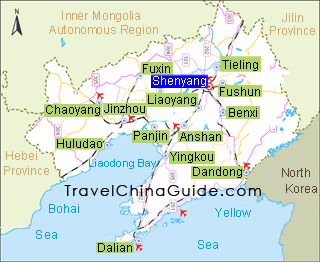 Chinese Name: 本溪 (běn xī)
Population: 3,598,000
Area: 9,252.35 square kilometers (3,572.35 square miles)
Location: in the southeast of Liaoning Province, northeast China
Administrative Division: 4 districts (Pingshan, Xihu, Mingshan, Nanfen); 2 autonomous counties (Manchu Autonomous County, Huanren Manchu Autonomous County)
Area Code: 0412
Zip Code: 114000
GDP (2019): CNY 174.53 billion (USD 25.30 billion)
A City Covered by Maple Forest
Benxi lies in southeastern area of Liaoning Province, at the hinterland of the Liaodong Peninsula. It lies just south of Shenyang and Fushun, and north of Dandong. Anshan and Jilin are respectively located west and east of the city. Benxi is 45 kilometers (28 mile) away from the provincial capital city Shenyang and 29 kilometers (18 mile) away from Shenyang Taoxian International Airport. As a transportation hub in the east of Liaoning Province, Benxi sees nearly 100 bullet trains every day. September to October, this city is involved in a sea of fiery-red maple forests, which is definitely a spectacular view. Guanmen Mountain National Forest Park, Yanghugou Ecological Resort and Laobiangou Scenic Spot are the best places to enjoy red maple leaves. There is also an ancient city site, a 3,000-meter (9,843-feet) long underground water karst cave and a glass bridge across Benxi Grand Canyon.
Benxi Attractions - Things to Do
This scenic area dates back nearly five million years, and is recognized as one of the treasures of Northern China. The cave covers an area of 9 acres (3.6 hectares) and stretches inward 3,063 yards (2,800 meters). Entering the semi-lunar mouth of the cave, one finds the 'guest-greeting hall' which is said to have been inhabited by human settlers three thousand years ago. The waterways and the pavilions outside complement the cave perfectly, making this both a scenic and a historic destination. Water Cave lies 22 miles (35 kilometers) east of downtown, on the side of the Taizi River.
Jiuding Tiecha Mountain
It is the cradle of Taoism in Northeast China. Jiuding Tiecha Mountain lies 80 kilometers (50 miles) east of city proper. The mountain is home to many ancient caves, and cliff side inscriptions.

Other Scenic Spots: Guanmen Mountain, Benxi Lake, Hot Spring Temple
How to Get to Benxi
Shenyang is 77 kilometers (48 miles) from Benxi. Visitors can travel to and from the city through the Shenyang Taoxian International Airport. Airport buses provide transportation to Ma Lu Wan in Zhonghua Lu, where transfers can be arranged to Benxi.
The central passenger transportation center is located along Jiefang Bei Lu (Mingshan District). The Dongfen station is located here as well. Buses numbered 1, 16, 19, 25, and 32 stop at Dongfen. The Yongfeng station is adjacent to the city's Railway Station.
Weather
-
The area enjoys a temperate, humid climate, with an annual average temperature of 6.1-7.8 ℃ (43 – 46 ℉). Summer is slightly warmer, and the average temperature during July (the warmest month) is 24.3 ℃ (76 ℉). Winter of Benxi weather is quite cold, with an average temperature of –14.3 ℃ (6.3 ℉). Half of the city's precipitation occurs during July and August. Autumn is the golden season, and the most favorable for visiting the city.
Benxi Travel Tips

History: During the Warring State Period (476BC-221BC), present day downtown and Benxi County fell under the rule of the Yan Kingdom. The Gaoyi, an ancient tribe in northeastern Asia, occupied its remaining areas. In 37BC, the Korean Koguryo Kingdom was established around the Huanran Manchu Autonomous County. The Koguryo Kingdom drew to a close in the Tang Dynasty (608-907).

Physical Features: It is located in eastern Liaoning's mountainous region, with two offshoots of the Changbai Mountains drawing a northeast-southwest divide through the landscape. It's general terrain slopes downward from the eastern and central territories to those southwest. Mountains and hills constitute 80 percent of the land within the city, and four water systems produce river valleys and basins.

Local Highlights: The local Maple Leaf Festival (September): The Maple trees here are at their most beautiful in September, when the ground is aflame with their read leaves. The best place to admire the spectacular natural scenery is the Guanmen Mountain in Manchu Autonomous County, which is a 48-kilometer drive from downtown area.

Special Local Products: Liao Inkstone, butterfly paintings, ginseng
- Last updated on Feb. 09, 2023 -
Questions & Answers on Benxi Travel
Asked by Azmeena from CHINA | Feb. 09, 2023 18:02

Reply
Hello, is the Benxi glass bridge open now, Feb 2023
Answers (1)
Answered by Eric | Feb. 09, 2023 18:35

0

0

Reply
No, the whole scenic area is closed right now.
Asked by Claire from PHILIPPINES | Oct. 17, 2019 06:55

Reply
Is Benxi open for tour on November, the glass bridge and the cave?
Answers (1)
Answered by Justin from CANADA | Oct. 20, 2019 20:51

0

0

Reply
Yes, it opens to the public all year round. In November, it opens from 8:30 to 16:30.
Asked by Sami from BANGLADESH | Sep. 25, 2019 08:12

Reply
Is the new glass bridge and the cave close to each other?
I will be in benxi at 10.30am and my train back will be at 6pm. Can i visit bothe the glass bridge and the water car within these time?
Answers (1)
Answered by Iris from AUSTRALIA | Sep. 27, 2019 00:34

0

0

Reply
Yes, you can. Generally speaking, it takes around an hour on the way by drive.
Asked by Joseph from CANADA | Apr. 20, 2019 19:36

Reply
Will be in Benxi for 4 days. We plan to see the Water Cave, but are looking for other things to do.
Is there any fishing trips or mountains to hike? Has anyone been to Guanyinshan or Tianlongdong or Xiangshuigu or Guanyinge parks?
Answers (1)
Answered by Chaz from NEW ZEALAND | Apr. 24, 2019 02:04

0

0

Reply
Jiuding Tiecha Mountain and Guanmen Mountain are recommended!
Asked by Ebrahim from SOUTH AFRICA | Sep. 06, 2018 01:25

Reply
Muslim food, are there any halaal restaurant or eateries for muslims in benxi
Answers (1)
Answered by Hailie from NETHERLANDS | Sep. 06, 2018 20:58

0

0

Reply
Yes, there is a San Sheng Xuan Restaurant located in 258-4 Gaoyu Fuxiang Community in Mingshan District.