Dalian Zhoushuizi International Airport
Airport Code: DLC
Location:
Dalian Zhoushuizi International Airport is about 10km (6 miles) northwest of the city center.
Brief Intro:
Dalian Airport was originally built in 1972 and since then has undergone several expansions to become the largest and busiest international airport in northeast China. It presently covers an area of 284 hectares (702 acres), including a parking apron of 200,000 sq m (49 acres), a terminal of 65,000 sq m (16 acres) and a runway 3,300m (2 miles) in length. As one of the alternate airports for Beijing Capital Airport, it is constructed to international standards being capable of handling such large planes as the B747-400, B777, A320, etc. Its 108 air routes, 73 of which are domestic, connect the airport to 84 cities enabling it to handle 6,000,000 passengers each year.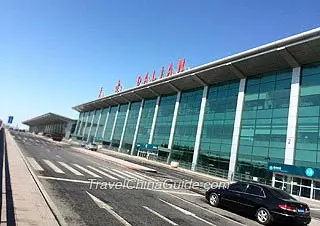 Dalian International Airport
Air Routes:
International Destinations
: Abakan, Bangkok, Chicago, Delhi, Dubai, Fukuoka, Frankfurt, Hiroshima, Hong Kong, Irkutsk, Jeju, Khabarovsk, Kuala Lumpur, London, Los Angeles, Melbourne, Munich, Nagoya, Osaka, Paris, Phuket, Pyongyang, San Francisco, Sendai, Seoul, Singapore, Sydney, Tokyo, Toyama, Vancouver, Vladivostok, Bangkok and Yuzhno.
Domestic Destinations: Beijing, Changchun, Changsha, Changzhou, Chengdu, Chongqing, Dunhuang, Fuzhou, Guangzhou, Guilin, Guiyang, Haikou, Hangzhou, Harbin, Hefei, Heihe, Hohhot, Jilin, Jinan, Kiamusze, Kunming, Lanzhou, Luoyang, Mudanjiang, Nanchang, Nanjing, Nanning, Ningbo, Qingdao, Qinhuangdao, Sanya, Shanghai (Pudong), Shantou, Shenyang, Shenzhen, Shijiazhuang, Taiyuan, Tianjin, Urumqi, Weifang, Wenzhou, Wuhan, Wuxi, Xiamen, Xi'an, Xuzhou, Yanji, Yantai, Yinchuan, Zhangjiajie, Zhengzhou, and Zhuhai.



As of Jan. 1, 2018, the 144-hour Visa-free Transit in Liaoning scheme has been implemented in Liaoning for citizens from 53 countries and regions including USA, UK, Australia, Canada, France, Germany, Italy, Denmark, Netherlands, Spain, etc., and Dalian Zhoushuizi Airport is one of the entry / exit ports.

Transportation:

Airport Shuttle Bus:
Ticket Counter: in the west of Gate no. 9, Domestic Arrival Hall on 1F
Route: Airport – Heping Square – Olympic Square – People's Square – Xiwang Square – Shengli Square – Zhongshan Square – Renmin Road
Service Hours: 07:45 – the arrival of the last flight
Ticket Fare: CNY10/person

Metro:
Take
metro line 2
to the airport directly.

City-bus:
Buses nos. 9, 46, 532, 701, 710, 905, and 908 pass the airport.

Taxi:
A single trip costs CNY25-30 by taxi and takes 15-20min.
Facilities:

Duty Free Shops
A wide range of duty free shops are located in the airport (opening hours: 06:30-17:00). Goods which can be purchased include:
Cosmetics
: Opposite the Security Door, (phone 0411-83887025)
Embroideries
: Opposite Boarding Gate 2, (phone 0411-83887023)
Chinese Handicrafts
: Opposite Boarding Gate 1, (phone 0411-83887025)
Tea, Wine and Dalian Seafood
: Opposite Boarding Gate 1, (phone 0411-83887024)
Exclusive Shops, watches, glasses, accessories
: Opposite Boarding Gate 3, (phone 0411-83887022)

Car Park: Located south of the terminal, the car park covers a total area of 100,000 sq m (24 acres) with over 1,300 parking spaces. The car park is divided into nine specialty areas, including those for taxis, VIP passengers, airport staff, 24-hour parking service and the disabled, etc. A summary of parking charges is shown below.
Vehicle Size

Charges (RMB)

Small
(no more than 17 seats)

¥ 5 for the first hour, and 2 ¥ per half hour thereafter. The maximum charge is ¥ 30 for 24 hours.

Large
(over 17 seats)

¥10 for the first hour, and ¥ 5 per half hour thereafter. The maximum charge is ¥ 50 for 24 hours.

Taxis

¥ 1 for each pick-up in the designated taxi parking area or ¥ 5 for the first hour and ¥ 2 per half hour thereafter.
Other Services:

Airport Hotlines
: For international enquiries, phone 0411-83885933; phone 0411-86653877 or 0411-83612888 for domestic enquiries. For information on seat reservations, phone 0411-83886047

Lost & Found: For enquiries regarding lost property phone 0411-83886908

Stored Luggage: The information desks on the Departure Level provide a convenient service for the storage of luggage. Small-sized items (clothing for example) can be stored free of charge.

Special Services: Special care is given to unaccompanied children between the ages of 5 and 12, or seniors over 70. This service is also available for pregnant and disabled passengers. For further information, telephone 0411-83886908, or visit the Information Desk on the Departure Level.
Air Ticket Booking
Airport Central Ticket Office:
Location: at the airport
Inquire and booking: 0411-83612222
Seat reservation Tel: 0411-83886047
* For travelers with special requirements, including elderly infirm, disabled, pregnant women and children, please dial 0411-83886908 to obtain 'one stop' service for checking in, waiting and boarding.
Airport Air Ticket Service Department: Located in the terminal of Zhoushuizi Airport, allows you to collect your ticket and buy your ticket up to one hour before boarding.

Lüshun Ticketing Office:
Location: located in Lushun scenic spot
Booking: 0411-86634804 (inc. ticket delivery)

Jinzhou Ticketing Office
Location: located in commercial street of Jinzhou District
Booking: 0411-87673993 (inc. ticket delivery)

Qianshan Road Ticketing Office:
Location: located at No.11 Qianshan Road, Ganjingzi District
Booking: 0411-86587006/86587116 Fax: 0411-86608423

Ticketing Office in Hilton Hotel
Location: Hilton Hotel at No. 123, Changjiang Lu
Working hours: 08:30 - 20:00
Booking: 0411-82529565, 0411-82529999-5550, 5551 Fax: 0411-82529122

Ticketing Office in Chenxi Hotel
Location: close to Xinghai Square
Booking: 0411-84677744
- Last modified on Jan. 07, 2020 -
Questions & Answers on Dalian Airport
Asked by Chris from GERMANY | Jan. 06, 2020 04:11

Reply
Transfer from Dalian Airport to North Railway Station
Hello, I am planning to arrive at Dalian Airport for my trip to Dandong. I found some Trains scheduled to start at North Railway Station. Can anyone recommend a shuttle Service or anything else to get from the Airport to the Station? Even any other recommendations to get to Dandong are appreciated.
Answers (1)
Answered by Samuel from AUSTRALIA | Jan. 07, 2020 17:02

0

0

Reply
You can take bus 908 directly to North Railway Station.
Asked by Jason.F from LEBANON | Nov. 12, 2019 18:36

Reply
Transferring to Hong Kong via Dalian Airport (Lebanese passport)
Do I have to clear customs and pick up luggage? Do i need to apply for visa or I am given a 24 transit visa?
Answers (1)
Answered by Skyler from UNITED KINGDOM | Nov. 14, 2019 23:49

0

0

Reply
You have to clear custom. But you don't need to pick up luggage. You can enjoy the 24 hours visa free policy.
Asked by Linh from JAPAN | Oct. 29, 2019 19:30

Reply
Enough time at Dalian Airport?
I am flying from Fukuoka to Beijing with 1-hour transit stop in Dalian. Is it enough time to do all of the procedures (going through immigration, custom, check-in back?)

I hold a Vietnamese passport, no Chinese visa
Answers (1)
Answered by Larry from CANADA | Oct. 30, 2019 20:38

0

0

Reply
I am afraid that the transfer time is not enough. Generally speaking, you need to have 2.5 to 3 hours transfer time.
Asked by chi from SOUTH KOREA | Jul. 12, 2019 02:44

Reply
Can take visa after arrival Dalian International Airport?
am s,korean passport
Answers (1)
Answered by Julie from USA | Jul. 14, 2019 19:09

0

0

Reply
If you next destination is a different and third country or region, then you are eligible for 144-hour visa-free transit.
Asked by Deed from SINGAPORE | Apr. 14, 2019 23:07

Reply
Dalian Airport Metro Station distance
How far is the nearest metro station to the airport? Is it accessible by foot or do we need to take a public transport?
Answers (1)
Answered by Carter from NEW ZEALAND | Apr. 16, 2019 23:57

0

0

Reply
You can find the metro station inside the airport. Upon landing, you can follow the detailed English signs at the airport and take the metro line 2 to downtown area.