Dalian Railway Station
The Railway Station is in Qingniwaqiao Commercial District, one of the city's three commercial districts. It is close to the city's main bus stations and around 6.8 miles (11km) from the Dalian Zhoushuizi International Airport making it one of the city's most important transportation hubs. As a terminus of Shenyang-Dalian Rail Line, Harbin-Dalian Line and Dalian-Mudanjiang Line, it plays a significant role in the overall transportation system in Northeast China.

Address: No. 259, Changjiang Road, Zhongshan District

Schedule and Ticket Booking
Currently, both ordinary and bullet trains use this station. Bullet ones to Beijing, Shanghai Hongqiao, Shenyang, Jilin and Changchun can be found. Ordinary ones reach more places such as Beijing, Shanghai, Guangzhou, Shanhaiguan, Haila'er, Manzhouli, Songjianghe, etc.

Major Rail Lines from this station to:
High Speed Train Schedule
(Last Update on Jun 22, 2021)
To
Trains
Duration
Ticket Fare (CNY)
First/ Second Class Seat

Beijing

D31, D35, D39, G385 from 09:21 to 17:07
5h00m - 6h16m
CNY 417/ 261
USD 65/ 40

Shanghai Hongqiao

G1251 at 08:53
11h2m
CNY 1,431/ 862
USD 222/ 134

Shenyang

D7741, D7741, G703, G703...
40 departures from 06:30 to 19:09
1h33m - 4h37m
CNY 266.5/ 166.5
USD 41/ 26

Jilin

G8003, G8125, G8015 from 07:00 to 13:38
4h1m - 4h34m
CNY 547/ 340.5
USD 85/ 53

Changchun

G703, G771, G8003, G8003...
18 departures from 06:45 to 19:03
2h40m - 3h51m
CNY 487/ 304
USD 76/ 47

Jinan West

G1251, G389 at 08:53 and 15:03
6h8m - 6h31m
CNY 797/ 486
USD 124/ 75
Normal Speed Train Timetable
(Last Update on Jun 22, 2021)
To
Trains
Duration
Ticket Fare (CNY)
Soft/ Hard Sleeper

Beijing

K55 at 11:58
14h27m
CNY 398.5/ 261.5
USD 62/ 41

Shanghai

T131 at 11:40
25h4m
CNY 684/ 444
USD 106/ 69

Guangzhou

T369 at 15:32
37h43m
CNY 997/ 585
USD 155/ 91

Shenyang

K2083, K2083, K55, K7321...
15 departures from 08:40 to 21:06
4h31m - 5h54m
CNY 155.5/ 102.5
USD 24/ 16

Harbin

K2209, T261, K929, T129 from 14:27 to 20:20
9h49m - 12h19m
CNY 351/ 230
USD 54/ 36

Changchun

K2209, T261, K929, K7305 from 14:27 to 19:12
7h39m - 9h9m
CNY 263/ 174
USD 41/ 27

The above schedule is for reference only. For real-time schedule and ticket booking, please click the arrival stations.
See detailed
Dalian Train Schedule
Station Building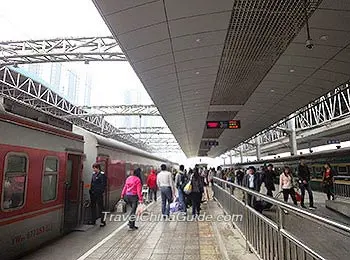 Dalian Railway Station
A two-storey station building, facing south, can easily be identified by its Chinese name "大连" (Dalian). There are two ticket offices, the south and north, on the first floor and one waiting hall on the second floor. Outside the two tickets offices, there are two squares. The south square, serving as a small parking lot, faces towards the Victory Plaza (Shengli Plaza), one of the city's shopping and entertainment centers. On the east of the Victory Plaza, visitors can find the airport shuttle bus and Huyue Express Bus Station in front of the Ramada Plaza. Taxis can also be found at this square. The north square is facing Jianshe Street and Triumph Plaza (Kaixuan Plaza). The two squares are linked by an underground pass. On the west side of the north square stands the Subway Station of Dalian Railway Station and the Jianshe Street Long-distance Bus Station. From Huyue Express Bus Station and Jianshe Street Long-distance Bus Station, here buses to cities in the province or other provinces can be found.
The station opens 27 ticket windows and 18 self-service ticket machines daily, while in peak time such as the Spring Festival Rush, more ticket windows will be opened. In the South Ticket Office (on first Floor), there are 21 ticket windows and 6 ticket machines. Among them, the No. 2 window provides English ticket selling services, No. 20 offers ticket changing service and No. 21 provides ticket refunding service. Several banks' ATMs are equipped in this office. The North Ticket Office, also on 1F, has 6 windows and 7 ticket machines. In addition, there are 5 more ticket machines beside the south entrances on 2F.
Tickets can be purchased 24 hours a day. Those who intend to buy tickets from 22:00 to 05:00 should go to the Night Ticket Window on the southernmost end of the South Ticket Office, which also sells the platform tickets. If passengers have any problems concerning train tickets or the station, one can go to consult at the Luyushuang Service Counter (吕玉霜服务岗) in the ticket office.
The station building has six entrances, four on the south side and two on the north to enter the waiting hall on 2F. Inside the waiting hall, there are seven main waiting areas and seven corresponding ticket gates. Each ticket gate has four self-service check machines and one staff check passageway. Escalators and elevators are equipped to reach the second floor between 1F and 2F. Passengers are suggested to enter the waiting hall at most two hours in advance.
Facilities & Service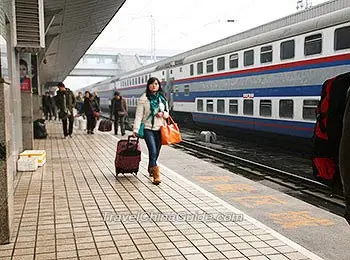 Double-deck Train at the Station
Information Desk (Luyufang Service Counter): in the center of the waiting hall
The counter in the waiting hall mainly provides services including person locating, lost and found, city tour guides and any general problems related to taking a train.

Soft Seat Waiting Room & VIP Waiting Room: beside the information desk (close to No. 1 Waiting Area)

Reserved Service Room: West side of south entrance on 2F (close to escalator)
This waiting room is available for the elderly, the children, patients, disabled, pregnant woman and women with children.

Mobile Phone Service: A China Mobile kiosk is located between the No. 5 and No. 6 Waiting Area and a China Unicom kiosk is in front of the VIP Waiting Room.

Bookstore: Beside No. 8 Waiting Area

Drinking Water Facilities: Two spots are located to the north of No. 4 and No. 5 Waiting Areas

Washrooms: There are two next to the Drinking Water Facilities and another two to the south of the No. 1 Waiting Area and the bookstore

Stores: One is next to the north escalator on 2F and the other is next to the bookstore.

Left Luggage Service (five in total): one on the west side of South Exit, one in the North Ticket Office, one in the front of the VIP Room, one next to the store and one close to the Reserved Service Room
The fare is around CNY10 per piece.

WIFI: Wifi is provided by China Mobile and each passenger can enjoy ten hours of free wifi every month in the station. To link to it, one needs to have a Chinese mobile phone number and a mobile phone to get the code.

Besides all these basic facilities and services, passengers can still find three places for charging of mobile devices.



Tips: In this station, if passengers call 12306, a general helpdesk can be reached to help resolve any problems. Those who need a wheelchair or stretcher can call this number to obtain one in advance. If one takes seafood, you are advised to wrap the outer most layer with a plastic bag which can be found at the Desk for free.

Passengers who want to take a ferry from the city to Yantai, Weihai, Tianjin and nearby islands can purchase their ferry tickets through the window of the China Shipping Passenger Liner Co., Ltd. Its window is inside the South Exit in the station building. Then they can take local public bus Line 13 to Dalian Passengers Port to take the ferry.
Transportation

By Bus:
To/From North Square: (the bus is in front of Shuangxing Korean Fashion Clothes Market on Xingye Road)
Bus Line 50, 541
To/From South Square: (the station is in front of south square)
Bus Line 7, 13, 30, 31, 39, 101, 201, 408, 414, 521, 525, 531, 909, 939, Dalian-Development Zone, Dalian-Xiajiahezi

By Subway: Subway Line 3

Bus Routes to city main places:
To Zhoushuizi International Airport: Airport shuttle bus can be boarded on the east side of Victory Plaza for a charge of CNY10 per person.
To
North Railway Station
: Line 909 is the direct bus between the two stations.
To Lushun: The Lunshun Express Bus can be taken from the north square station.
To
Tiger Beach Ocean Park
: Passengers can take bus line 30 to its 15th stop at Laohutan Bus Stop.
To Xinghai Square: Take bus line 531 to its 11th stop at Xinghai Park Bus Stop.
Print

- Last modified on May. 12, 2020 -
Questions & Answers on Dalian Railway Station
Asked by Parham from BELGIUM | May. 11, 2020 18:27

Reply
Hi, I want to know how long it takes by taxi from Dalian Ferry Port to train station?
I mean the main station. Is there metro service?
Answers (1)
Answered by Ollie from IRELAND | May. 12, 2020 17:13

0

0

Reply
It is not far by map, 5km most. Taxi would be convenient, 15min only to the main station. No metro service at the port, you would need to walk over 1km to get to Gangwan Square and then take line 2 for 2 stops, finally walk to the station. It is not a good option. One bus is in service, bus No. 13. You can use this bus if you like, but taxi is better.
Asked by Laura from GERMANY | Jul. 17, 2019 01:49

Reply
Is there any one to advise a most convenient area in Dalian for hotel?
I am not sure where to book a hotel. Is it better to stay in city center?
Answers (1)
Answered by Evelyn from RUSSIA | Jul. 17, 2019 18:13

0

0

Reply
Indeed, nearly half of travelers stay at city center like Zhongshan Square and half near the sea area. Personally speaking I would prefer the sea area like near Xinghai Square. It depends on your visiting plan in Dalian.
Asked by Deb from USA | May. 21, 2018 11:35

Reply
How long does it take to get from Dalian to the Great Wall?
Answers (1)
Answered by Carl | May. 21, 2018 22:51

0

0

Reply
Do you mean Great Wall in Beijing? It would take around 5 to 6.5 hours by high speed rides
Asked by Mark from SINGAPORE | Dec. 30, 2016 01:40

Reply
Dalian Railway to Dalian Int'l Airport
My train from Harbin will arrive at 9:55AM. My international flight is at 1AM. What's the fastest way to get to the airport from the railway station?
Answers (2)
Answered by Mark from SINGAPORE | Dec. 30, 2016 01:41

0

0

Reply
Sorry it's 1PM not 1AM.
Answered by Wilton from AUSTRALIA | Dec. 30, 2016 02:50

0

0

Reply
You can choose to walk to Qingniwaqian subway station of line 2 and take that line 2 to the airport. The Qingniwaqiao is about 1,100m away from the railway station. I heard there is also shuttle bus from the Shengli Square nearby to the airport, but not sure how to find it.
Asked by andrew mccarthy from JAMAICA | Jan. 26, 2015 06:07

Reply
Dalian to Weihai Ferry ticket
I am arriving at Dalian Station at 5:30am. I am interested in buying tickets for the Ferry to Weihai in the afternoon. What time does the China Shipping Passenger Liner Co ticket window open?
Answers (1)
Answered by Jennifer | Jan. 26, 2015 19:19

1

0

Reply
There is ticket office in the railway stataion, at the exit. The ticket window should be available around 07:00am. Or you can go from station to port and then buy when you arrive there since your departure time is in afternoon.