Dalian North Railway Station
Dalian North Railway Station is about 12 miles (20km) from the city proper and 9 miles (15km) from Dalian Zhoushuizi International Airport. Bullet trains from Dalian to Beijing, Harbin, Jilin, Shenyang, Changchun, Jinan, Tongliao and Shanghai use this station. Apart from these trains, one fast trains to Tongliao can be boarded here. In the near future, the bullet trains for Mudanjiang will also use this station.

Address: Between South of Guanling Road and Huabei Road, Ganjingzi District



The station has similar layouts to Dalian Railway Station, north and south squares and a three-storey station building, two storeys on the ground and one storey underground. Two squares, linked by a passage, serve as parking lots for public buses and taxis. The station building, containing five entrances north and south to enter the Waiting Hall, has Arrival Level on B1 Floor, Platform Level on 1F and Waiting Hall on 2F. Passengers can enter the station building from any entrance, while taxis can reach the north entrance on Platform Level or the south entrance on 2F for entering the Waiting Hall.

Four Ticket Offices, containing 40 ticket windows and 50 self-service ticket machines, are located in the station building. There are two on the north, B1 Office on B1 Floor, B2 on 1F, and two on the south, A1 on 1F, A2 on 2F. Big screens are equipped to show the train schedule and remaining tickets information. Each ticket office has a ticket window for the disabled. ATMs are available inside A2 Office.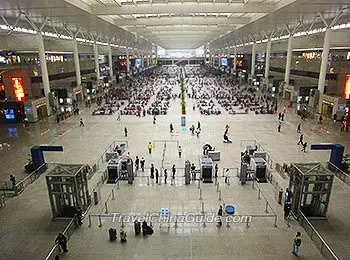 Waiting Hall
Luyushuang Service Counter (吕玉霜服务台), providing inquiry service, is in the center of the waiting hall. It also provides daily used items such as scissors, paper, pens, City Map, transportation guide for free. On the two sides of the service counter are the first-class passengers' waiting areas, equipped with sofas. The rest areas are for second-class passengers. 18 ticket gates with 82 self-service check-in machines are on the east and west sides. Each train uses two ticket gates. For passengers' convenience, those have seats in Carriage 1 to 4 are suggested to check-in in the east gate, while those are in Carriage 6 to 8 use the west gate. The broadcast inside the waiting hall reminds the train number and where to check-in, so it is suggested to pay attention on the broadcast carefully. Four Drinking Water Places and four washrooms are available in the waiting hall. On the northeast of the hall, there is a left luggage service.

The interlayer in the waiting hall is a commercial area where passengers can find KFC, Pizza-hut, Dashang Supermarket, Cafes, etc. Elevators and escalators are equipped between two floors.
Major Bullet Trains and Durations
This station mainly operates bullet trains to/from major domestic cities including Beijing, Shenyang, Shanghai, Harbin, Jilin, Changchun, and Jinan.

Major Rail Lines from Dalian to

(Last Update on Apr 25, 2023)
To
Trains
Duration
Ticket Fare (CNY)
First/ Second Class Seat

Beijing

G3501, G3505, G3509, G3513...
9 departures from 06:18 to 17:52
3h52m - 5h18m
CNY 638/ 399
USD 94/ 59

Shenyang

G8041, G701, G701, G8041...
72 departures from 05:38 to 20:28
1h33m - 4h38m
CNY 224/ 166.5
USD 33/ 24

Harbin West

G701, G771, G721, G721...
22 departures from 05:49 to 19:01
3h36m - 4h53m
CNY 645.5/ 403.5
USD 95/ 59

Jilin

G8039, G8125, G8007, G8009...
10 departures from 07:06 to 16:05
3h57m - 4h49m
CNY 547/ 342
USD 80/ 50

Changchun

G701, G8001, G771, G8039...
34 departures from 05:49 to 19:01
2h40m - 4h3m
CNY 487/ 304
USD 72/ 45

Jinan West

G1251, G389 at 08:53 and 15:03
6h12m - 6h32m
CNY 812/ 494.5
USD 119/ 73

Dandong

D7741, D7741, D7737, D7711...
10 departures from 06:20 to 18:08
2h00m - 2h42m
CNY 121/ 108.5
USD 18/ 16

Xi'an North

G1293 at 10:15
10h43m
CNY 1,402.5/ 871
USD 206/ 128

The above schedule is for reference only. For real-time schedule and ticket booking, please click the arrival stations.

See detailed
Dalian Train Schedule
How to get to the station

By Bus
To/From North Square
Bus Line 1, 8, 518, 909, Dalian North Railway Station – Fujiaxincheng Line, Lugang wuliu – Xinxing lucheng
To/From South Square
Dalian Bay – Jiefang Road Line, Dalian Railway Station – Development Zone Line

By Subway
Take subway line 3 to Houyan Station and interchange to a taxi to the north station. The taxi fare is around CNY10 to 15. If one wants to take a bus from Houyan Station to the north station, they can take bus Fujiaxincheng – Daliabeizhan Line from Fast Track Houyan Station Bus Stop to its terminal at north square of north station. The public bus takes around 40 to 50 minutes with fare around CNY1.

By Taxi
The taxi fare is not very expensive from the city proper to the north station and it is around CNY30 to 35 from Renmin Square and the Bayi Road area.

Transfer between the railway station and the north station
Take Dalian Railway Station – Development Zone Line to its 14th stop at North Railway Station or take bus line 909 to transfer between two stations directly. Or take local subway line 3 to Houyan Station and then a taxi to north station. The Railway Station can be used as an interchanging station for travelers from the other places of city proper area to the north station.

Transfer between the airport and the station
Free shuttle buses are in service between Ticket Office B1 of the north station and No. 3 Gate of Arrival Hall of the airport. Those who have high speed train tickets or flight tickets can use them. Buses leave north station at 10:30, 14:00 and 17:00, while they depart from airport at 09:00, 12:00 and 15:30. Or one can take a taxi directly with operating time around 20 to 30 minutes and fare around CNY30 to 35.

Transfer between the north station and the Passengers Port
If one wants to take a ferry from Dalian to Yanta, Weihai, Tianjin and some nearby islands, one can take the Railway Station – Development Zone Line from the North Station to the Railway Station and change to bus Line 13 to its 5th stop at Matou Bus Stop to walk to Passengers Port.
Print

- Last updated on Apr. 25, 2023 -
Questions & Answers on Dalian North Railway Station
Asked by Gardner from NEW ZEALAND | May. 09, 2020 17:51

Reply
Hi, I want to know which checkin gate and platform should I use for train G8183?
G8183 from Dalian North to Shenyang North.
Answers (1)
Answered by TravelChinaGuide | May. 11, 2020 17:42

0

0

Reply
Thank you for your inquiry.

There is no fixed checkin gate and platform. It can be changed according to the arrangement of station. You do not need to worry about it, the checkin gate information will be printed on paper ticket. If you do not have paper ticket in hand, you can also check the information screen in waiting room by train number. There will be detailed checkin gate information listed of each train. Then when your checkin time approached, you can see platform information at the checkin gate. Hope this information can help you.

Asked by Pranab Roy from INDIA | Oct. 09, 2019 23:01

Reply
How long it takes from Dalian station to International Airport?
I have a flight from Dalian International Airport at 15.35. If I arrive at Dalian North station at 13.10, is it possible to catch the flight?
Answers (1)
Answered by Charles | Oct. 10, 2019 18:35

0

0

Reply
Will you catch an international flight or domestic flight within China mainland? If for domestic flight, you can still have a try, if for international flight, the time is not enough. It would take around 50 to 60min by metro from north station to the airport, so you will only be able to reach the airport around 2pm. The time is a little rush for domestic flight, but still possible. For international flight, you need to be at station around 3 hours in advance.
Asked by Priya from EGYPT | Jul. 17, 2019 01:50

Reply
Hello, would you please kindly advise a convenient way to go to Dalian Ocean University?
I will reach by high speed train at Dalian North Station.
Answers (1)
Answered by Giovanni from POLAND | Jul. 17, 2019 18:14

0

0

Reply
It is very convenient to go by metro service. Line 1 is in service at the North Station. You can take this line 1 to Heishijiao and exit from gate A. The University is only about 800m away. You can walk to there directly. The whole trip should be within 1 hour.