144-hour Visa-free Transit in Liaoning
Following Shanghai, Jiangsu, Zhejiang, Beijing, Tianjin, and Hebei, Liaoning Province in China's northeastern part has also adopted the 144-hour visa-free transit since January 1, 2018. Holders of passports issued by 53 countries and regions do not need a visa if transiting through Shenyang Taoxian International Airport or Dalian Zhoushuizi International Airport for a stay not exceeding 144 hours, the equivalent of six days.

Who can enjoy the Liaoning 144-hour visa-free transit? - List of 53 Qualified Countries

24 Schengen Agreement Countries: Austria, Belgium, Czech Republic, Denmark, Estonia, Finland, France, Germany, Greece, Hungary, Iceland, Italy, Latvia, Lithuania, Luxembourg, Malta, Netherlands, Poland, Portugal, Slovakia, Slovenia, Spain, Sweden, Switzerland

15 Other European Countries: Russia, the United Kingdom, Ireland, Cyprus, Bulgaria, Romania, Ukraine, Serbia, Croatia, Bosnia-Herzegovina, Montenegro, Macedonia (FYROM), Albania, Belarus, Monaco

6 American Countries: the United States, Canada, Brazil, Mexico, Argentina, Chile

2 Oceania Countries: Australia, New Zealand

6 Asian Countries: Korea, Japan, Singapore, Brunei, United Arab Emirates, Qatar
What Is An Eligible Route?
A: departure country ⇒ B: Liaoning ⇒ C: the third country or region
Prior to passengers' entry to Liaoning and after passengers' leave from Liaoning, they are not allowed to stop anywhere in Mainland China. For example, if a passenger departs from South Korea to Liaoning with a stop in Shanghai, he cannot use the 144-hour visa-free transit.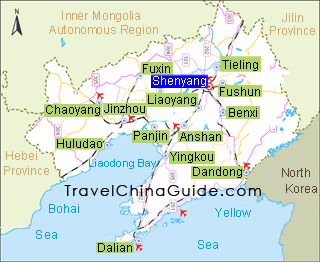 Areas Allowed to Stay
Areas Allowed to Stay
Passengers eligible for the 144-hour visa-free transit can move freely in Liaoning Province, which includes famous northeastern China cities like
Shenyang
and
Dalian
. In case of unexpected departure to other provinces and cities, it's necessary to go to the local Exit and Entry Administration of Public Security Bureau to apply for a visa.
Registration at the Police is Required
It's important to register your stay at the police within 24 hours after arrival. If you lodge at a hotel, the hotel receptionist will do it for you. If you stay in a private house, you need to do it on your own. In case that you fail to register with the Public Security Bureau within the 24 hours after entry, you cannot enjoy the visa-free transit in China again for two years.
How to Apply for 144-Hour Visa-Free Transit in Liaoning
Prepare the required documents including a passport valid for at least 3 months, the visa (if necessary) and ticket to the third country or region, and a completed Arrival/Departure Card. Then follow the steps in the chart for the application.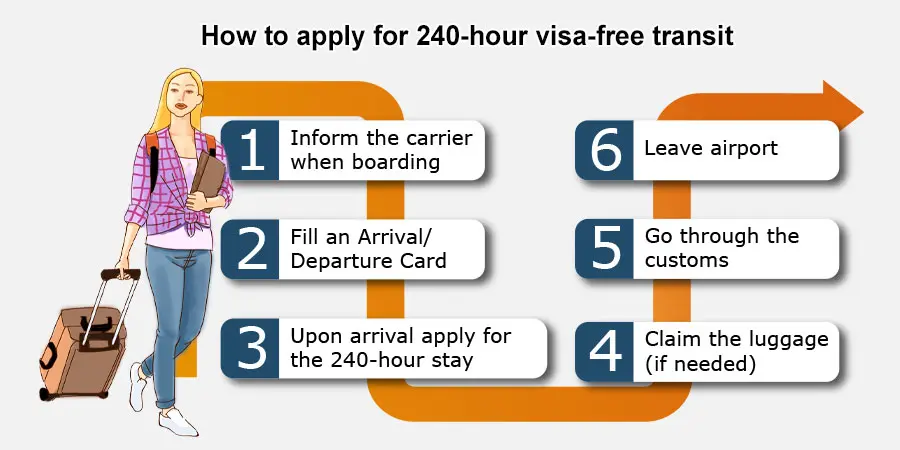 What Are the Eligible Transit Ports?
In Liaoning Province, currently only the Dalian Zhoushuizi International Airport and Shenyang Taoxian International Airport are open for this policy. It means only air passengers are permitted for entry and exit through either of these two ports.

As a routine route, many travelers prefer to entering North Korea via the international train from Shenyang or Dandong to Pyongyang. However, since the 144-hour visa-free transit is only applicable to those who fly in and fly out of Liaoning, passengers wishing to take the international train cannot use the 144-hour visa-free transit policy.

Contact Information of the Two Ports
| | |
| --- | --- |
| Dalian Zhoushuizi International Airport | 0086-411-96600 |
| Shenyang Taoxian International Airport | 0086-24-96833 |
What Can I Do During the 144 Hours in Liaoning?
As the former palace of Qing Dynasty rulers before they entered Beijing, Shenyang Imperial Palace should be on your travel destination list during the 144-hour stay. In terms of scale, it is second only to the Forbidden City in Beijing. In 2008, it was inscribed in the World Culture Heritage List by the UNESCO. A visit around the splendid palace complex unveils a corner of Chinese history right in front of your eyes.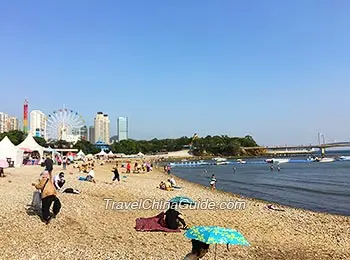 Xinghai Park in Dalian
Strolling along the beach in Dalian
Passengers can arrange a trip of two or three days in Dalian during the layover. As a coastal city, Dalian owns beautiful golden beaches. When in Dalian, do take a stroll along the beaches to feel the gentle sea breeze on your cheeks, especially during summer evenings. Xinghai Park and Jinshitan Scenic Area both rank among the best beaches in Dalian. Seafood restaurants can be found nearby to serve you an authentic delicious meal.

Experiencing the wonder of red beach in Panjin
If your 144-hour visa-free transit is scheduled in September or October, don't forget to set aside a day to visit one of the best wonders in the world, Panjin Red Beach. The vast beach, covered by red weeds intermingled with some green weeds and adjoining to golden rice fields in the far end, creates a colorful and stunning visual effect. If you are lucky enough, you may encounter the rarely-seen red-crowned cranes there.

If transiting in Liaoning in winter, Shenyang International Ice and Snow Festival should not be missed. It usually starts from the end of December through to the end of February. During this time, you can appreciate all kinds of ice carvings and snow sculptures.



Further Reading on China 144-Hour Visa-Free Policy:


144-Hour Visa-Free Transit in Shanghai, Jiangsu, and Zhejiang


144-Hour Visa-Free Transit in Beijing, Tianjin, and Hebei


144-Hour Visa-Free Transit in Guangdong (to be adopted)