Mukden Palace - Shenyang Imperial Palace
The Mukden Palace, aka Shenyang Imperial Palace, Shenyang Palace, and Shenyang Gugong, is located at No. 171, Shenyang Road, Shenhe District in Shenyang City. It is the only existing royal palace in China outside of the Forbidden City in Beijing. The main structure was built in 1625 when Nurhachi was in power. The Mukden Palace was finished in 1636 by his son Abahai (Huangtaiji). Nurhachi and Abahai were both founding emperors of the Qing Dynasty (1644 - 1911).
| | |
| --- | --- |
| The Mukden Palace | Emperor's Throne in Shenyang Imperial Palace |
Covering an area of more than 60,000 square meters (about 71,760 square yards), the Mukden Palace is one twelfth the size of the Forbidden City in Beijing. It consists of more than 300 rooms, formed around 20 courtyards.

It can be divided into three sections-the eastern section, the middle section and the western section. Each section boasts of unique characteristics.
Eastern Section
The eastern section of Shenyang Imperial Palace contains the very impressive Hall of Great Affairs (Da Zheng Dian). Here emperors ascended the throne, enacted imperial edicts, and welcomed victorious generals and soldiers. A group of pavilions, known as the Ten Kings Pavilion, stand to its east and west. They formerly served as the place where emperors and leaders from the eight banners (Ba Qi) settled national affairs. This architectural style of the Mukden Palace is unique. The style of the buildings, which displays an amalgamation of Han, Manchu and Mongolian cultures, all originated from the shape of a nomadic tent. The eastern section of the palace is representative of the whole palace.

Middle Section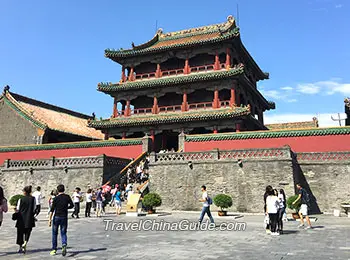 The Phoenix Tower
The middle section starts from the Da Qing Gate, with Chong Zheng Dian (Jin Luan Dian), the Phoenix Tower and Qingning Palace arranged on a central axis from south to north. Chong Zheng Dian is the place where Abahai held court. It is the most important building in the Mukden Palace. The Phoenix Tower, a three-storied building, was the highest structure in the whole city at that time. Qingning Palace was the bedchamber for Abahai and his concubines.
Western Section
The western section was constructed by order of Emperor Qianlong (1711-1799). Its main structure is the Wen Su Pavilion. In front of this, there are the Opera Stage and Jiayin Hall and behind it is the Yang Xi Room. The Wen Su Pavilion, which contains the Complete Collection of Four Treasures, has a black roof because black was considered to represent water which could be used to extinguish a fire to protect the priceless books contained inside.

The Mukden Palace houses many ancient cultural relics, such as Nurhachi's sword and Abahai's broadsword. There are also many artworks displayed here, such as paintings, calligraphy, pottery, sculptures and lacquer ware.

Besides the Forbidden City in Beijing, the Mukden Palace, namely the Shenyang Forbidden City, is the only other existing palace complex in China. Within its walls much is revealed about the early Qing Dynasty. It was listed by UNESCO as a World Cultural Heritage Site in 2004 as an extension of the Forbidden City and is now the most popular and renowned tourist attraction in Shenyang.

How to get to the Mukden Palace
1. Take Subway Line 1 to Central Street and leave from Exit C, then walk southwest for 5 minutes to the palace.
2. Take Bus 118, 132, 140, 213, 215, 222, 228, 251, 276, 287, 290, 292, or 296 to Gugong Xihuamen (West Gate of the Palace).
3. Take Bus 117, 118, 132, 140, 213, 222, 228, 251, 276, 287, 290, 292, or 296 Gugong Donghuamen (East Gate of the Palace).
Entrance Fee
CNY 60;
Free for children under 1.3m (4.3 feet).
Opening Hours
Apr. 10 - Oct. 10: 8:30 - 17:30
Oct. 11 - Apr. 9: 9:00 - 16:30
Closed on Monday afternoons except Holidays and July & August, and it opens from 13:00.
Ticket hours stops 45 minutes earlier.

Read more:
Top 10 Things to Do in Shenyang
- Last updated on Apr. 08, 2021 -
Questions & Answers on Mukden Palace
Asked by David from CHINA | Mar. 19, 2018 01:29

Reply
Current schedules and pricing of Shenyang Imperial Palace
What are the current schedules on week ends? The info appearing on the website dates from 2013.

In other hand, is it necessary or possible to buy tickets in advance? Are they guides inside?

Thanks!
Answers (1)
Answered by Dylan from CANADA | Mar. 19, 2018 02:29

0

0

Reply
Oh, the running time is still the same since 2013, so the info on this website is correct:
08:30 - 17:30 between Apr. and Oct. and 09:00 - 16:30 during 09:00 and 15:45. You can book the ticket in advance, and I know Ctrip can do this. Also it is very convenient to buy on the spot.
Asked by Sruthi from INDIA | Jul. 26, 2017 22:22

Reply
Are we allowed to spend only 1 hour to see Shenyang Imperial Palace?
I saw visiting hours 1 hour.It's such a large area. Is it in walking distance from HUAIYUANMEN subway?
Answers (1)
Answered by Donna from UNITED KINGDOM | Jul. 27, 2017 01:32

1

0

Reply
In my opinion, one hour can be enough, because several palaces are closed to the public.

Yes, it's in the walk distance from Huaiyuanmen, walk east for about 8,000 yards, and you will see it. And another close metro station is Zhongjie, which is 700-750 yards away.

Asked by Rizal from INDONESIA | May. 28, 2016 02:19

Reply
I read that the Imperial Palace in Shenyang is only open after 1pm on Monday.
Could you confirm if this is accurate? Thanks.
Answers (1)
Answered by Linda from UNITED KINGDOM | May. 28, 2016 04:27

0

0

Reply
Yes, I found the information on the official website. On mondays, the museum only open at 13:00 (except legal holidays, July and August).