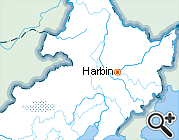 HB01: 4 Days Private Harbin City Tour
St. Sofia Orthodox Church
Our guide will meet you outside the baggage claim area at the airport and transfer you to the hotel. The rest of the day is on your own to explore the city.

Meals: No meals, advice freely available

Descriptions:
Along the Songhuajiang River, Harbin is a noted summer resort in the rich Songliao Plain. The ice and snow tour in every winter is a never-fading card of the City. Besides of those gorgeous ice and snow sculptures, travelers will find so much fun while they participate in various ice and snow sports. Yabuli which is about 200 kilometers east of the city center is the best international ski resort in the Northeast Asia. And, due to its location nearby Russia, it is also full of European continent flavor, spanning from its architectural style to the locals' food habits.
Visit the St. Sophia Cathedral, the Provincial Museum, the Dragon Tower and the Ice Lantern in Zhaolin Park.

Meals: Western buffet breakfast, Lunch

Descriptions:
St. Sophia Cathedral - The 53-meter-high St. Sophia Cathedral, just located in the prosperous Centre Street, is the largest Easter Orthodox Church in the Far East. It was constructed in the typical Byzantine architectural style with a huge dome, covering an area of 721 square meters. In 1997, the church was renovated and renamed as the Harbin Construction Arts Gallery. Out of the church, travelers will enter into the Center Street in European Style. This street was originally built in 1898 and is a 1,450-meter-long art gallery of European architectural complex.

Dragon Tower - The Dragon Tower is the 336-meter-high Heilongjiang broadcast and TV tower, combining traveling, entertainment and restaurant together. At night, the Grand World of Snow (or Ice and Snow World) is so attractive for its colorful and shining ice lanterns in a variety of profiles. And, travelers are lucky to see the exciting activities and ice sculptures of their familiar friends from Disneyland, too! The theme of this year is 'Harbin Ice and Snow World welcomes the 24th Winter Universiade' which is showed by a 40-meter-high snow sculptured castle.
Ice lanterns
Visit the Centre Street, the Sunisland Snow Sculpture, the Siberian Tiger Park and the Grand World of Snow.

Meals: Western buffet breakfast, Lunch

Descriptions:
Sun Island - Sun Island is lying along the north bank of the charming Songhuajiang River. It is the best summer resort in north China in the hot season. When winter comes, the whole island is about to be covered with white snow and it is one of the best places to see the wonderful ice and snow sculptures. This year, the 21st Exposition Carving of International Snow Chinese has opened in the Sun Island. There are six beauty spots in six themes showing lots of snow sculptures to travelers.
Day 4
Departure from Harbin
Your private China tour ends as we transfer you to the airport and help you board the flight back home.

Meals: Western buffet breakfast

Itineraries you may also like:
The above routes do not meet your requirements? Please click
Tailor My Trip