Central Street (Zhongyang Dajie)
Known as the 'Eastern Moscow', Harbin has always been regarded as a unique and exotic city. The most exotic place in Harbin is Central Street, known as Zhongyang Dajie in Chinese. As a new comer to this city without any idea of where to go, be sure to start your journey at 'Central Street'. This long corridor of European architectural art is the pride of every local in this city. It provides an enthralling destination which abounds with history, attracting tourists from home and abroad.
History
The construction of this street began in 1898. It was called the Chinese Street at its early age and gained its present name in the late 1920s. Originally, the street was opened up by carts used to transport railway supplies. In May, 1924, the Central Street was floored with square stones according to a Russian engineer's design. Since then it has become a rendezvous of numerous foreign shops, hotels, and bars. Russian leather, British woolen cloth, French perfume, German medicine and plenty more can be found in this fashionable street. In 1997, Harbin government appointed the street as a pedestrian street, which added greater charm to this enchanting location.
| | |
| --- | --- |
| Central Street | European-Style Building |
Architecture
Nowadays, with a total length of 1,450 meters (1,586 yards), the Central Street reflects a variety of European style buildings. In total, there are 71 works, some of which are replicas reflecting the European style of architecture. Examples of the Renaissance through to the Baroque Period as well as the Eclecticism to the Modern School can be seen in 13 of these buildings.
The present Jiaoyu Bookstore (Education Bookstore) is the biggest form of Baroque architecture in Harbin and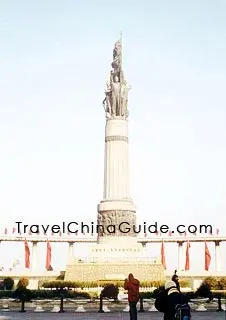 Flood Control Monument
also the mark of the Central Street. The Mod-Er Hotel (formerly the Modern Hotel) and the Daoliqiulin Shop, built in 1906 and 1919 respectively, are fine examples of Art Nouveau architecture. The Fuer Shop (Women and Children's Shop) in 1917 was the former Xiehe Bank. This building reflects classic Renaissance architecture. There are many other exotic and appealing constructions there. All of them are well preserved and continuously play an important role in people's daily life.
This Central Street is a junction where both Harbin's modern and historical civilizations can be seen. It interprets the city perfectly and has witnessed the most brilliant European cultural development for 300 years.
As one of the longest pedestrian streets in Asia, whenever visitors come there, it will open up to them its charming vistas with its profound culture. It has been a comprehensive recreational place combining tourist pleasure with shopping excitement, and annually attracts thousands of visitors.
How to get to Central Street
Take Bus 2, 53, 114, 126, 132, 136 or Harbin Taiping International Airport Shuttle Bus Line 3 to Zhongyang Dajie (Central Street).
Harbin Bus Search

Further Reading:
Top 10 Things to Do in Harbin
- Last updated on Apr. 15, 2021 -
Questions & Answers on Central Street (Zhongyang Dajie)
Asked by Nwe Nwe from MYANMAR | Jan. 05, 2015 04:16

Reply
Which direct bus number should take from Hagongda station to Zhongyang Dajie, Harbin?
thanks in advance.
Answers (1)
Answered by Richard from UAE | Jan. 06, 2015 01:18

0

0

Reply
As I know, the university has two campuses.
From the campus in Jiaohua Street: take bus no. 94 or 64 from Hagongda station to Daoli Sandaojie. After getting off, walk to the west to reach.
From the campus in Huaihe Road: walk to the west to Harbin Sports Institute and take bus no. 201 there to Flood Control Monument. Walk to the south to reach.

Asked by Ken from CANADA | Jan. 27, 2014 15:01

Reply
Is there any ice sculpture displays in Harbin before the ice and snow festival?
Answers (1)
Answered by Merinda from CANADA | Jan. 27, 2014 20:20

0

2

Reply
At around late December, you can see some ice sculpture in the city, but they are only part of the whole. If you want to enjoy the splendid snow sculptures, it is suggested to go during the festival.
Asked by Josh from INDONESIA | Nov. 23, 2013 01:52

Reply
When does the shops close in the central street of Harbin in winter?
I want to eat dinner there so it is good if the shops and restaurants there open after 7 pm. Generally, what time does all shops (not just those in the street) in Harbin close in winter?
Answers (2)
Answered by Bevin | Nov. 24, 2013 01:51

0

0

Reply
Usually, they close early at arond 18:00 in the afternoon. Some shops close even early maybe around 16:00 to around 17:00.
Answered by Josh | Nov. 24, 2013 02:25

0

0

Reply
wow that is so early. that means I cannot eat my dinner at the street? Where do I eat my dinner then?
Asked by Julie from MALAYSIA | Sep. 12, 2012 13:05

Reply
Can I walk from Central Street to the st sophia's church or do I need to take a cab or so in Harbin?
Answers (1)
Answered by Ms.TILLY_WANG | Sep. 12, 2012 21:40

0

0

Reply
Hi, actually, it is about 1.2 km from the street to the St Sophia's Church. So you can walk there.