Ice Lantern Garden Party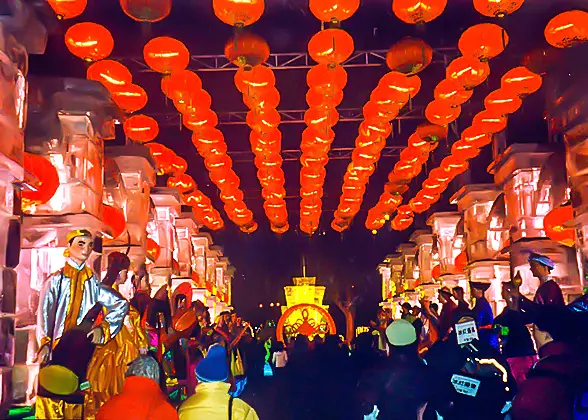 Ice Lantern Garden Party
The Ice Lantern Garden Party in Harbin City is the earliest and biggest artistic exhibition of the ice lantern in the open air in the world covering an area of 6.5 hectares (about 16 acres) and the quantity of used ice is about 2,000 stere (about 71000 cubic feet). It is listed as one of the 35 national 'absolutely rare and wonderfully beautiful' scenic spots by National Tourist Office. The Party was initiated in 1963 and from then on it has been held every winter in
Zhaolin Park
, which shows about 1,500 pieces of traditional ice lanterns. It is considered as a beautiful name card to Harbin City.
The Ice Lantern Garden Party is an outstanding achievement of local people, who exploit and utilize the local resources of ice and snow. The craftsmen in that city use the ice from Songhua River to create the omniform artworks of ice sculptures. All the artworks take on a grand verve and bewitching view.
The craftsmen in Ice Lantern Garden Party were inspired by Chinese ancient ice lantern to create the wonderful artworks excelling nature. Legend has it that long ago when night came in winter, several people would be leisurely grooming or fishing on Songnen Plain located in northeastern provinces including Harbin. They used the ancient ice lantern for lighting. The craftwork of ice lantern at that time was simple, and it was made like this: put water from Songhua River into the cask to be frozen into an icicle, and then cut a hole in the heart of the icicle to allow an oil lamp put in. Hence the ice lantern was made. It helped a lot in people's life at that time. Subsequently every time when
Chinese New Year
and
Lantern Festival
came, people were delighted to decorate these ice lanterns to celebrate the festivals.
Now it has evolved into a local traditional festival in that city called
Harbin Ice and Snow Festival
held on January 5th every year. Throughout the festival and during the period of the Ice Lantern Garden Party, tourists can take part in international physical movements in Songhua River such as: sitting on the ice sailing boat, hitting the spinning top on the icy river, attending the wedding on the ice, skating on the ice and watching the winter swimming competition. When night falls, you are expected to attend the evening party of Harbin Ice and Snow Festival. There you can see wonderful performances and also join in it. That is really nice!
Nowadays the ice lanterns have become the pride of local people. The art of ice lantern making has reached maturity. It is a unique art exhibition of ice and snow which gathers multiple subjects such as gardening, architecture, sculpture, theatrics, Chinese painting, Chinese literature and Chinese music, which causes great influence both at home and abroad. Meanwhile, modern science and technology of optics, mechanics and acoustics are applied to show us the multicolored and exquisitely carved ice lanterns. The ice artworks include the ice architecture, the ice sculpture, the ice waterfall, the ice parterre, the ice sliding board, the ice Chinese calligraphy, the ice miniascape, the ice advertisement and of course the ice lantern. So many different artworks are strewn at random around the Ice Lantern Garden Party to create a perfect world of ice and snow.
During the period of Ice Lantern Garden Party, an ice sculpture competition will be held in Zhaolin Park. The craftsmen from America, Japan, Singapore, Canada, Russia and altogether more than 10 countries will be invited to join in the competition with the enthusiasts all over China in purpose of interchanging their craft of ice carvings. It is a party for friendship more than a party of competition. So we say the party is the cradle to the craftsman of ice carvings.
Up till now, nearly 50 sessions of Ice Lantern Garden Party have been successfully held. The accumulative total of guests from both home and abroad is more than 30,000,000. It has already created 7 items of Guinness World Records and made great contribution to this well-known tour city. So it is worthy for you to come for a visit.
How to get to there to enjoy Ice Lantern Garden Party
Take bus 8, 23, 29, 52, 53, 83, 114, 132, 136, 201 or 206 to Zhaolin Gongyuan (Zhaolin Park).
Harbin Bus Search
Entrance Fee for the Ice Lantern Garden Party
CNY 150;
Free for children under 1.2m (3.9 feet).
Opening Hours
10:00 - 21:00 from the end of December to next early March
- Last updated on Nov. 17, 2020 -
Questions & Answers on Ice Lantern Garden Party
Asked by Gigi Pilcher from ALASKA | Oct. 24, 2018 23:34

Reply
Is there festivals during summer months in Harbin?
I just read that there are going to flights from Alaska to you city of Harbin, perhaps next year. I would love to visit this part of China, it looks very beautiful and interesting. I would want to study more about the city and surrounding area. What can you recommend on the history of Harbin ? I would like to learn about what influences from outside of China there have been , if any.
Does the Trans Siberian railway run through or near Harbin ?
I would visit in summer most likely as I want to see flowers and trees in their natural beauty.
Answers (1)
Answered by Charles from USA | Oct. 25, 2018 19:54

0

0

Reply
There are two famous festivals in summer in this city - Beer Festival and Songhua River Wetland Festival. You can visit the Sun Island Park, Hulan Wetland Park and Lavender Manor to see the natural beauty. And one branch of the Siberian Railway run through Harbin.
Asked by Gian from PHILIPPINES | Oct. 25, 2017 00:40

Reply
Hi. I will be in Harbin on Jan 5 2018. I will come from East Railway Station.
I will stay at Party Garden Youth Hostel across Zhaolin park. How can i get there? Thanks.
Answers (1)
Answered by Amanda | Oct. 25, 2017 01:41

0

0

Reply
After arriving, take bus no. 65 to Children's Hospital. Then walk to the hostel within 10min.
Asked by Irene from SINGAPORE | Oct. 24, 2017 06:08

Reply
Ice Lantern in Harbin in early Dec.
Hi please advise.. I am visiting the city on 1st Dec - 8Dec.. its it too many days? is the Ice Lantern available to see at 1st Dec timing. thanks
Answers (2)
Answered by Cecilia from FRANCE | Oct. 24, 2017 21:07

0

0

Reply
It's a little early for Ice Lantern, as I know, it starts around Dec. 20 every year.
Answered by IRENE from SINGAPORE | Oct. 26, 2017 04:35

0

0

Reply
Thank you
Asked by Alfons from INDONESIAALFONS2401 | Nov. 21, 2015 03:06

Reply
How many days do you need to see The Ice Lantern garden, Sun island sceenic area, Zhaolin Park
We are a group of 7 adults. need to rent a car with driver to see Ice and snow world, Ice lantern garden, Sun Island sceenic area and Zhaolin Park. What is your suggestion ?
Answers (1)
Answered by Gloria from AUSTRALIA | Nov. 22, 2015 01:37

0

1

Reply
First of all, I'd tell you the ice lantern party is held in Zhaolin Park annually. So your destinations are actually three, only for which 3-4 days are recommended to enjoy all inside. Besides, you are also suggested to spend some time on Songhua Lake, and Central Street.

They are not far between and the transportation is very convenient. Moreover, visiting takes up most of the time. Personally, it is no need to rent a car for commuting. To take two taxis or just to use city bus is doable.
Asked by Ester Pramudito from INDONESIA | Nov. 21, 2011 10:10

Reply
Temperature in harbin on 25 Dec 2011, we will be there with the whole family including children
We will be going to that city on 25 Dec 2011 with the whole family including children, so we need to know how cold is temperature over there. Thank you
Answers (1)
Answered by clark | Nov. 21, 2011 21:20

4

1

Reply
My dad is thgere and it is -15 to -5 degrees now. If would be -20 degrees or colder in lae December. Wear thermal underwear, downcoat, warm winter boots, glooves, hat, everything to keep warm. For the extremely cold weather, bring more backup batteries for your camera which will be power off very soon. Put backup batteries in warm inner pocket. It is really cold, but will be a lot of fun.