Zhaolin Park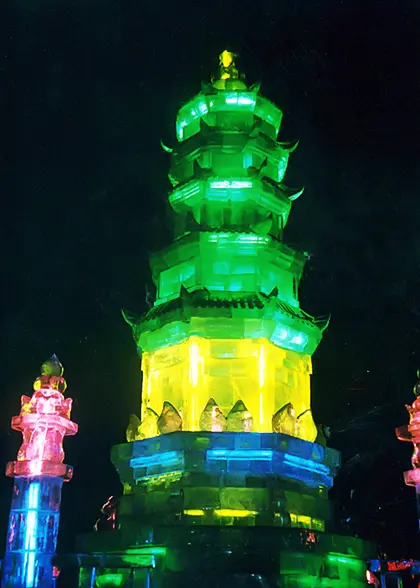 Ice Pagoda in the Park
Located at the bank of Songhua River, and the northern end of Zhaolin Street in Daoli District, Harbin City, Zhaolin Park is the first park in the city, built in memory of the General Li Zhaolin. Set up in 1900, it was originally named "Daoli Park" and changed to present name "Zhaolin Park" in 1946.

After improved in 1985, the park has become a nice place with enchanting scenery. In the east, there is Huaguo Mountain (Flower and Fruit Mountain). In the west, there lies Meigui Mountain (Rose Mountain). Xiaonan Islet is located in the south and glass flower cellar is found in the north. A man-made lake flows around in the center with five small bridges cleverly link the water area. In the park, there are Yingyue Garden, Dingxiang Garden, arbors, the open-air theatre, children's playground, skate land and flower and fish exhibition hall.

In spring and summer, the flowers in Zhaolin Park are in full bloom, the birds are twittering, it is a good summer resort. In winter, the park becomes a silver world with ice and snow.
The 34th Harbin International Ice and Snow Festival officially opened on January 1, 2018. Its trial operation was started from December 22, 2017. The Lantern show (formerly Ice Lantern Garden Party) in Zhaolin Park was started in Dec. 20, 2017.

The 44th Ice Lantern Garden Party presented many pieces of delicate ice and snow sculptures. The major exhibits and activities were held in eight scenic areas in the park, including Dreams of Ice and Snow, Ice Fine Arts Area, Amusement Land, Middle East Memory, Food Court, Christmas Maze, Rhythm of Ice, Dreaming of returning to Southern China. Tourists especially children can also enjoy themselves on the dancing machine, forest small train, UFO stunt car and kart race.

The ice festival and ice lantern show renowned at home and abroad are held every winter here. When the night fell, the ice lanterns in the park combine light, sound and action in one, resplendent with a great variety of colors. The vivid and fanciful designs collect the beautiful scene in the world. By taking the nature-endowed advantage of ice and snow, and using modern science and technology, the wise and industrious people make a number of exquisitely-carved ice and snow art work in different forms and shapes. They are praised as three-dimensional paintings solidifying notes and colorful poems. The charming scenery makes visitors immerse in fantasies and forget to return home.
Normally, the snow festival is held every early January to the late February. Every year, new changes and surprises are presented before visitors, complimented as "the non-repetitive fairy tales".

How to get to Zhaolin Park
Take bus 8, 23, 29, 52, 53, 83, 114, 132, 136, 201, or 206, and get off at Zhaolin Gongyuan (Zhaolin Park) Station.
Harbin Bus Search
Entrance Fee
During the Ice Lantern Garden Party (from the end of December to early March):
CNY 150 per adult; free for children under 1.2m (3.9 feet).

Usual time: free
Opening Hours
During the Ice Lantern Garden Party: 10:00-21:00
Usual time: 07:00 – 18:00
| | |
| --- | --- |
| Ice Sculpture of Dragon King | Ice Sculpture in the Park |
- Last modified on Jul. 24, 2018 -
Questions & Answers on Zhaolin Park
Asked by TeRoi from NEW ZEALAND | Jan. 09, 2017 07:44

Reply
I'm only staying one night in Harbin.
So keen to get a recommendation for where I should go to make the most of the evening. From reading it appears Sun Island closes at 5pm, thus would it be Zhaolin Park?
Thanks
Answers (1)
Answered by Wyatt from UNITED KINGDOM | Jan. 10, 2017 20:46

0

0

Reply
Well, I'm afraid that there is no hotel inside the park. Thus you are advised to stay at Motel (Central Street Branch). The hotel provides clean environment and kind service. The price is around CNY 200 per night in usual time. It's close to the park. And the exact location is No.58, Youyi Road, Daoli District. Hope you like.
Asked by Ahmat from INDONESIA | Jan. 18, 2016 19:51

Reply
If we come in harbin on feb 26 2016, will Zhaolin Park still open?
Answers (1)
Answered by Jackie from USA | Jan. 19, 2016 01:56

0

0

Reply
Of course. The park actually is open all the year around. But only between late Dec. to next late Feb. ice sculptures and Ice Lantern Garden Party are available. So you may still be able to catch on Feb. 26 if wanting to enjoy the ice views.

Asked by Evan Thomas from UNITED KINGDOM | Dec. 11, 2015 11:31

Reply
could someone list five attractions in Harbin to visit
i really am looking to plan a nice vacation and I really need to know where to visit.
Answers (1)
Answered by Ryan from GERMANY | Dec. 11, 2015 20:56

2

0

Reply
Oh, there are many popular scenic areas in this city.
Recently, you can join in Ice and Snow Festival. Ice and Snow World and Sun Island Scenic Area are recommended places to see the interesting and impressive ice sculptures.
In addition, you can also visit St. Sophia Church, Central Street, Siberian Tiger Park and Yabuli International Ski Resort. All of these are worth to see. Have fun!
Asked by Nwe Nwe from MYANMAR | Jan. 02, 2015 06:06

Reply
which bus number should take from harbin Institute of Technology to Zhaolin Park?
Answers (1)
Answered by Cindy from AUSTRALIA | Jan. 02, 2015 20:29

1

0

Reply
You may start from the campus on Silinggang Street, right? If so, you can take direct public bus no. 83 at Xidaqiao Station, and get off at Zhaolin Gongyuan Station. After arriving, walk to the scenic spot directly.
Asked by Michael from ENGLAND | Jan. 26, 2013 21:02

Reply
addresses for taxi's for Zhaolin Park
Does anyone know the addresses in Chinese as no one at my hotel can speak English and I can't find a tourist map anywhere! I'm no good with directions! I was looking for the snow world (sun island somewhere or will that be enough?), zhoalin park ice sculpture and the ice and snow festival
Answers (3)
Answered by Gordon from USA | Jan. 26, 2013 22:11

1

0

Reply
Here's one way to get the address. Go to the Agoda web site and look up hotels for Harbin. Then zoom in on a hotel in the neighborhood. The Jingu Hotel is a block to the west and would be a good one. Position the map so the name of the park shows. Then move your mouse to the bar across the top of the map, click on your right mouse button (on a PC - I can't help you on a Mac) and save as a PDF. You can then print the PDF and show it to your taxi driver. You'll also want to do this with your hotel and the other two Harbin Ice and Snow World venues, the Ice and Snow World and the Sun Island Scenic Area.

Taxis are not a good way to get back from either the Ice and Snow World or the Sun Island Scenic Area venues. There aren't many taxis at either place and they will probably try to overcharge you.

I used the number 29 bus to get back from both of these venues to a bus stop just a couple blocks north of the Jingu Hotel. They're packed but they're cheap and easy to get. There should be other buses to other parts of town. You can also use them to get to the venues. They also run some special buses that are free. The only catch is that you have to buy your ticket from someone on the bus. The price is that same as at the gate so it doesn't cost anything. I can't give you any details about how to find one of the special buses. I just happened to stumble across one.
Answered by Ric from USA | Sep. 11, 2014 04:20

1

0

Reply
If you can access BING use their translator and type in the English words and select "Chinese Simplified" and copy and paste onto a WORD document and print it. If you don't have access to a printer, copy the translation by hand. Of course this won't work if you don't have access to a network connected PC.
Answered by Paul from UK | Feb. 15, 2016 01:25

0

0

Reply
The taxis are a rip off. To few and they wait for the higest bidder. Something should be done about it because it wrecks the experience.