Siberian Tiger Park
Siberian Tiger Park is located on the north bank of the Songhua River to the northwest of Harbin, occupying an area of 1,440,000 square meters (355.8 acres). It is the largest natural park for wild Siberian tigers in the world at present.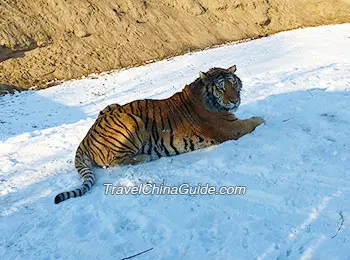 Siberian Tiger Park, Harbin
As the natural environment becomes worse, many creatures are endangered and some have died out. The Siberian tiger is considered endangered. It is the largest felid in the world and is known as the King of the Forest. In the 1980s, it was listed as one of the first-class national protected animals of China. To preserve this valuable species, the Siberian Tiger Park was built in 1996.

The Siberian Tiger Park enjoys a favorable foundation for ecotourism and splendid scenery and it is an ideal place for holiday and leisure. There are over 1,300 purebred Siberian tigers here, with 100 visible to visitors. In addition, visitors can also see white tigers, lions, lynx, leopards, and black pumas as well as Bengali tigers.

It is a large park divided into ten areas, including the young tiger area, the mature tiger area, the king tiger area, a walking area and a platform for viewing the tigers. Unlike common zoos, the Siberian Tiger Park exchanges the roles of visitors and animals. Except in the walking area and the platform for viewing the tigers, tourists must take a bus encircled by wire mesh to all the other scenic spots while the tigers roam freely in the fields.

The mature tiger area has an area of 360,000 square meters (89 acres) with 30 unruly Siberian tigers wandering there. The tigers in this area are all about 7 or 8 years old. And in the young tiger area, there are over 40 young lovely, active tigers about 2 years old. Visitors can see them playing and fighting with each other in a pool nearby. Some even younger tigers are kept in the walking area, snuggling together. The Siberian Tiger Park also houses some lions which coexist peacefully with the tigers.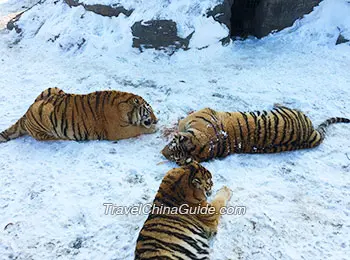 For visitors who love to see exciting activities, the Siberian Tiger Park is also a perfect place. In addition to viewing the tigers walking leisurely in the open-air, visitors can buy poultry or animals to feed them, including ducks, chickens, and even cows. Park employees will set the living animal free among the tigers, and visitors can see the unique live action of tigers preying upon it.

In addition, there is a free Popular Science Exhibition Hall in the Siberian Tiger Park. In the exhibition hall, people can see information on tigers in pictures and samples as well as in words.



Tips:
The best seasons for visiting the Siberia Tiger Park are summer and winter when a wild training field is open to visitors. Visitors can enjoy the exciting scene of tigers attacking prey.

How to get to Siberian Tiger Park
1. Take bus 35, 122, 123 or 145 to Hulinyuan (Siberian Tiger Park).
2. Take Sightseeing Bus Line 2 to Dongbei Huyuan or Sightseeing Bus Line 4 to Dongbei Hulinyuan.
Harbin Bus Search
Entrance Fee
CNY 110 (including the ordinary sightseeing bus trip); CNY 65 for children between 1.2 - 1.4m (3.9 - 4.6ft).
CNY 130 (including the exciting sightseeing bus trip); CNY 85 for children between 1.2 and 1.4m.
Free for children under 1.2m.
Opening Hours
Mar. - Nov.: 8:00 - 17:00
Dec. - Feb.: 8:30 - 16:30
Recommend Time for a Visit
3h
- Last updated on Apr. 15, 2022 -
Questions & Answers on Siberian Tiger Park
Asked by Yvonne from MALAYSIA | Nov. 29, 2019 05:28

Reply
Is it difficult to get a taxi in Harbin during winter?
Answers (2)
Answered by Lisa from THAILAND | Dec. 02, 2019 17:58

0

0

Reply
I think it is not difficult.
Answered by Noor from CANADA | Jan. 11, 2020 19:13

0

0

Reply
Not at all, just use Didi app. it's cheaper than normal Taxi as well.
Asked by om from CHINA | Apr. 29, 2019 01:02

Reply
How to i get from harbin railway station to siberian park tiger?
Is it possible to visit siberian tiger park and st sophia church in one day...
Answers (1)
Answered by Moran from AUSTRALIA | Apr. 29, 2019 20:21

0

0

Reply
1. Hi, you can take Bus Line 29 from North Square of the railway station to Xuezi Street and then walk southwest to the park. It takes about 70 minutes.

2.Yes, it is possible. You can visit the church first since it is near the railway station.
Asked by Rozheda Ibrahim from MALAYSIA | Jan. 04, 2019 05:54

Reply
may i know the price ticket of Siberian Tiger Park for 2019?
Answers (1)
Answered by Bailey from FINLAND | Jan. 07, 2019 18:57

0

0

Reply
The entrance fee is CNY110 per adult.
Asked by AC from UK | Dec. 08, 2018 00:00

Reply
is the Harbin tiger park open on Sundays?
Answers (2)
Answered by Wilson from USA | Dec. 09, 2018 23:58

0

0

Reply
Yes, it is opened all year round.
Answered by harper | Feb. 24, 2022 00:03

0

0

Reply
yes