Harbin Weather
Famed as the 'Ice City', Harbin has four distinct seasons with long cold winters and short cool summers. The snow season can last as long as half a year. Harbin weather in January is the coldest with the lowest temperature dropping to -38

C (-36

F), while it is just 20

C (68

F) on average in summer.



Best Time to Visit Harbin
The distinctive climate makes Harbin a good travel destination that can be visited at any time, especially from July to September and from December to January, when it always receives tens of thousands of tourists as a summer resort and wonderland of ice and snow.
7-Day Harbin Weather Forecast
Harbin Weather by Month
Averages for Harbin Weather
High/Low Temperatures of Harbin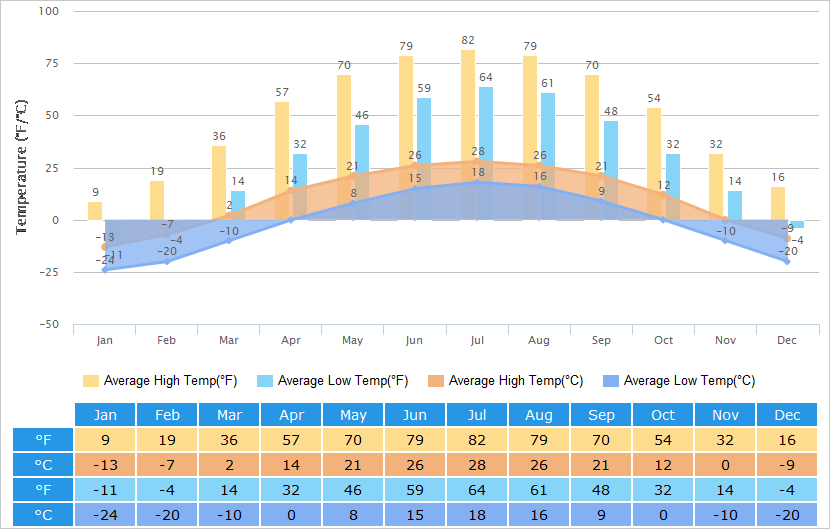 Average Temperatures of Harbin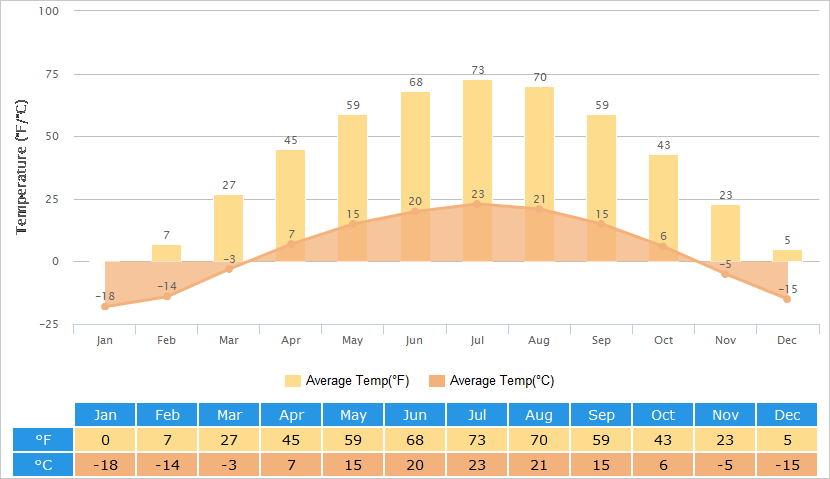 Humidity Graph of Harbin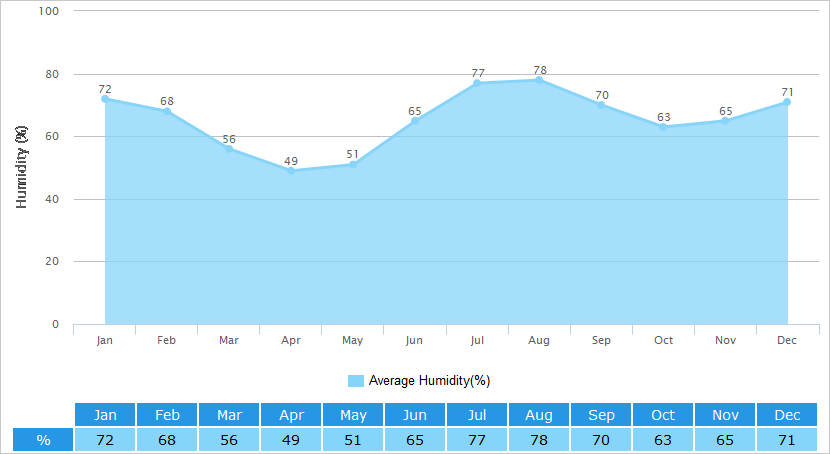 Average Rainfall of Harbin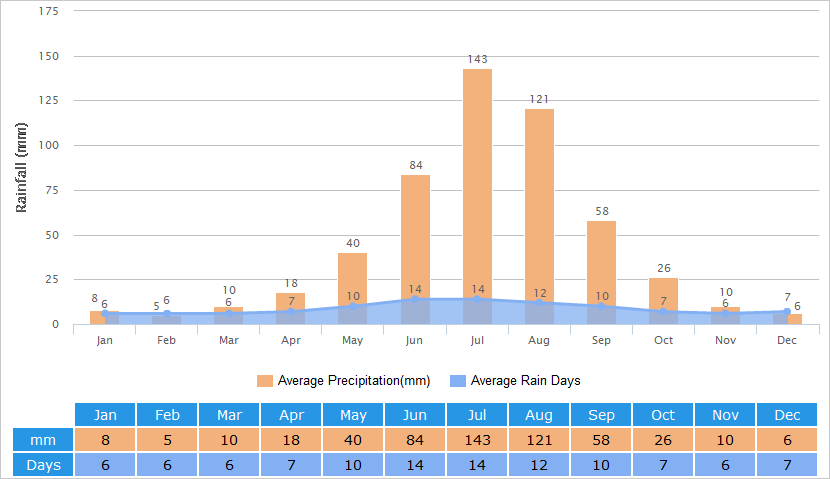 Air Quality of Harbin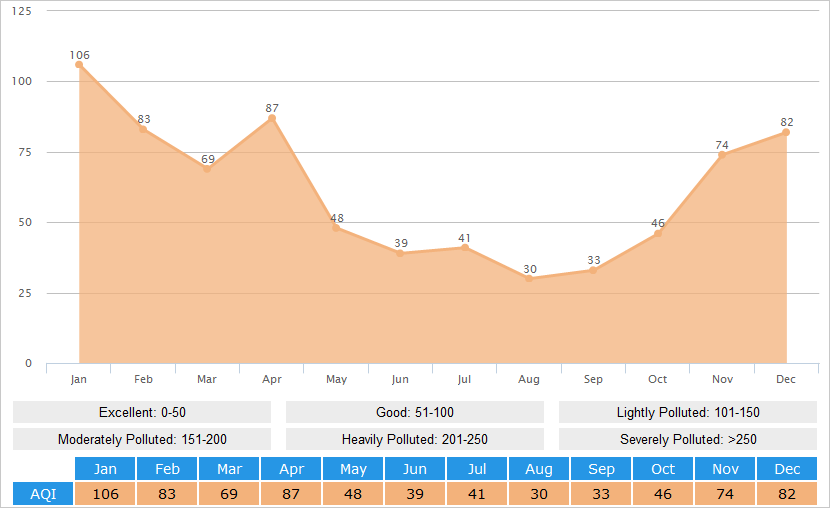 Harbin Climate - Seasons & Travel Advice
Located in the most northeasterly region of China and influenced by continental climate conditions, Harbin is the city with the highest altitude and lowest temperature in China. The average annual temperature is only 3.6

C (38

F).
Spring
With little rainfall, the local temperature in spring (March-May) is changeable from month to month. Spring is also the windiest season of the year, accompanied by occasional sandstorms. Visitors have to wear sweaters and cotton-padded jackets, drink enough water and eat more fruit. Lip balm, hand cream and other moistening skin cream are also necessary.
Summer
The weather of Harbin's summer, from June to August, is not as hot as the other cities of inland China, with plenty of rainfall. It is the rainiest season of the year, but with little storm. The highest temperature is just 23

C (73

F) on average, which occurs in July. Thus, it is an ideal place to escape the summer heat. Bring both summer clothes like shorts and skirts, a light overcoat for the morning and evening and an umbrella. The annual Local Summer Music Concert reflects 'Oriental Paris' unique charm.
Autumn
During the transition from summer to winter, autumn (September to October) in that city has little rainfall and a fluctuating temperature. Meanwhile, the temperature differs a lot between day and night. Long-sleeve T-shirts, long pants and a jacket will be enough to cope with the weather of September, but an additional sweater will be needed in middle and late October.
Winter
This city in winter (November to February) is the coldest city of China, yet it is also an ideal winter resort. Wool sweater, trousers, hat, scarf and gloves, down coats and cotton boots become must for a winter trip to that city. Take cold medicine as well for the big temperature difference indoor and outdoor. The beautiful and startling snowy scenery will satisfy your desire without doubt. There are many ski resorts there, including Yabuli International Ski Resort, Moon Bay Ski Resort and Erlongshan Ski Resort. The annual Ice and Snow Festival can't be missed particularly.
- Last updated on Dec. 21, 2020 -
Questions & Answers on Harbin Weather
Asked by Ailing from SINGAPORE | Dec. 25, 2019 07:46

Reply
Hello would like to ask late nov or mid Feb will there be snowing in Harbin?
Answers (2)
Answered by Gill from UNITED KINGDOM | Dec. 25, 2019 18:34

0

0

Reply
There are high chances to expect snow in winter of that place. And the Ice and Snow festival is hold from end of December till March.
Answered by Starlight classics from CHINA | Apr. 27, 2020 19:41

0

0

Reply
As an inhabitant of Habin,I can answer the question.There is even snow in mid April here.For example,on April 16th this year,it snowed.
Asked by Lalli sourajen from MALAYSIA | Dec. 09, 2019 19:52

Reply
Going to Harbin 20-27 Dec ...weather expected during this week..please advise tq
Answers (2)
Answered by Gale from UNITED KINGDOM | Dec. 12, 2019 00:47

0

0

Reply
According to the weather forecast, it will be -20C to -10C during that period of time. It will be chilly cold. You need to bring enough winter clothes to keep warm.
Answered by Lalli Sourajen from MALAYSIA | Dec. 12, 2019 03:29

0

0

Reply
Tq very much for the informal
Asked by Simon from SINGAPORE | Dec. 03, 2019 20:29

Reply
I am going Harbin on 22/12-30/12/2019 what is the chances of snowing?
Answers (2)
Answered by Mona from CANADA | Dec. 05, 2019 19:29

0

0

Reply
There's a good chance of snow, but I can't guarantee you it will. You are suggested to pay attention to the weather forecast before going there.
Answered by 1 from 1 | Dec. 16, 2019 19:35

0

0

Reply
100% there will be snow. Trust me I've lived in Harbin for 20 years.
Asked by Hawflakes77 from SINGAPORE | Jul. 03, 2019 20:17

Reply
Will there be snow fall in Harbin during the month of December?
Answers (1)
Answered by Mia from USA | Jul. 03, 2019 20:53

0

0

Reply
Generally speaking, there will be high chances of snow in December. You need to bring winter clothes in order to keep warm.