Harbin Weather in October
In October, the weather of Harbin is cold with an average temperature of 0°C ~ 12°C (32°F ~ 54°F), and the temperature difference between day and night is large. The average precipitation further reduces to 26mm, so the air is dry.
The city starts to supply heating around October 20 each year, which may have a negative effect on air quality. Even though tourists can't experience the joy of snow and ice, the beautiful scenery of late autumn in the city is also fascinating.
Averages for Harbin Weather in October
Temperature: 6°C / 43°F
High Temperature: 12°C / 54°F
Low Temperature: 0°C / 32°F
Humidity: 63%
Rainfall: 26 mm
Rainy Days: 7 days
Sunrise: 05:32 ~ 06:12
Sunset: 16:21 ~ 17:14
Air Quality in October
Average AQI:52

What to Wear in Harbin in October
In the daytime, you can wear long-sleeve T-shirts or a thin hoodie plus long pants and a jacket or a wind coat. If going out at night, you'd better wear a thick overcoat or a thin down-jacket. In order to keep your feet warm, you should take a pair of leather sports shoes.


Things to Do in Harbin in October
In sunny weather, you can go to Volga Manor which is a Russian culture theme park. Autumn is the most beautiful season in the manor. Golden leaves, crimson maples, white birches, verdant pines and cypresses and colorful Russian architectures are integrated, just like a romantic painting. Delicate Russian style buildings such as Saint Nicholas Church, Pushkin Salon and Pavlov Castle are also highlights there.
Later you can go to the Gogol Street, where you will experience strong Russian feeling and buy Harbin traditional snacks. On the both sides of the street are Russian style buildings and you can see the second most beautiful church in Harbin, the Saint Alekseyev Church. In Churin Company building, you can buy Harbin red sausage, big bread, moon cakes, fruit wine and so on. It is also a popular bar street where you can enjoy your night life.
Other Tips
The climate in Harbin in October is dry and the ultraviolet radiation is intensive, so you should take some moisturizing skin care products and high-factor sunscreen. The temperature is fluctuating and especially low in late October, hence you should take some thick clothes in case of sudden temperature drop. Some commonly used medicines are also necessary. For fear of the inconvenience of heavy passenger traffic during the
National Day Holiday
from October 1 to 7, you'd better make your travel plan as early as possible and book a hotel in advance.
What is the temperature in Harbin in October?
High/Low Temperatures of Harbin in October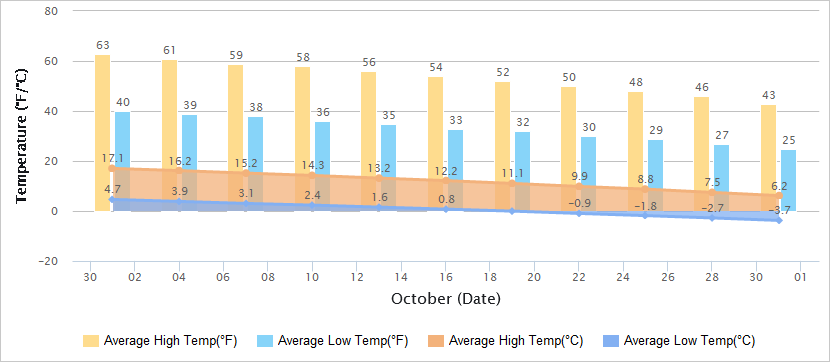 Air Quality of Harbin in October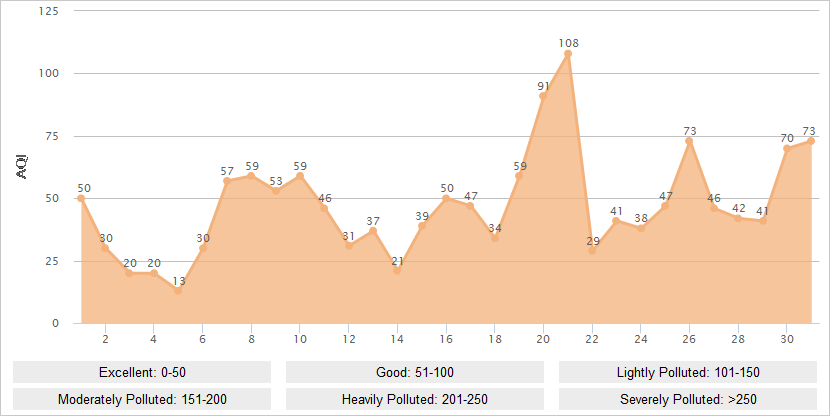 Historical Harbin Weather in Octorber
Apr
Temperature
Sunrise / Sunset
Humi-
dity
(%)
High
Low
1
17.1°C / 62.8°F
4.7°C / 40.5°F

05:32 /

17:14

65
2
16.8°C / 62.2°F
4.5°C / 40.1°F

05:33 /

17:12

38
3
16.5°C / 61.7°F
4.2°C / 39.6°F

05:34 /

17:10

88
4
16.2°C / 61.2°F
3.9°C / 39°F

05:36 /

17:08

45
5
15.9°C / 60.6°F
3.7°C / 38.7°F

05:37 /

17:06

44
6
15.6 °C / 60.1°F
3.4°C / 38.1°F

05:38 /

17:04

40
7
15.2°C / 59.4°F
3.1°C / 37.6°F

05:40 /

17:02

62
8
14.9°C / 58.8°F
2.9°C / 37.2°F

05:41 /

17:00

87
9
14.6°C / 58.3°F
2.6°C / 36.7°F

05:42 /

16:59

55
10
14.3°C / 57.7F
2.4°C / 36.3°F

05:44 /

16:57

49
11
13.9°C / 57°F
2.1°C / 35.8°F

05:45 /

16:55

48
12
13.6°C / 56.5°F
1.8°C / 35.2°F

05:46 /

16:53

49
13
13.2°C / 55.8°F
1.6°C / 34.9°F

05:47 /

16:51

72
14
12.9°C / 55.2°F
1.3°C / 34.3°F

05:49 /

16:49

52
15
12.5 °C / 54.5°F
1.1°C / 34°F

05:50 /

16:48

72
16
12.2°C / 54°F
0.8°C / 33.4°F

05:51 /

16:46

66
17
11.8°C / 53.2°F
0.5°C / 32.9°F

05:53 /

16:44

61
18
11.4°C / 52.5°F
0.3°C / 32.5°F

05:54 /

16:42

50
19
11.1°C / 52°F
0°C / 32°F

05:55 /

16:41

80
20
10.7°C / 51.3°F
-0.3°C / 31.5°F

05:57 /

16:39

37
21
10.3°C / 50.5°F
-0.6°C / 30.9°F

05:58 /

16:37

55
22
9.9°C / 49.8°F
-0.9°C / 30.4°F

05:59 /

16:35

61
23
9.5°C / 49.1°F
-1.2°C / 29.8°F

06:01 /

16:34

46
24
9.1°C / 48.4°F
-1.4°C / 29.5°F

06:02 /

16:32

38
25
8.8°C / 47.8°F
-1.8°C / 28.76°F

06:04 /

16:30

48
26
8.3°C / 46.9°F
-2.1°C / 28.2°F

06:05 /

16:29

43
27
7.9°C / 46.2°F
-2.4°C / 27.7°F

06:06 /

16:27

32
28
7.5°C / 45.5°F
-2.7°C / 27.1°F

06:08 /

16:26

40
29
7.1°C / 44.8°F
-3°C / 26.6°F

06:09 /

16:24

26
30
6.7°C / 44.1°F
-3.4°C / 25.9°F

06:10 /

16:23

64
31
6.2°C / 43.2°F
-3.7°C / 25.3°F

06:12 /

16:21

48
- Last modified on Sep. 20, 2019 -