Harbin Weather in April
Compared with the first three months of the year, the weather of Harbin is relatively warm in April. The average daytime temperature is 14°C (57°F), and the average night temperature is 0°C (32°F). The average precipitation in this month is only 18mm, so the air is still dry. The air is lightly polluted.
With the increase of temperature, accumulated snow in the city begins to melt in large areas; therefore, the roads may be muddy. Besides, the melting snow nourishes the earth and everything comes to life, making the city more energetic.
Averages for Harbin Weather in April
Temperature: 7°C / 45°F
High Temperature: 14°C / 57°F
Low Temperature: 0°C / 32°F
Humidity: 49%
Rainfall: 18 mm
Rainy Days: 7 days
Sunrise: 04:22 ~ 05:14
Sunset: 18:02 ~ 18:39
Air Quality in April
Average AQI:87

What to Wear in Harbin in April
In the daytime, you can wear a thin sweater or thick hoodie plus a woolen coat or a thin down jacket. But you need to change into cotton-padded jacket or thick down jacket and wear a scarf when going outside at night in case you catch a cold due to temperature drop or weather change.


Thing to Do in Harbin in April
If you are willing to experience the charm of European-style architecture in Harbin, the Central Street will feast your eyes. There are 71 European and pseudo-European style buildings in the street, presenting Renaissance, Baroque, eclecticism and modern styles. It is the longest pedestrian street in Asia, where unique architectures, well-arranged shopping malls, multicolored leisure areas and diverse cultural life attract a lot of tourists. There you also can taste local delicacies and buy special products. At the north end of the street stands the famous Flood Control Monument, which is built to commemorate the locals' victory of fighting against the devastating flood in 1957. The scene of fighting against the flood is vividly carved in the body of the monument, showing visitors the heroism of people in the battle.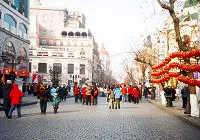 Central Street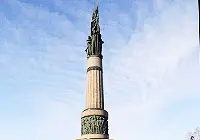 Flood Control Monument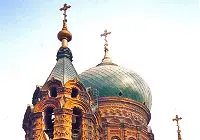 St. Sophia Cathedral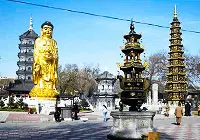 Jile Temple
Other Tips
Because of the low precipitation, Harbin is dry in April, so you need to bring skin care products with good moisturizing effect and drink enough water. The wind is strong in this month and occasionally there are sandstorms, so you should wear a mask during outdoor activities. The climate in April in Harbin is changeable with sudden drop in temperature, so you'd better bring some thick clothes. Snow is melting in this month and roads are slippery; therefore, take a pair of skidproof shoes.
What is the temperature in Harbin in April?
High/Low Temperatures of Harbin in April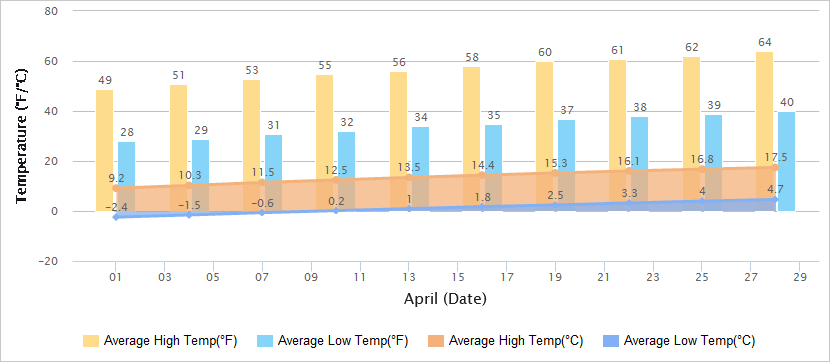 Air Quality of Harbin in April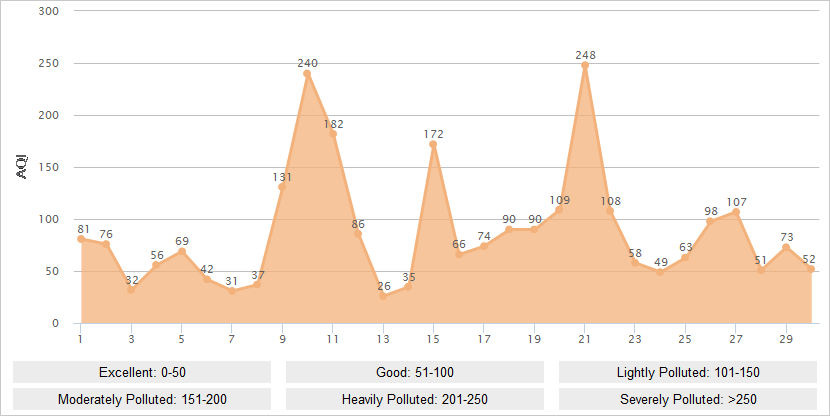 Historical Harbin Weather in April
Apr
Temperature
Sunrise / Sunset
Humi-
dity
(%)
High
Low
1
9.2°C / 48.6°F
-2.4°C / 27.7°F

05:14 /

18:02

40
2
9.6°C / 49.3°F
-2.1°C / 28.2°F

05:12 /

18:03

21
3
10°C / 50°F
-1.8°C / 28.8°F

05:10 /

18:04

22
4
10.3°C / 50.5°F
-1.5°C / 29.3°F

05:08 /

18:06

22
5
10.7°C / 51.3°F
-1.2°C / 29.8°F

05:06 /

18:07

33
6
11.1°C / 52°F
-0.9°C / 30.4°F

05:04 /

18:08

23
7
11.5°C / 52.7°F
-0.6°C / 30.9°F

05:02 /

18:09

17
8
11.8°C / 53.2°F
-0.3°C / 31.5°F

05:00 /

18:11

24
9
12.2°C / 54°F
-0.1°C / 31.8°F

04:59 /

18:12

25
10
12.5°C / 54.5F
0.2°C / 32.4°F

04:57 /

18:13

24
11
12.9°C / 55.2°F
0.5°C / 32.9°F

04:55 /

18:15

27
12
13.2°C / 55.8°F
0.8°C / 33.4°F

04:53 /

18:16

60
13
13.5°C / 56.3°F
1°C / 33.8°F

04:51 /

18:17

37
14
13.8°C / 56.8°F
1.3°C / 34.3°F

04:49 /

18:19

28
15
14.1°C / 57.4°F
1.5°C / 34.7°F

04:48 /

18:20

46
16
14.4°C / 57.9°F
1.8°C / 35.2°F

04:46 /

18:21

89
17
14.7°C / 58.5°F
2°C / 35.6°F

04:44 /

18:22

66
18
15°C / 59°F
2.3°C / 36.1°F

04:42 /

18:24

25
19
15.3°C / 59.5°F
2.5°C / 36.5°F

04:40 /

18:25

28
20
15.6°C / 60.1°F
2.8°C / 37°F

04:39 /

18:26

27
21
15.8°C / 60.4°F
3°C / 37.4°F

04:37 /

18:28

35
22
16.1°C / 61°F
3.3°C / 38°F

04:35 /

18:29

24
23
16.3°C / 61.3°F
3.5°C / 38.3°F

04:34 /

18:30

38
24
16.6°C / 61.9°F
3.8°C / 38.8°F

04:32 /

18:32

27
25
16.8°C / 62.2°F
4°C / 39.2°F

04:30 /

18:33

43
26
17.1°C / 62.8°F
4.3°C / 39.7°F

04:29 /

18:34

30
27
17.3°C / 63.1°F
4.5°C / 40.1°F

04:27 /

18:35

22
28
17.5°C / 63.5°F
4.7°C / 40.5°F

04:25 /

18:37

27
29
17.8°C / 64°F
5°C / 41°F

04:24 /

18:38

17
30
18°C / 64.4°F
5.2°C / 41.4°F

04:22 /

18:39

34
- Last modified on Sep. 19, 2019 -